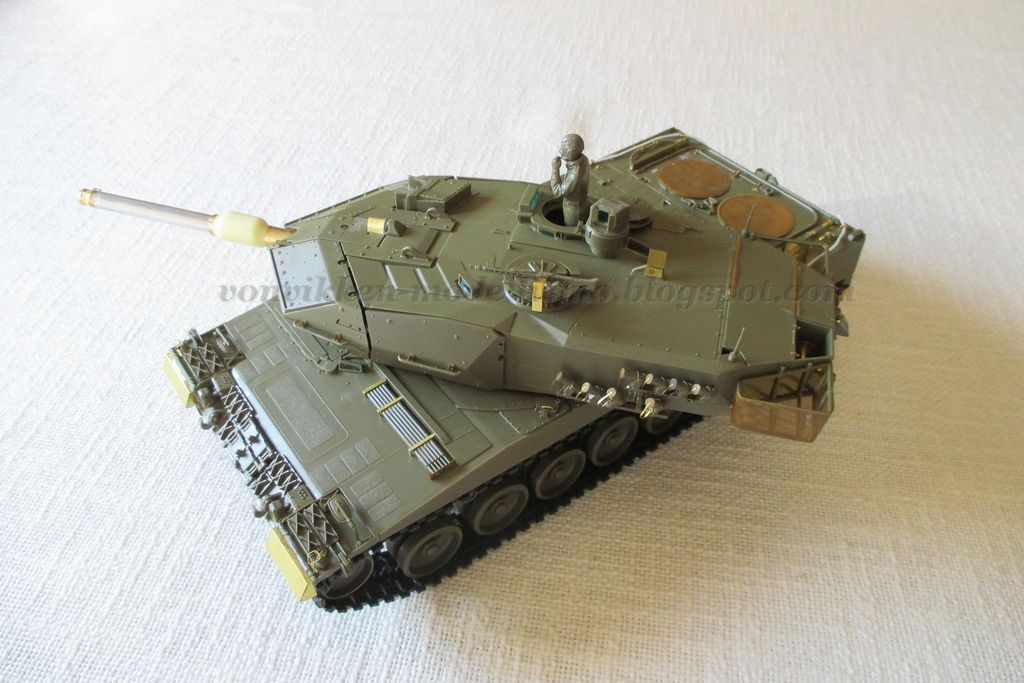 Questo gioiello d'ingegneria tedesca è sempre stato uno dei miei mezzi preferiti. Perciò quando ho visto questo modello durante una fiera, non ho perso tempo a comprarlo!
This jewel of German engineering has always been one of my favourite vehicles. So, when I saw this model during an expo, I bought it immediately!
Il kit è l'ottimo Tamiya nº 35242. Rappresenta la variante A5, la prima ad introdurre la nuova corazza angolata sulla torretta che esteticamente la distingue sostanzialmente dalle precedenti versioni.
The kit is the very good Tamiya no. 35242. It depicts version A5, the first one introducing the new wedge-shaped armor on the turret that clearly distinguish it from the previous ones.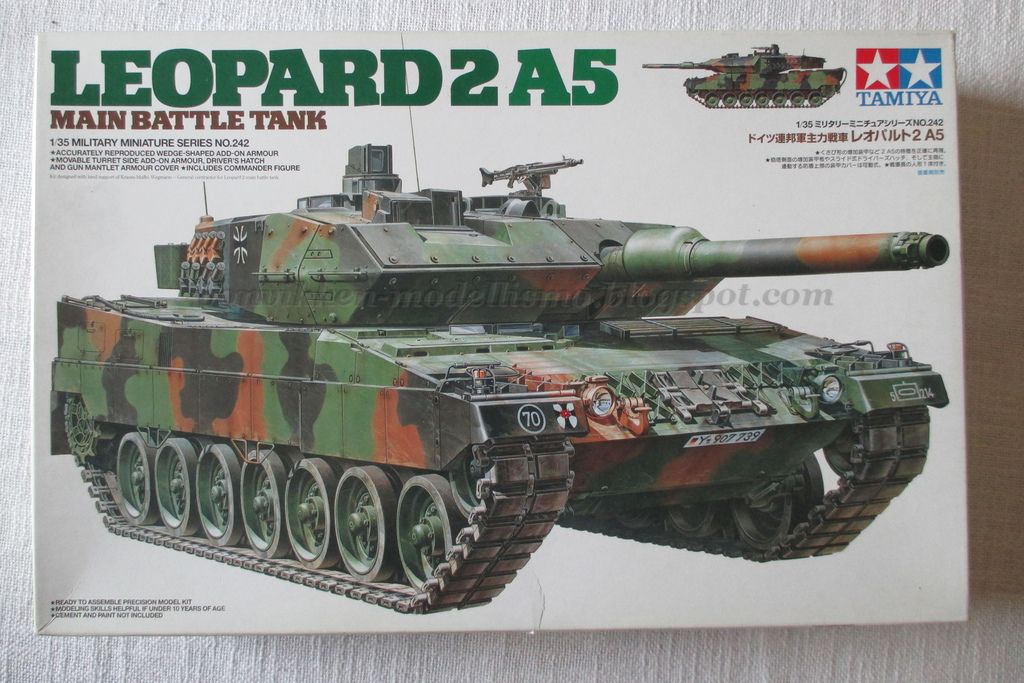 Nella scatola troviamo quattro sprues (uno per le parti dello scafo, uno per quelle della torretta e due per il treno di rotolamento), più lo scafo inferiore e la torretta (in due parti), tutto in stirene verde oliva. Vi sono inoltre una coppia di cingoli in vinile nero ben dettagliati, un foglietto in stirene trasparente per le parti in vetro, un filo di nylon per i cavi da rimorchio ed un frammento di maglia di plastica per i cestelli esterni. Completano il tutto il foglio delle decals, un cartoncino con delle insegne da ritagliare ed applicare sul retro della torretta e, naturalmente, le istruzioni.
In the box we find four sprues (one for the hull parts, one for the turret ones and two for the running gear), plus the lower hull and the turret (divided into two halves), all in olive green styrene. There are also a couple of well detailed black vinyl tracks, a transparent styrene sheet for the glass parts, a nylon thread for the towing cable and a piece of plastic mesh for the turret bins. Finally, we find a decal sheet, a piece of cardboard with insignia that need to be cut and placed on the turret rear and, obviously, the instructions.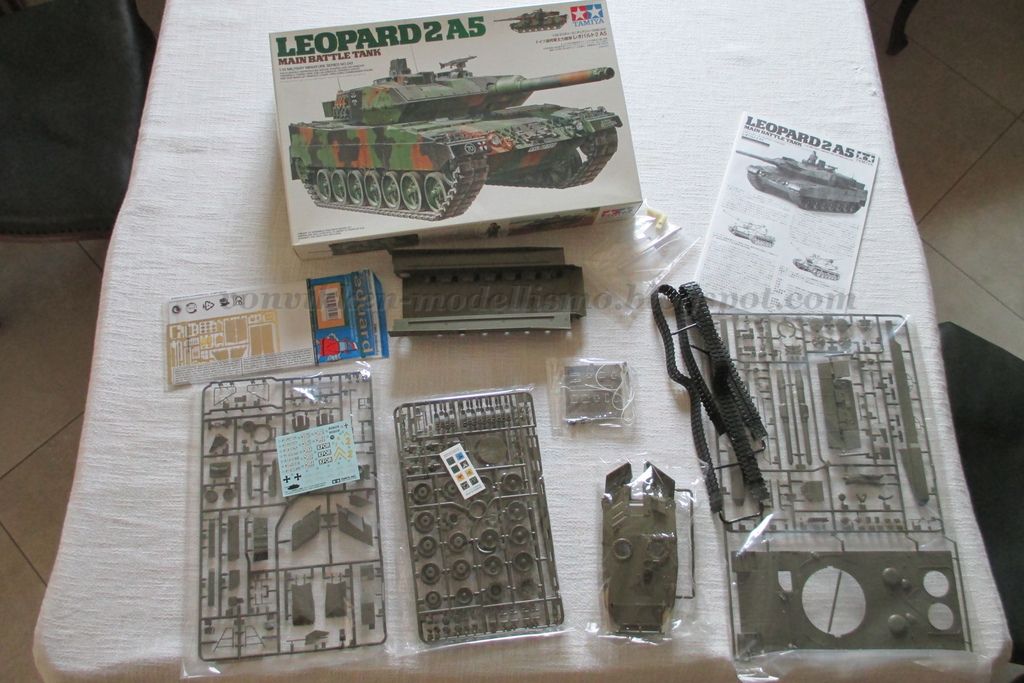 Come aftermarket ho acquistato il cannone in alluminio tornito, ottone e resina della RB Model (nº 35B47) e l'apposito set di fotoincisioni della Eduard (nº 35340).
I bought as aftermarket the barrel in turned aluminium, brass and resin (RB Model no. 35B47) and the dedicated photo-etched set by Eduard (no. 35340).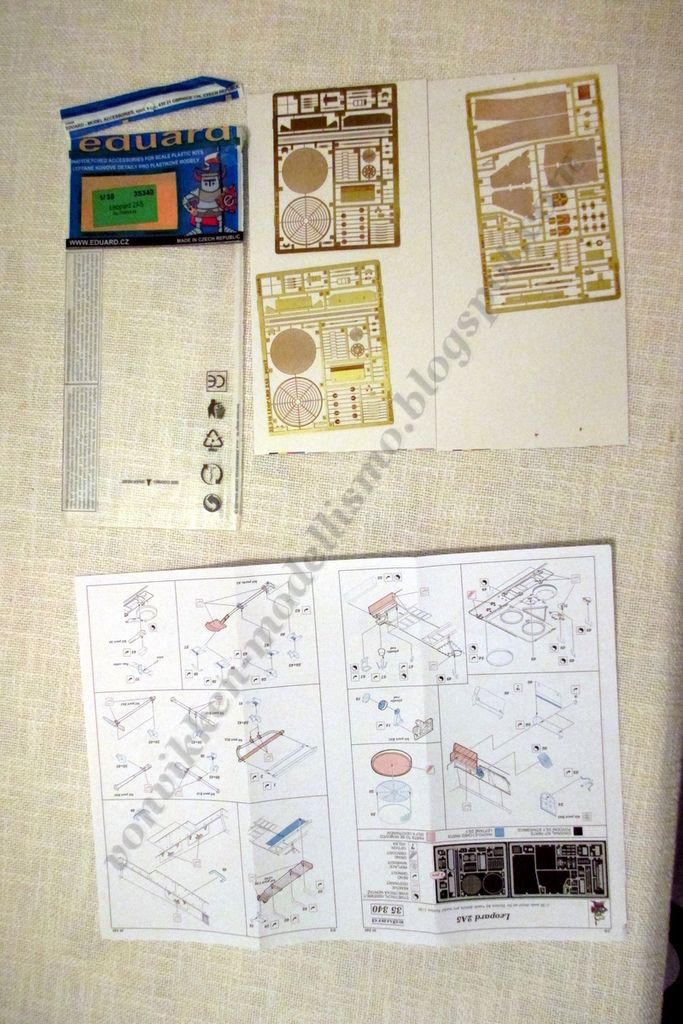 Montaggio (assembling)
Come per tutti i miei precedenti kit Tamiya, anche con questo non ho trovato difficoltà nel montaggio. Bisogna solo controllare le istruzioni delle fotoincisioni per capire dove i pezzi in ottone sostituiranno gli originali in plastica.
As for all my previous Tamiya kits, also for this one the assembling proceeded smoothly. You need only to check the PE set instructions to understand where to replace the plastic parts with the brass ones.
Riguardo al cannone, pur senza istruzioni non ho trovato grosse difficoltà nell'assemblaggio, basta controllare qualche riferimento fotografico su Internet. Anche se non è visibile in foto, poi, ho riprodotto la trama incrociata della fibra di vetro sull'estrattore di fumo usando della carta vetrata a grana grossa.
For the barrel, even without instructions I didn't find big difficulties assembling it, just check some photo references on Internet. Though not visible in the photos, I also reproduced the crossed fiberglass texture on the bore evacuator, using a coarse grained sandpaper.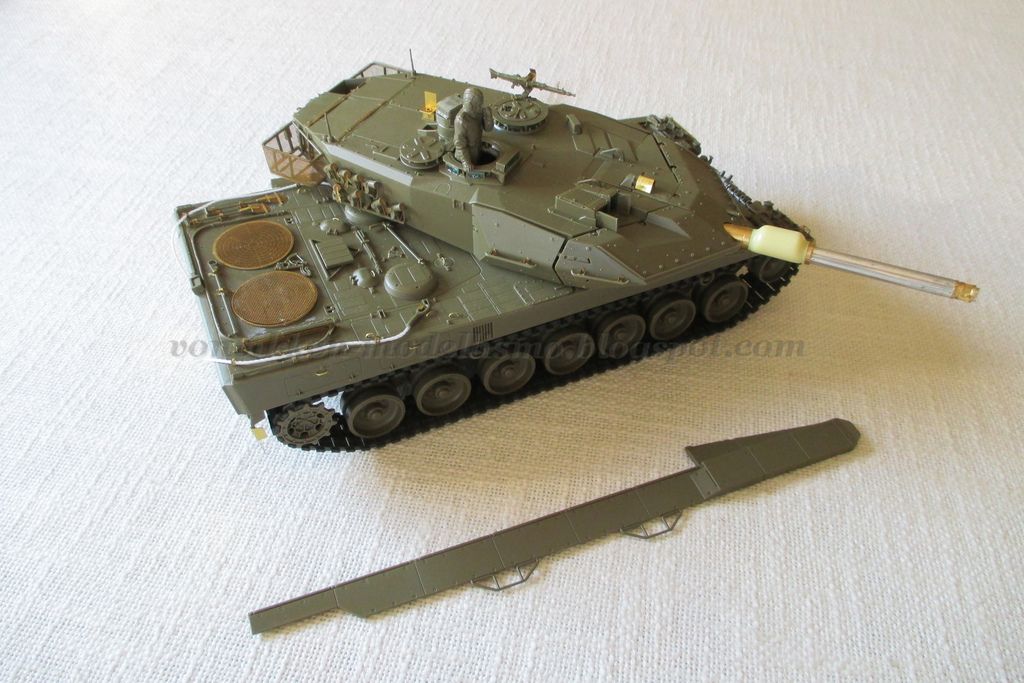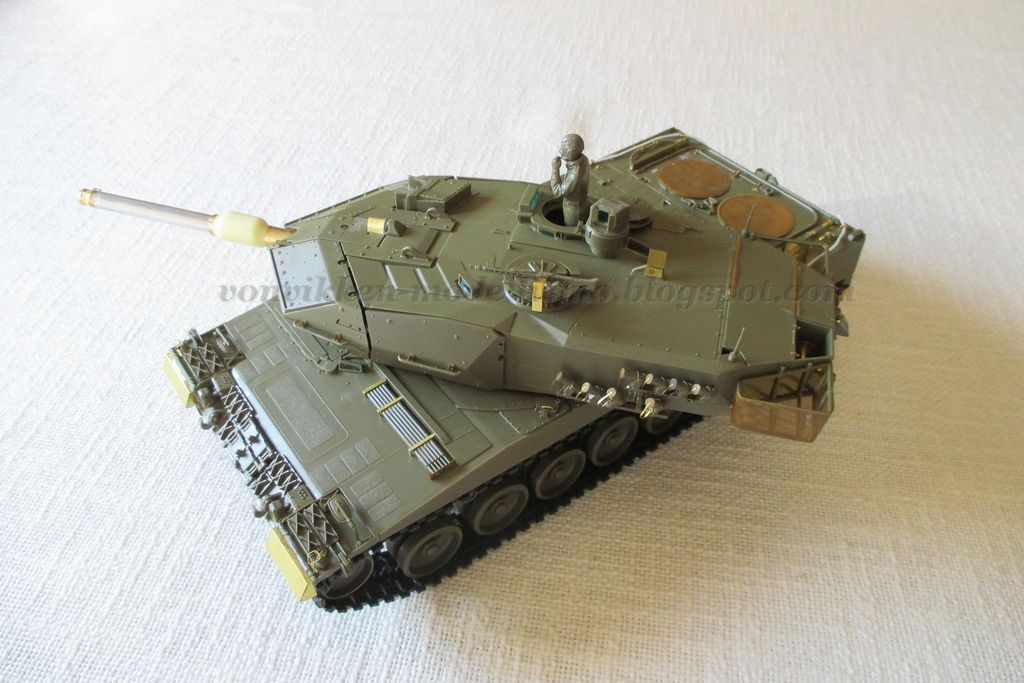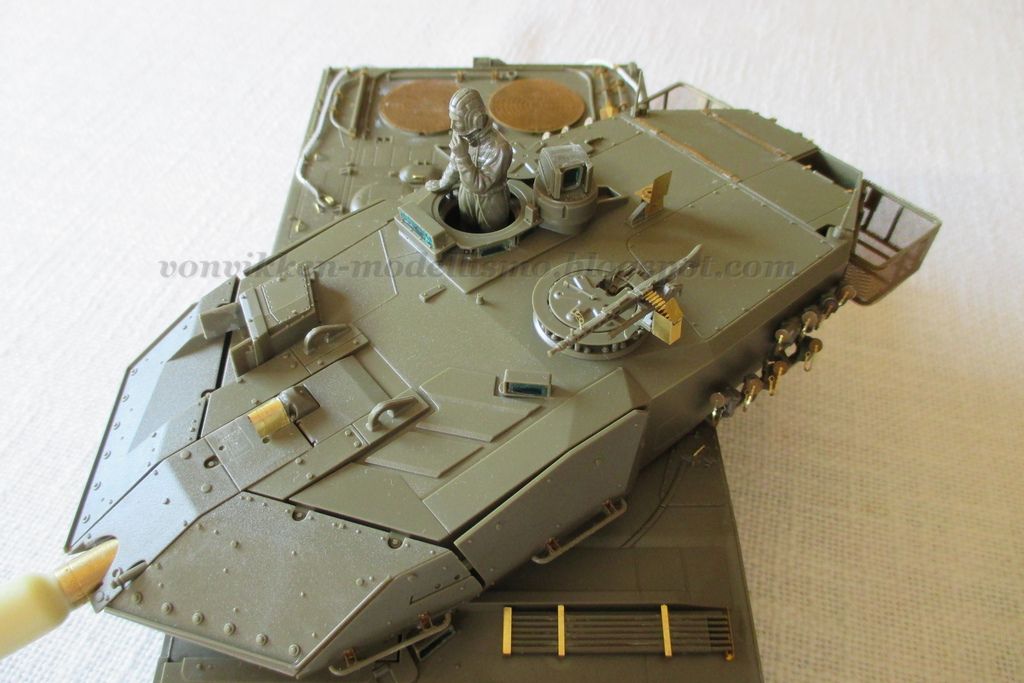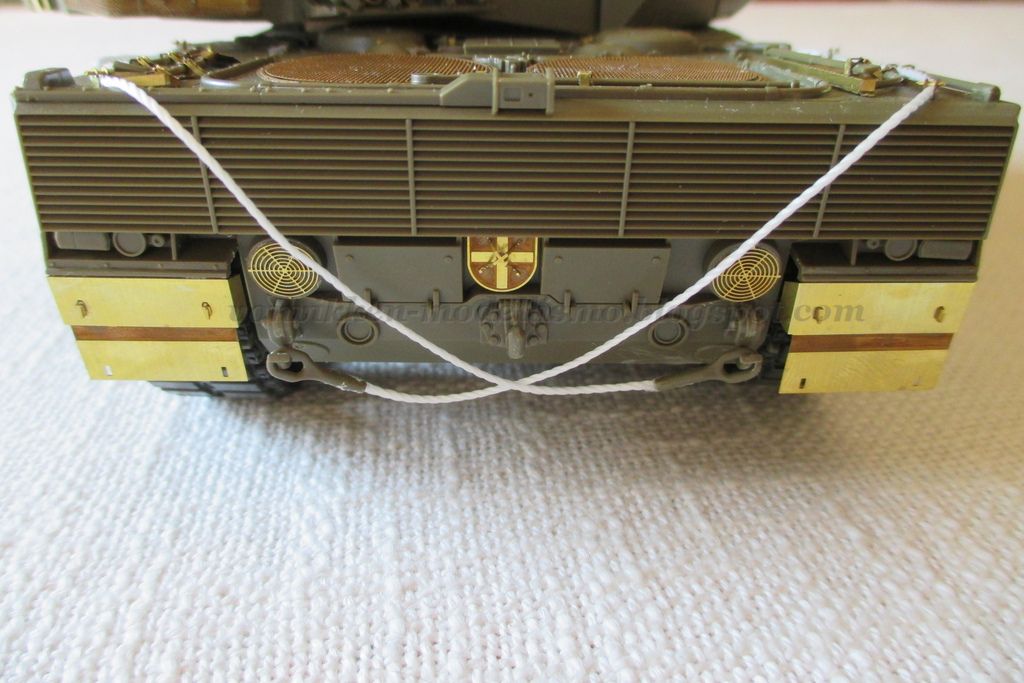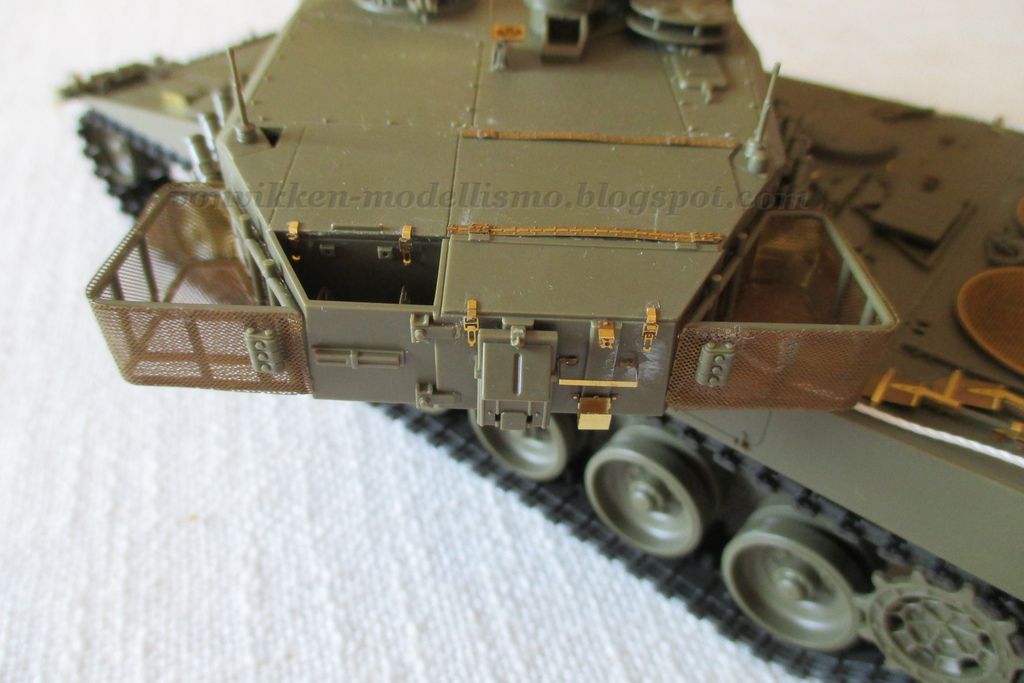 Le grembiulature laterali verranno montate dopo aver colorato le ruote.
The side skirts will be mounted after having painted the wheels.
Colorazione (painting)
La livrea di questo modello è la classica tre toni della NATO. Dopo aver coperto le parti trasparenti con del liquido mascherante, ho spruzzato il primer e dato un preshading nero sulle parti in ombra. Successivamente ho spruzzato il verde (Vallejo Model Air 71.014 Gunship Green schiarito con Model Color 70.815 Basic Skintone):
The camo of this model is the classical NATO three-tone pattern. After having covered the transparent parts with masking fluid, I sprayed the primer and preshaded the shadows with black. After that, I sprayed the green (Vallejo Model Air 71.014 Gunship Green faded with Model Color 70.815 Basic Skin Tone):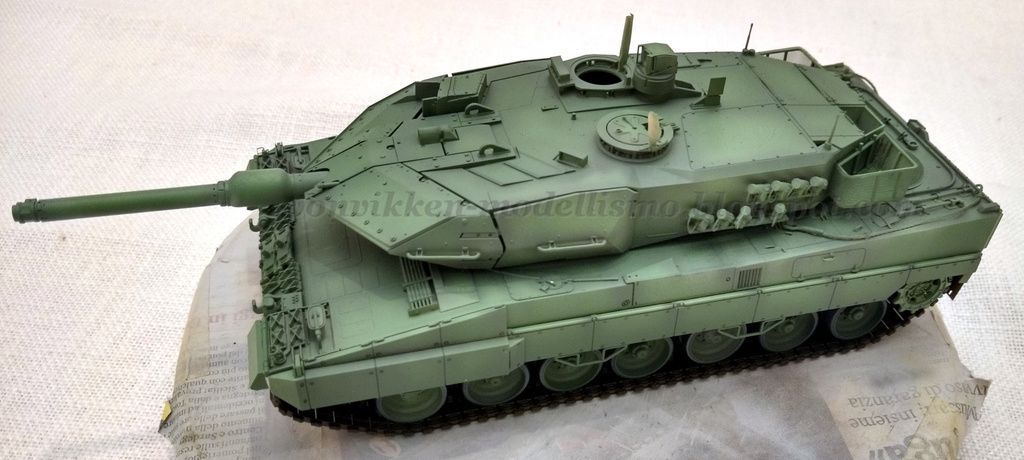 poi il marrone (50% Model Air 71.041 Tank Brown + 50% Model Air 71.034 Sand Brown):
then the brown (50% Model Air 71.041 Tank Brown + 50% Model Air 71.034 Sand Brown):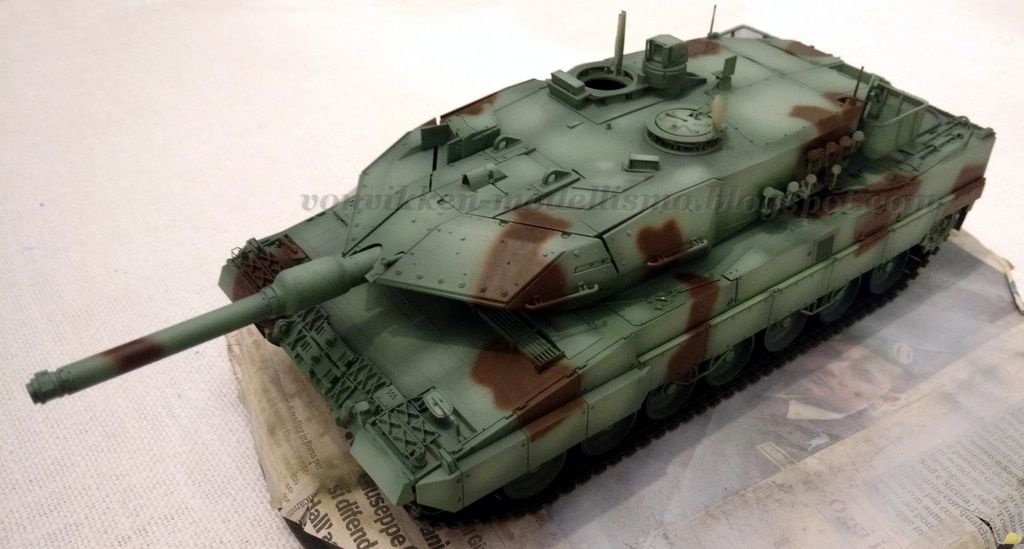 ed infine il nero (50% Model Air 71.052 German Grey + 50% Model Air 71.057 Black):
and finally the black (50% Model Air 71.052 German Grey + 50% Model Air 71.057 Black):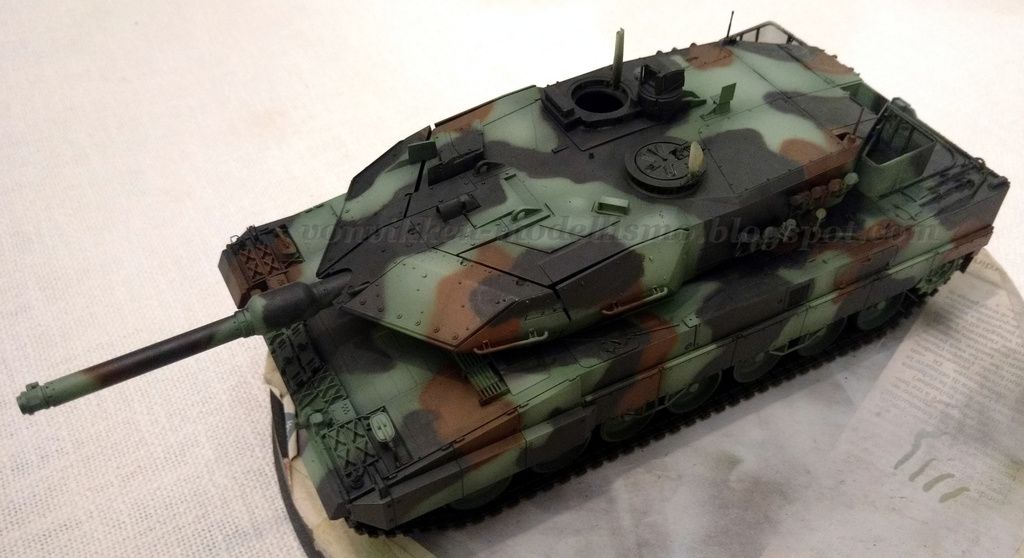 Completano l'opera la colorazione dei dettagli, il lavaggio ad olio in Terra d'Ombra e Nero di Marte, dei filtri in rosso, blu, giallo ocra e buff ed infine un dry-brush in giallo Napoli rossastro.
Lastly, I painted the details, applied oil washes (Raw Umber and Mars Black), filters (red, blue, ochre yellow and buff) and finally a dry brush with red Naples yellow.
Figurino (figure)
La mimetica del figurino è la cosiddetta Flecktarn in uso presso le forze armate tedesche. Consiste in una base grigia su cui sono riprodotte macchie di quattro colori diversi. Non ho dipinto la parte inferiore delle gambe per avere una migliore impugnatura sul pezzo, tanto non si sarebbero viste a lavoro finito...
The figure camo is the so-called Flecktarn used by German armed forces. It consists in a grey base covered with spots of four different colors. I didn't colored the lower legs in order to have a better grip when painting, you won't see it anyway in the final result...
Ho iniziato con una base in grigio (Vallejo Model Air 71.052 German Grey),
I started with the grey base (Vallejo Model Air 71.052 German Grey),
poi piccole macchie, date con la punta del pennello, di arancione (Vallejo Game Color 72.038 Scrofulous Brown),
then little spots, with the paintbrush tip, in orange (Vallejo Game Color 72.038 Scrofulous Brown),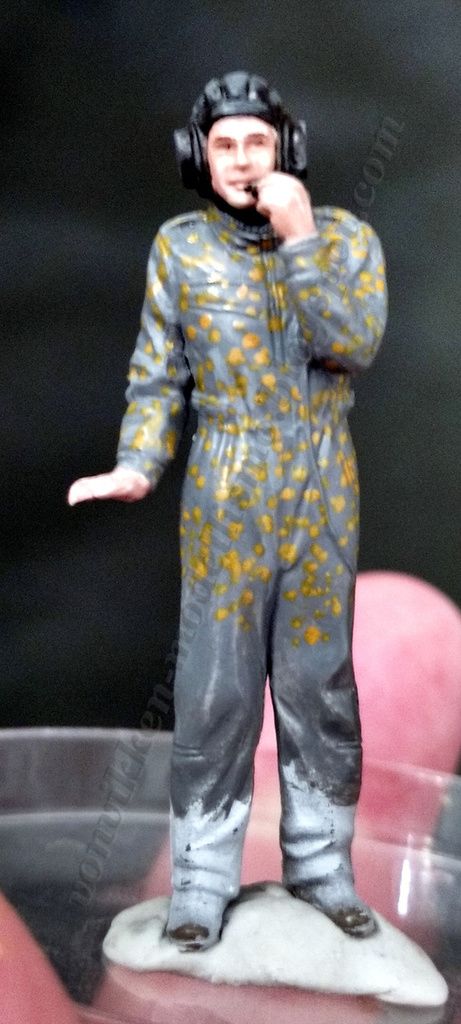 verde scuro (Model Color 70.967 Olive Green),
dark green (Model Color 70.967 Olive Green),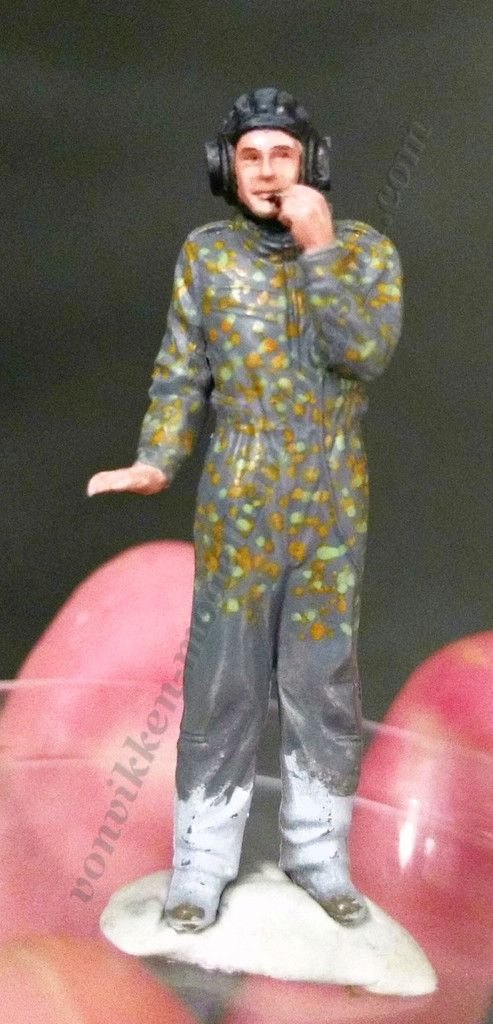 verde chiaro (75% Model Air 71.050 Ligh Grey + 25% Olive Green),
light green (75% Model Air 71.050 Ligh Grey + 25% Olive Green),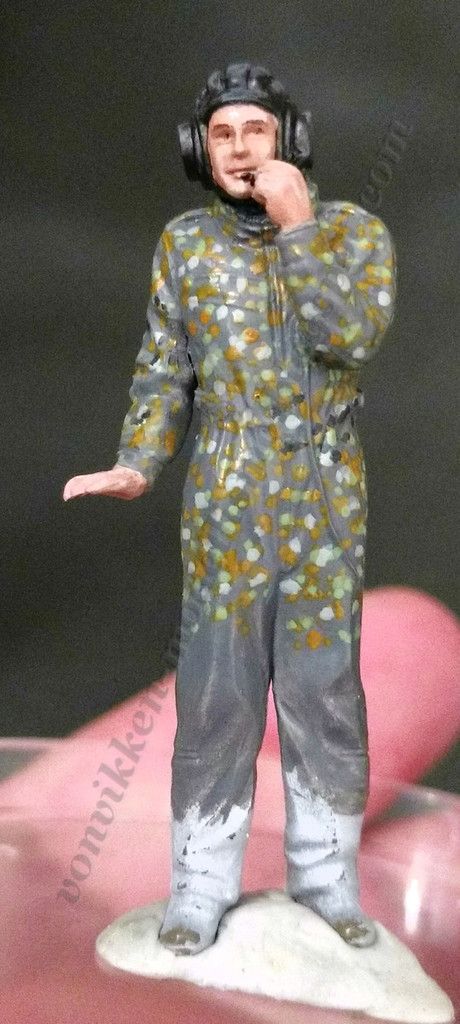 e nero (Model Air 71.057 Black):
and black (Model Air 71.057 Black):
Fatto ciò, ho dato un lavaggio con l'ottimo prodotto Seraphim Sepia della Citadel:
After that, I applied a wash with the very good Seraphim Sepia product by Citadel:
e, per finire, un dry-brush con il colore ad olio giallo Napoli rossastro:
and, finally, a dry brush with red Naples yellow oil color.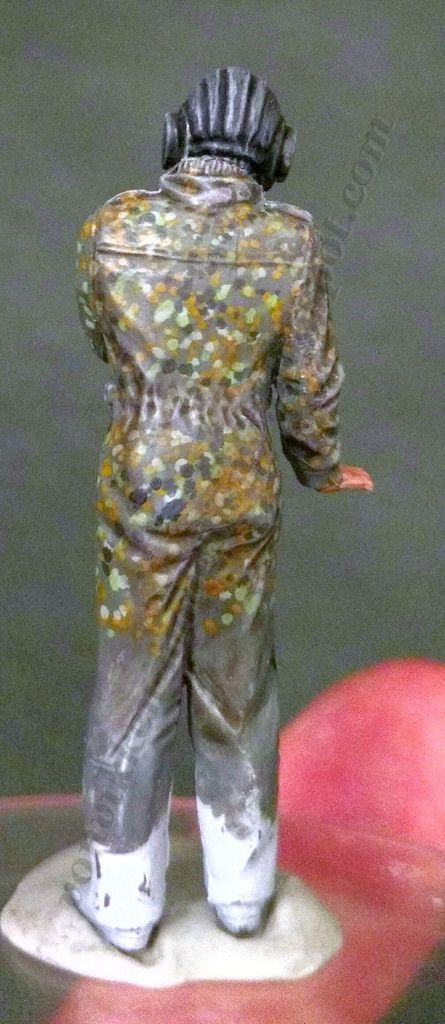 ---
Questo è il modello quasi finito, in attesa di uno strato protettivo di trasparente satinato:
This is the almost finished model, waiting for a satin varnish protective layer.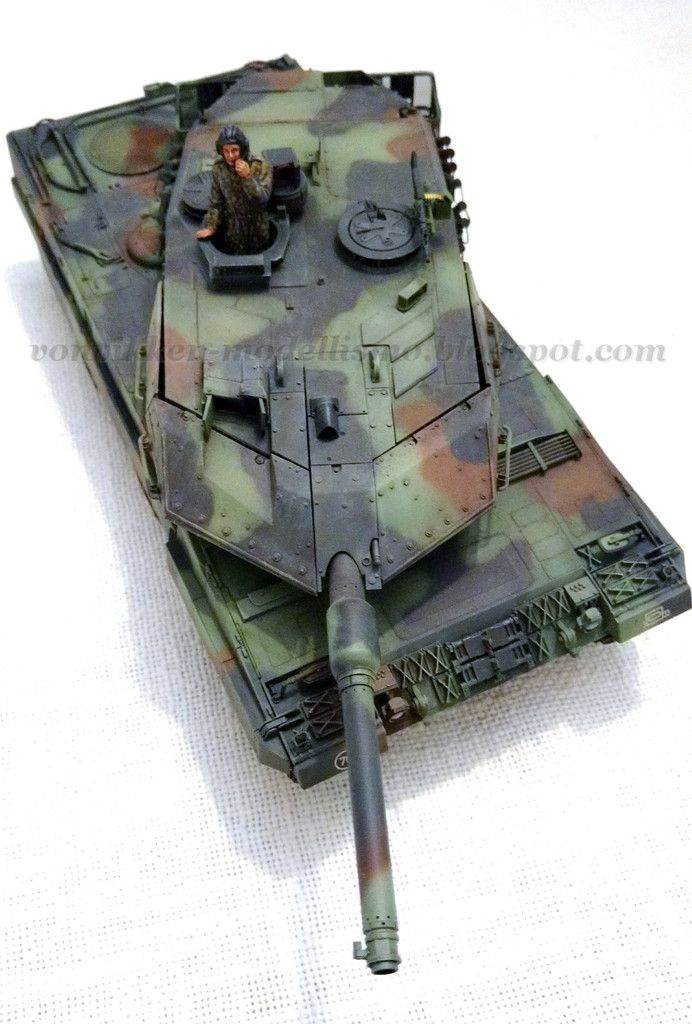 Felice Anno Nuovo!!!
Happy New Year!!!