Il 20º modello che ho completato è davvero un bestione! Si tratta di un cacciacarri tedesco della Seconda Guerra Mondiale. Ho impiegato tre mesi a finirlo, da maggio ad agosto 2016.
The 20th model I finished is really a big beast! It's a German tank destroyer of the Second World War. I completed it in three months, from May to August 2016.
Il kit è il modello 00350 della Trumpeter; esso consiste in 6 sprues, più le parti superiore ed inferiore dello scafo e la sovrastruttura in parti separate, tutto in polistirene grigio chiaro, nonché i cingoli in vinile nero. Vi sono inoltre un foglio di decals, il manuale di istruzioni e una guida alla colorazione. I dettagli sono buoni, soprattutto per gli accessori all'interno del compartimento dell'equipaggio, a cielo aperto, e per l'affusto del cannone.
This kit is the Trumpeter model no. 00350; it has 6 sprues, plus lower and hupper hull and the superstructure in separate pieces, all in light grey polystyrene, plus the black vinyl tracks. Moreover, there are a decal sheet, the instruction manual and a painting guide. Details are crisp, especially for the tools in the open top crew compartment, and for the gun mount.
Montaggio (assembling)
Il montaggio, facile e senza necessità di stuccature, è stato quasi tutto da scatola. Ho fissato all'ultimo la sovrastruttura ed il cannone, per accedere meglio all'interno del compartimento equipaggio. Gli unici aftermarket sono stati la canna del cannone ed i proiettili, tutti della RB Model, in alluminio ed ottone torniti.
The assembling, almost out of the box, has been easy and required no filling. I mounted the superstructure and the gun only at the end, for a better access to the interior of the crew compartment. The only aftermarkets are the gun barrel and the shells, all from RB Model, in turned aluminium and brass.
Notare le dimensioni del cannone da 128 mm, di grosso calibro anche per gli standard moderni, confrontato con la canna di quello da 40 mm del Matilda (visibile in basso).
Notice the size of the 128 mm (5.04 in) gun, a big caliber even for the modern standards, compared with the 40 mm (1.57 in) gun barrel of the Matilda (visible below it).
Ho modificato le rastrelliere dei proiettili, per alloggiare quelli in ottone,
I modified the shell racks, in order to house the brass ones,
ed inoltre, una volta completata la verniciatura di base, ho rifatto il tavolato del pavimento della camera da combattimento, usando legno di balsa.
and moreover, once I finished the base painting, I built from scratch the crew compartment floor with balsa wood.
Il risultato, dopo l'invecchiamento, è il seguente.
The appearance, after its weathering, is shown below.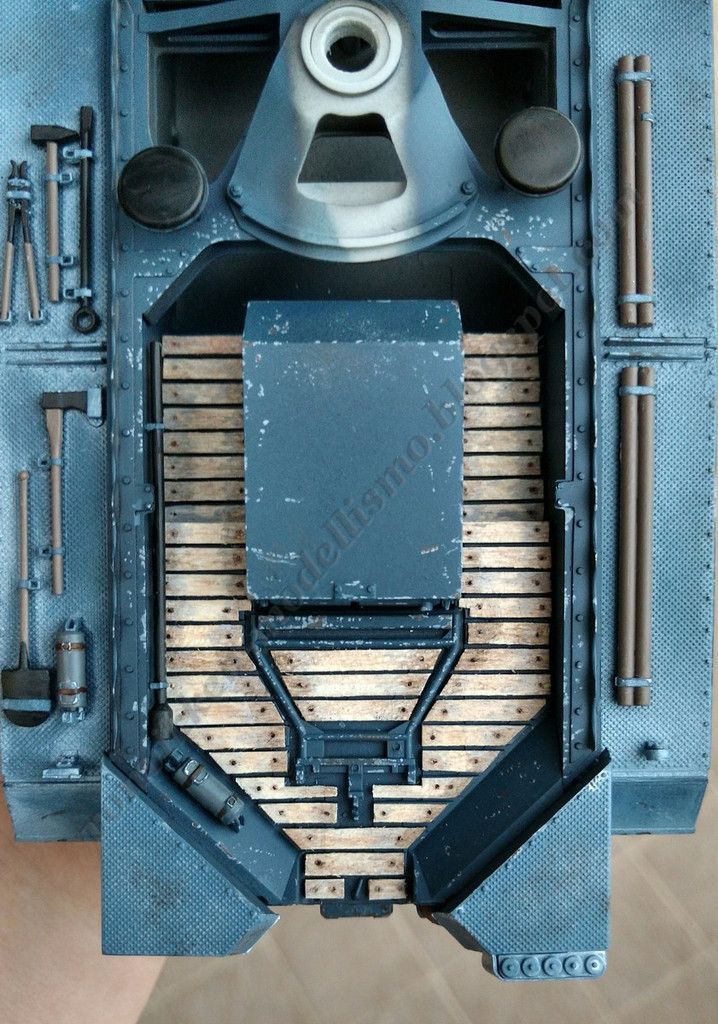 Pittura e invecchiamento
Dopo il montaggio ho dipinto il modello con colori acrilici Vallejo Model Air, in grigio Panzer (71.052 German Grey, schiarito con 71.050 Light Grey e a cui ho aggiunto un po' di blu), tutto ad aerografo. Per il lavaggio ho usato il prodotto "Blue Wash for Panzer Grey" della Mig, più colori ad olio (Bruno van Dyck e Terra d'Ombra Naturale).
After the assembling I painted the model with Vallejo Model Air acrylics, in Panzer Grey (71.052 German Grey, brightened with 71.050 Light Grey and to which I added a drop of blue), everything with the airbrush. For the wash I used the Mig "Blue Wash for Panzer Grey" product, together with oil colors (Van Dyck Brown and Raw Umber).
Ho invecchiato le tavole di legno con acrilici e olii molto diluiti, con diverse tonalità di grigio e marrone. Ho completato l'opera con dei graffi a pennello e dei pigmenti a secco, oltre a spalmare su cingoli e treno di rotolamento un impasto di terriccio, pigmenti, acqua e colla vinilica.
I weathered the wood planks with very diluted acrylics and oils, in different tones of grey and brown. I painted some scratches with a fine paintbrush, applied dry pigments and finally I spread a mix of vinyl glue, soil, water and pigments on the tracks and the running gear.
Galleria fotografica (photo gallery)