Ho costruito il mio 17º modello, un carro da battaglia di costruzione sovietica, in tre mesi, da febbraio ad aprile 2016. Stavolta, anziché raffigurare il modello sovietico che compare sulla scatola, ho scelto di farlo in servizio presso uno stato del Medio Oriente.
I built my 17th model, a Soviet built main battle tank, in three months, from February to April 2016. This time, instead of the Soviet model shown in the cover art, I chose to depict it in service at an army of a Middle East nation.
Il kit è il superbo Trumpeter nº 00376, facile da montare e ricco di dettagli: persino il fondo dello scafo, piatto nella maggior parte dei kit, qui è stato riprodotto accuratamente! I particolari sono ben definiti, compresa la texture di fusione della torretta; la gomma delle ruote è riprodotta con un pezzo separato di polistirene nero, i vetri dei visori e dei fari sono in plastica trasparente e sono incluse la canna del cannone in alluminio tornito, le griglie dei motori ed altri particolari in fotoincisione e il cavo da rimorchio in filo di rame intrecciato.
The kit is the magnificent Trumpeter no. 00376, easy to assemble and rich in details: even the hull bottom, flat in most kits, here has been fully reproduced! Details are crisp, including the cast steel texture of the turret; the rubber of the wheels has been reproduced with a separate piece of black styrene, the glass of the periscopes and of the projectors are in clear plastic, and there are included a gun barrel in turned aluminium, photo etched engine grills and other details, and a towing cable in twisted copper wire.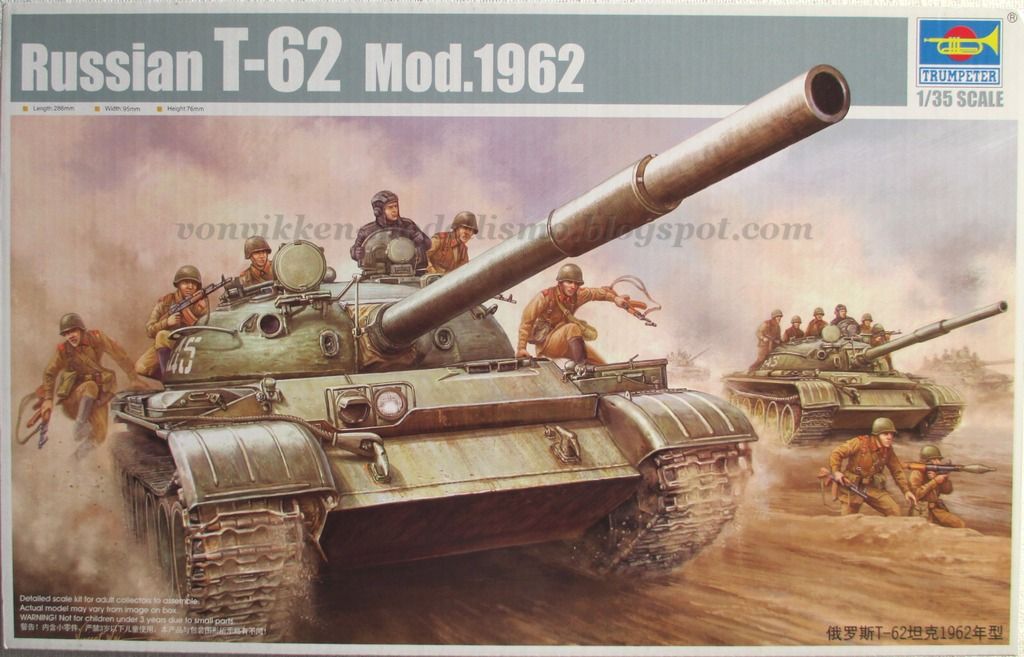 Montaggio (assembling)
Il montaggio è stato semplice e abbastanza veloce, a parte l'assemblaggio dei cingoli a maglia singola. Ho dovuto stuccare solo in alcuni punti, come la giunzione fra scafo inferiore e superiore e quella fra parafanghi e scafo.
The assembling has been easy and quite straightforward, apart for the single link tracks. I had to fill only a few seams, like the junction between upper and lower hull and the one between fenders and hull.
Per migliorare ulteriormente il livello di dettaglio, ho aggiunto le saldature in stucco bicomponente e le maniglie ed i cavi elettrici in filo di ottone o rame; per il tronco, anziché prendere quello in plastica del kit, ho preferito usare un tondino di legno con le fasce di fissaggio in foglio di alluminio.
In order to further improve the detail level, I added weld seams with bi-component putty and handles and electric cables made with copper or brass wire; for the wooden log, instead using the plastic one included with the kit, I rather used a wood rod, with the fixing bands in aluminium sheet.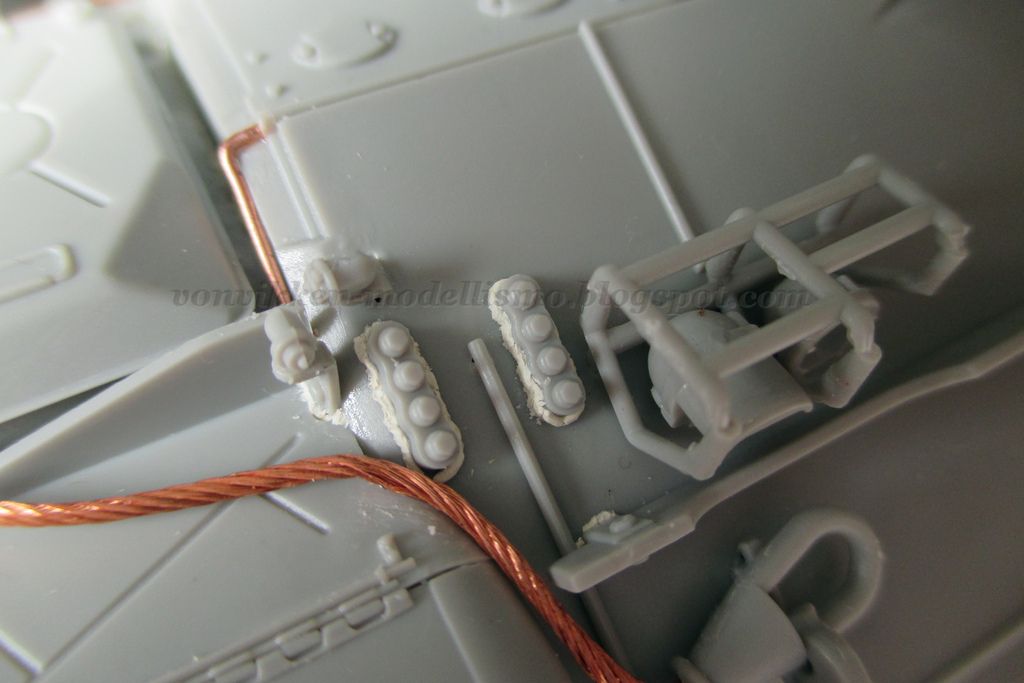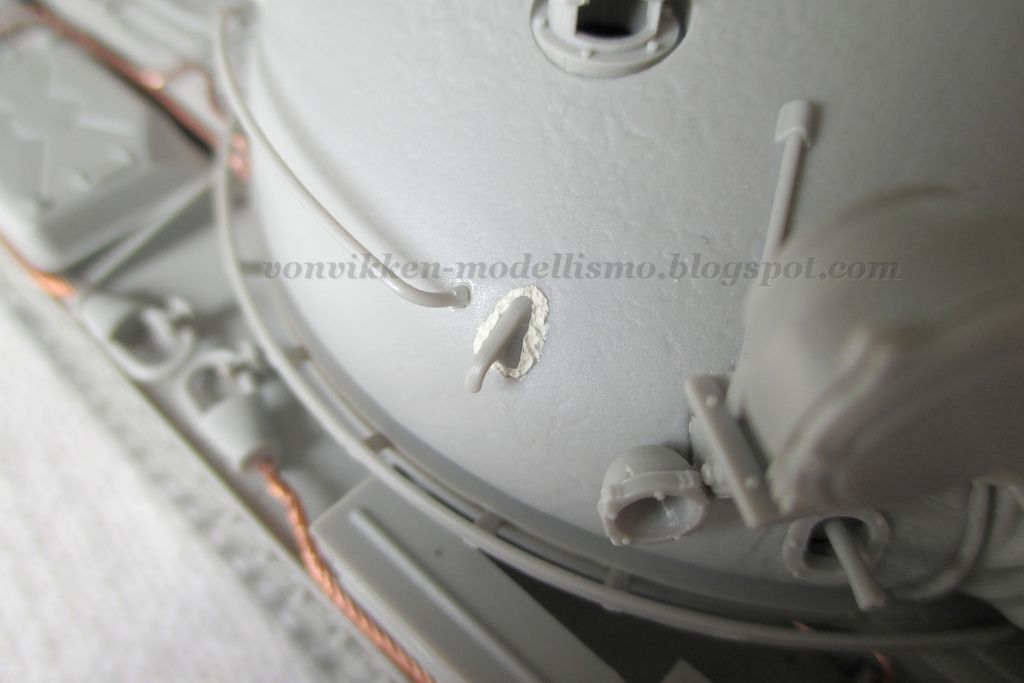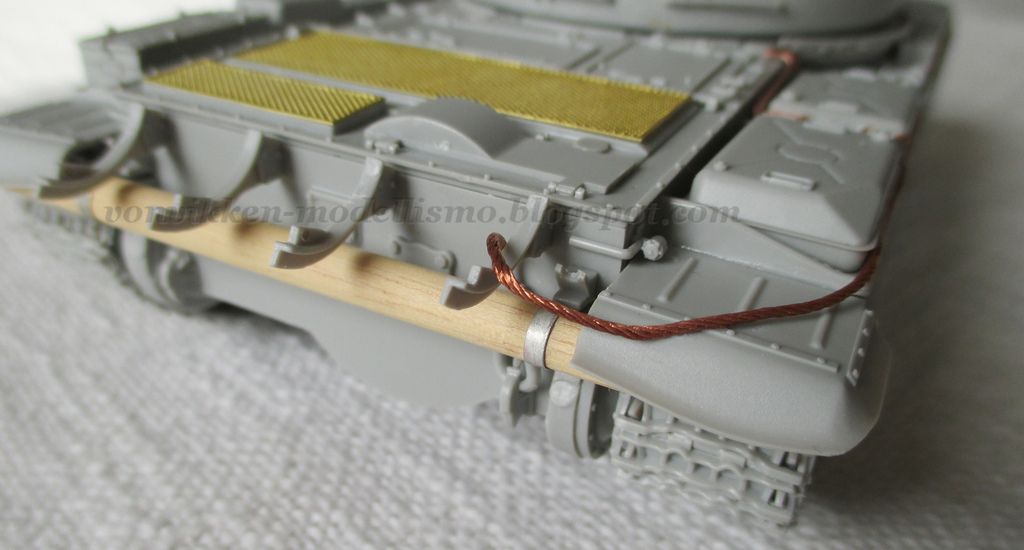 Tubature (plumbings)
La parte più interessante del lavoro di dettaglio è stato quella delle tubature di raccordo dei serbatoi del carburante, che ho ricavato con filo di rame e guaine in plastica.
The most interesting part of the detailing phase has been the making of the plumbings between fuel tanks, with brass wire and plastic sheats.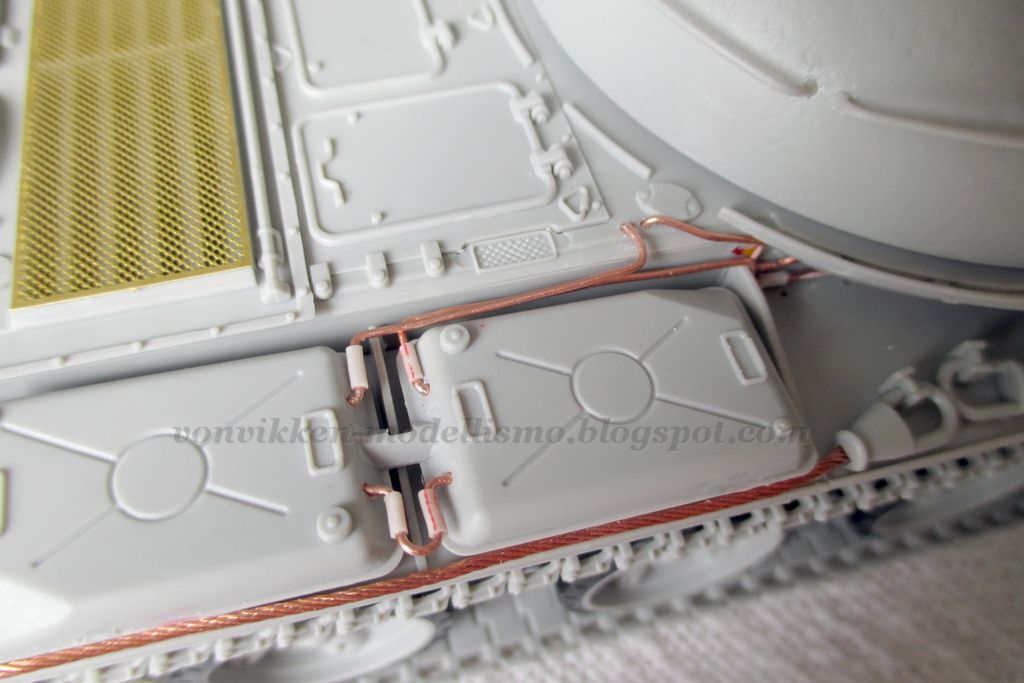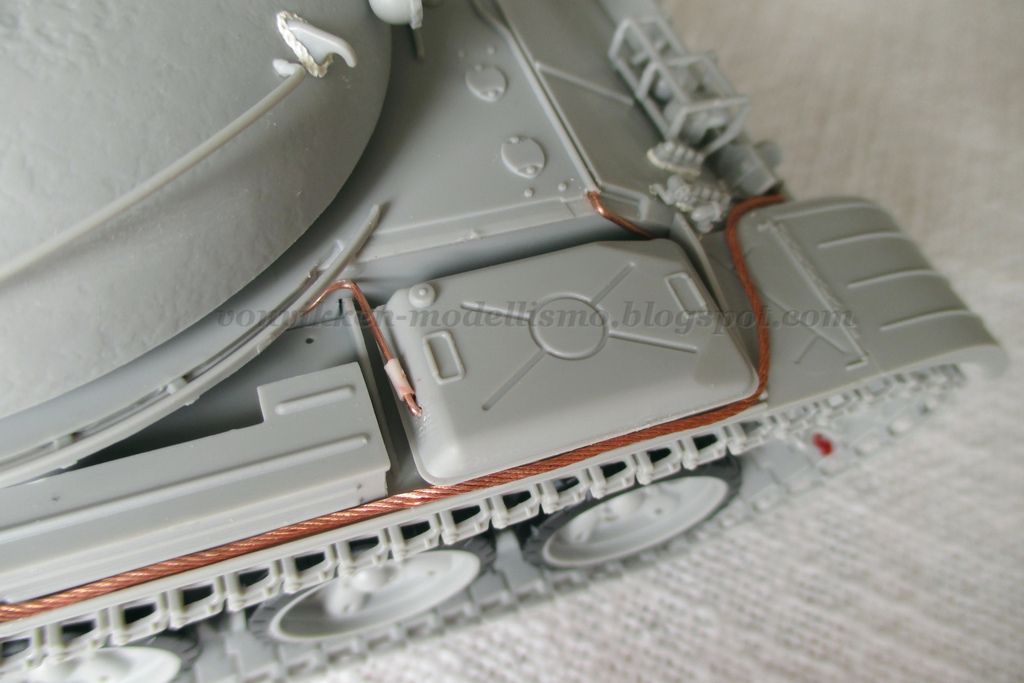 Figurini (miniatures)
I figurini sono della J. Peddinghaus Zinnfiguren, in metallo. Raffigurano dei carristi sovietici degli anni '60.
The miniatures are built by J. Peddinghaus Zinnfiguren, made in metal. They depict Soviet tank crew members in 1960s.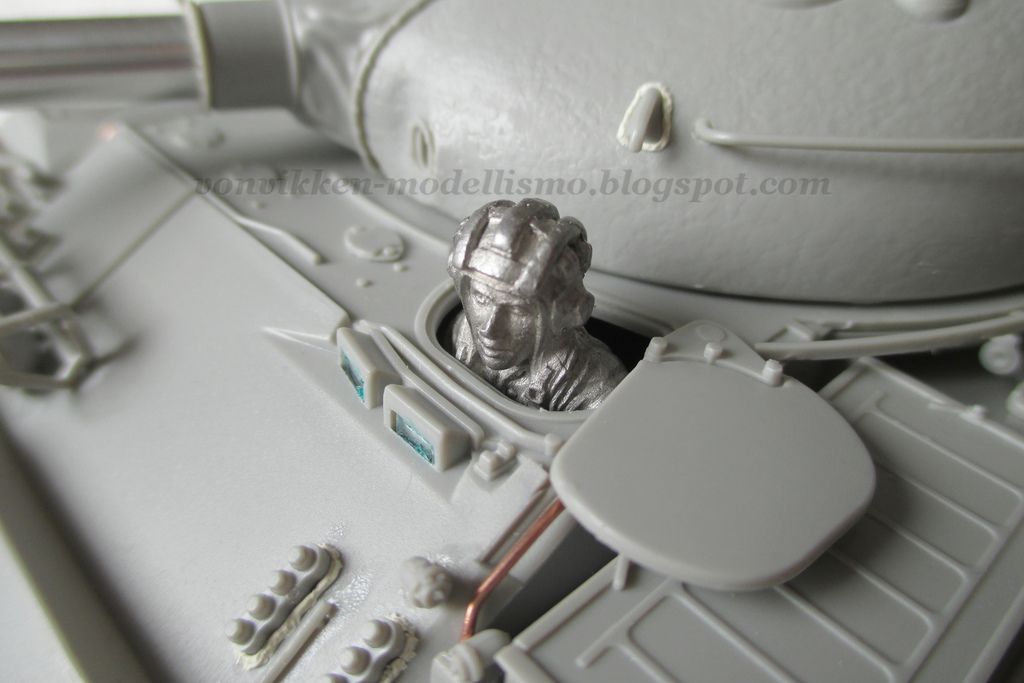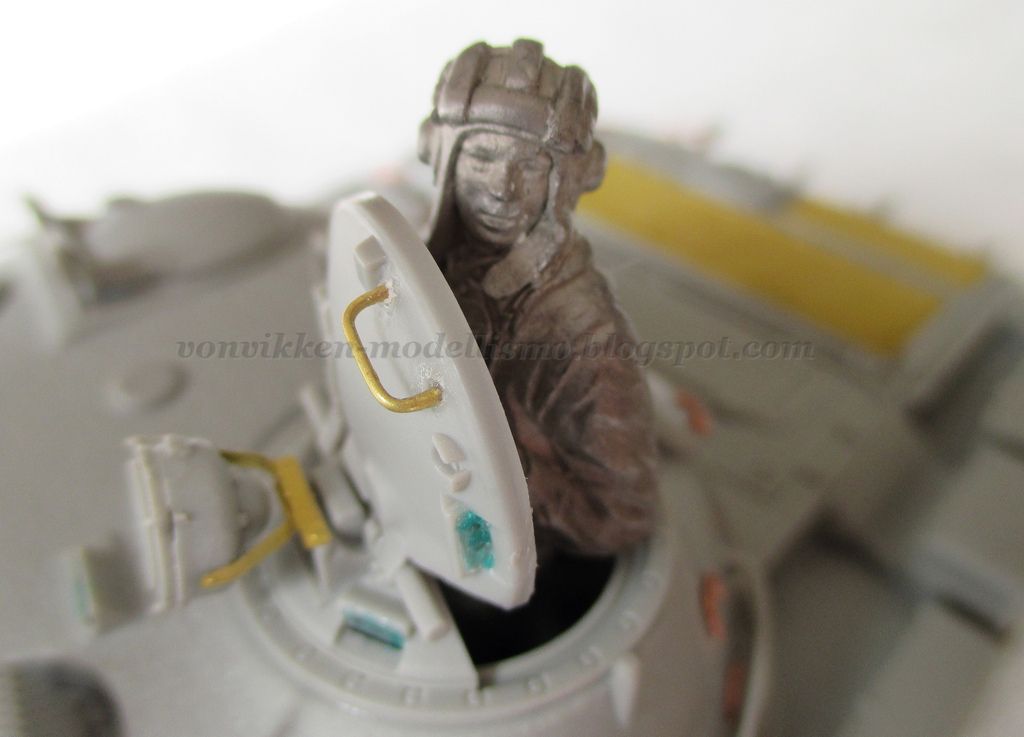 Galleria fotografica (photo gallery)
Ho voluto raffigurare un carro armato utilizzato dall'esercito iracheno durante la guerra Iran-Iraq (1980-1988). Ho quindi optato per una mimetica giallo sabbia. Dopo lo strato di base e le scrostature (con acrilici Vallejo, rispettivamente ad aerografo e a pennello/spugnetta), ho usato dei filtri color Terra d'Ombra, dei lavaggi dello stesso colore ed un dry-brush bianco ad olio. Completa l'invecchiamento un moderato impolveramento dello scafo e del treno di rotolamento, ed alcune colature di ruggine ad olio.
I wanted to represent a tank used by the Iraqi army during the Iran-Iraq war (1980-1988). Thus I chose a yellow sand camo. After the base coat and the scratches (with Valleyo acrylics, respectively with airbrush and paintbrush/sponge), I used Raw Umber filters, washes of the same color and a white oil dry brush. The weathering phase has been completed with a slight dusting of the running gear and of the lower hull, plus some rust stains made with oil color.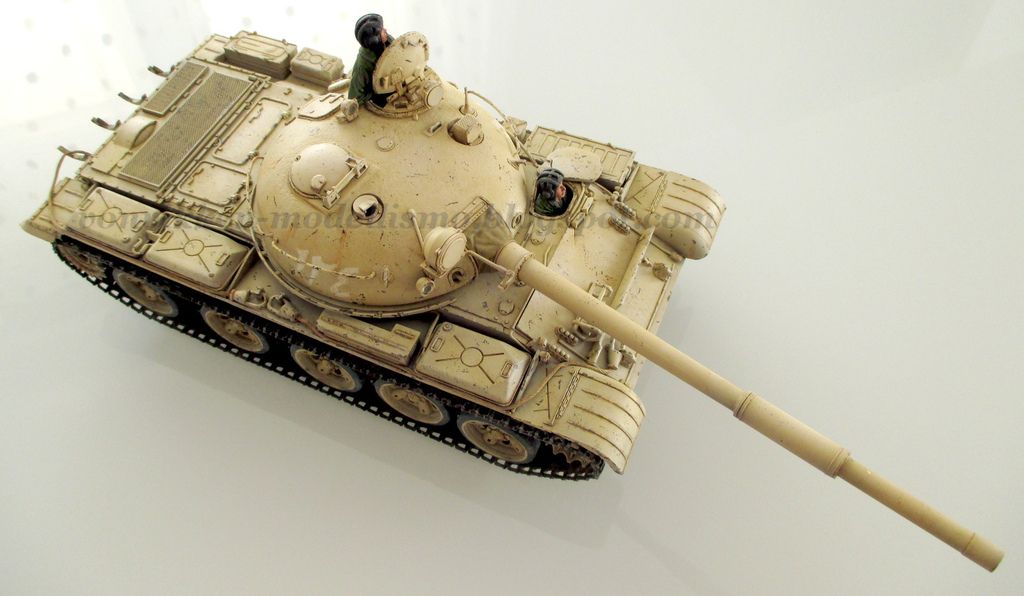 Per la bandiera irachena sul retro del carro, mi sono rifatto a questa foto, che rappresenta un T-62 iracheno messo fuori combattimento in Iran nei pressi del posto di confine di Shalamche, nella regione del Khuzestan, a poca distanza dalla città di Khorramshahr, sede di violente battaglie:
For the Iraqi flag on the back of the hull, I took inspiration from this photo, showing a knocked-out Iraqi T-62 in Iran near the Shalamche border post, in the Khuzestan region, not far from the city of Khorramshahr, where bitter fightings took place:
(for discussion only)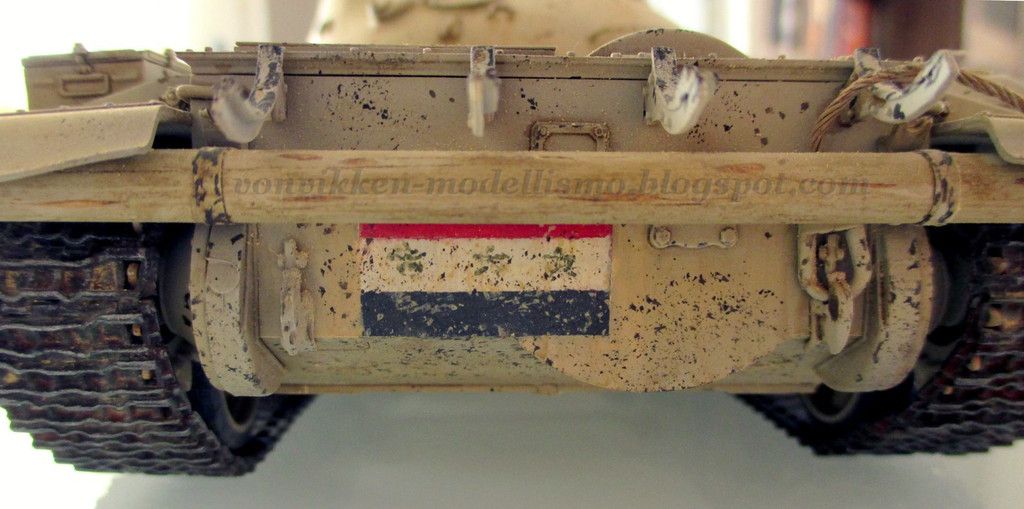 Il numero sui lati della torretta è ١٢٤, ovvero 124:
The number on the turret sides is ١٢٤, that is 124: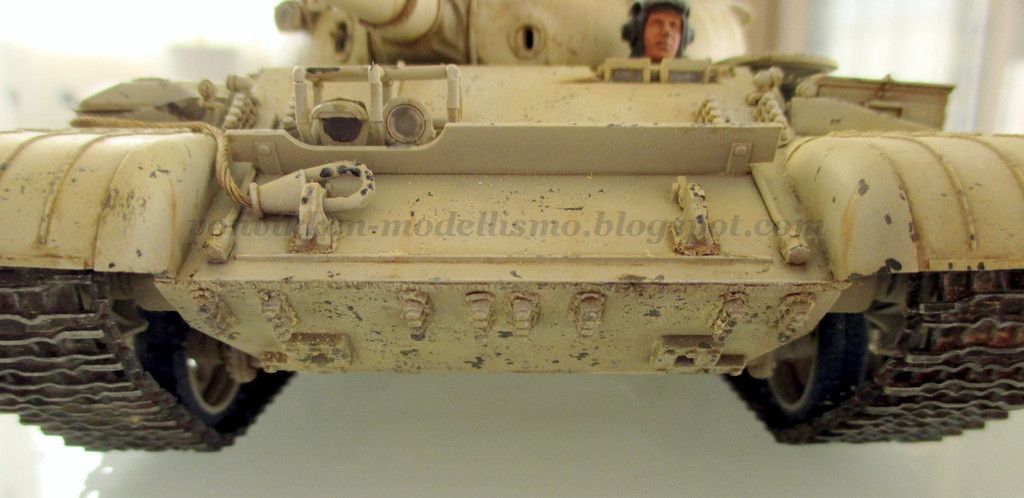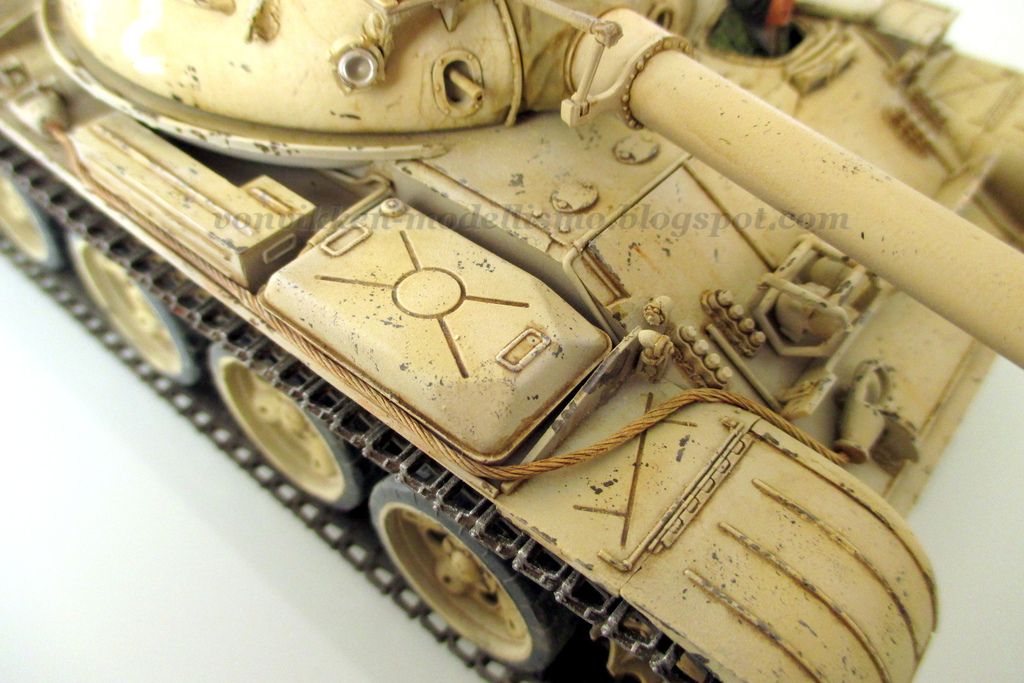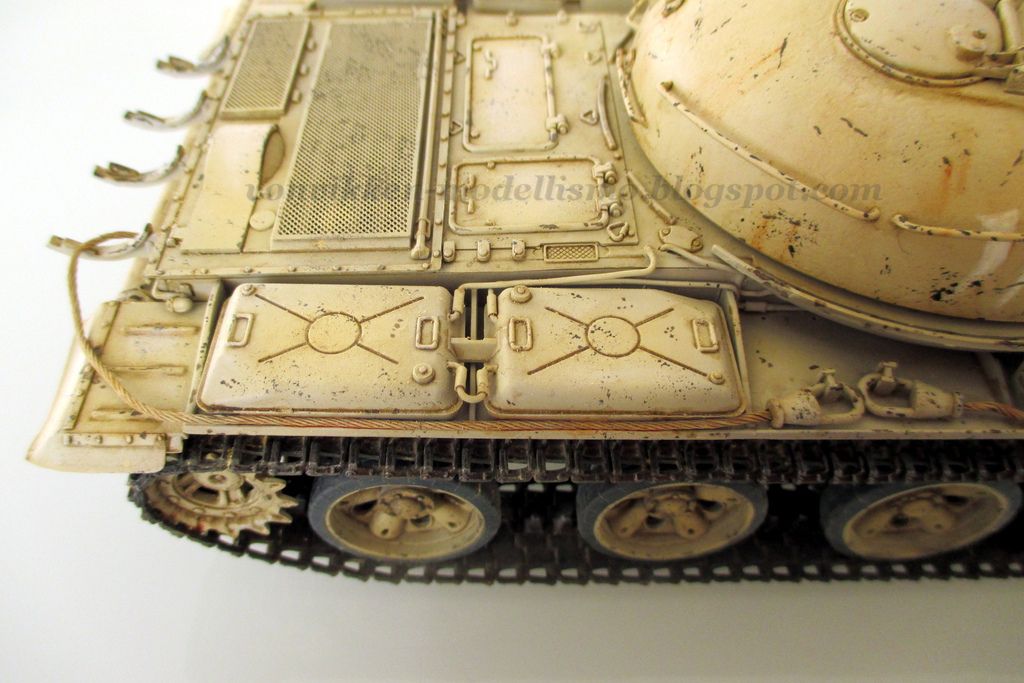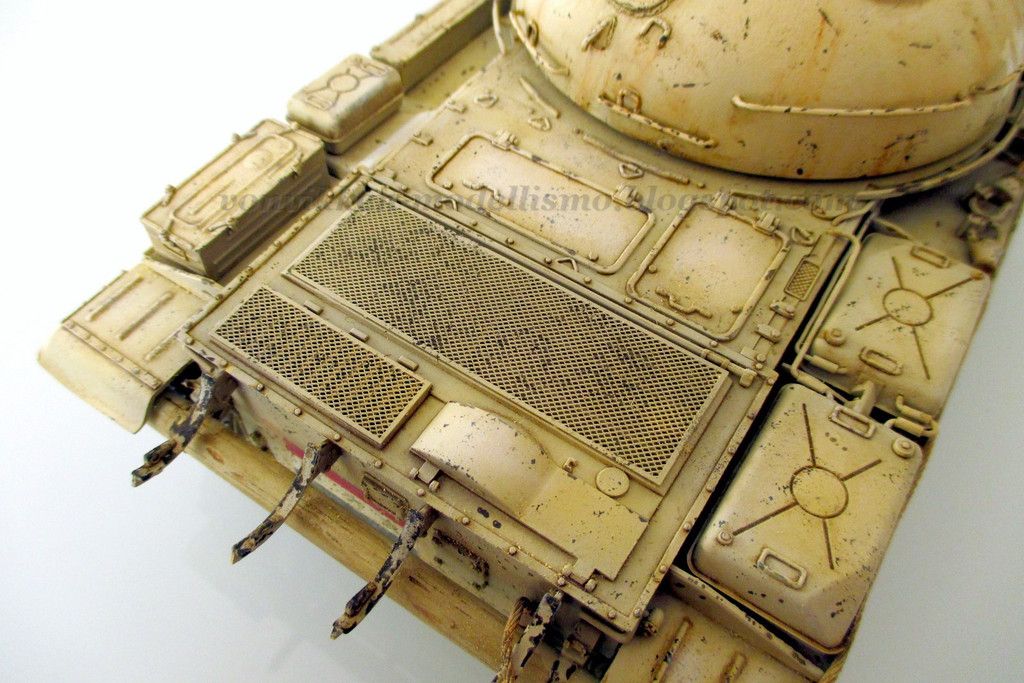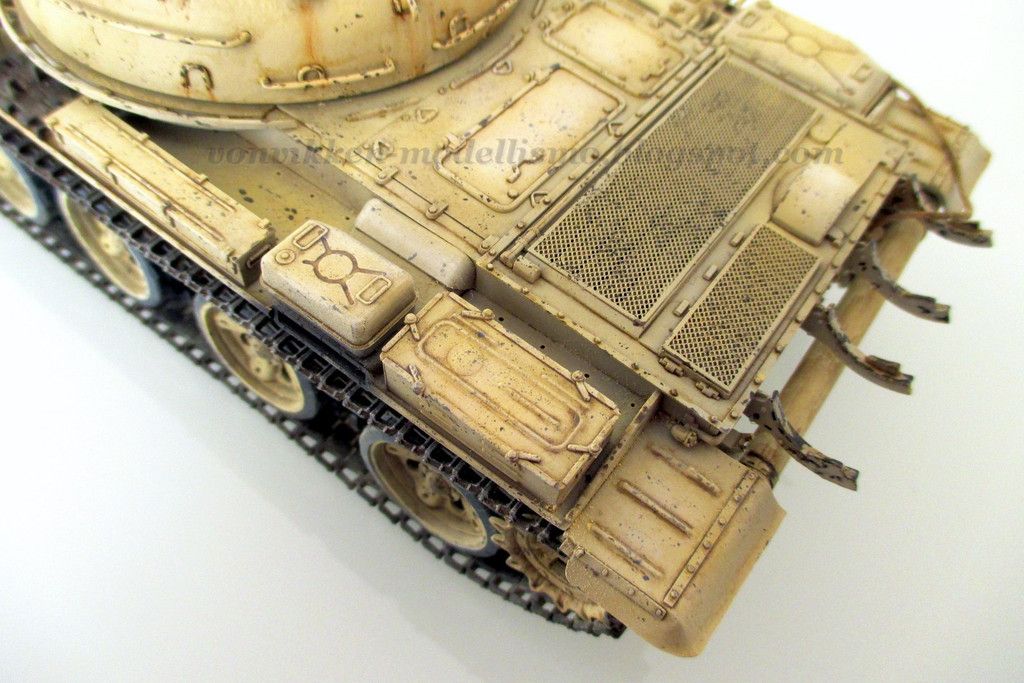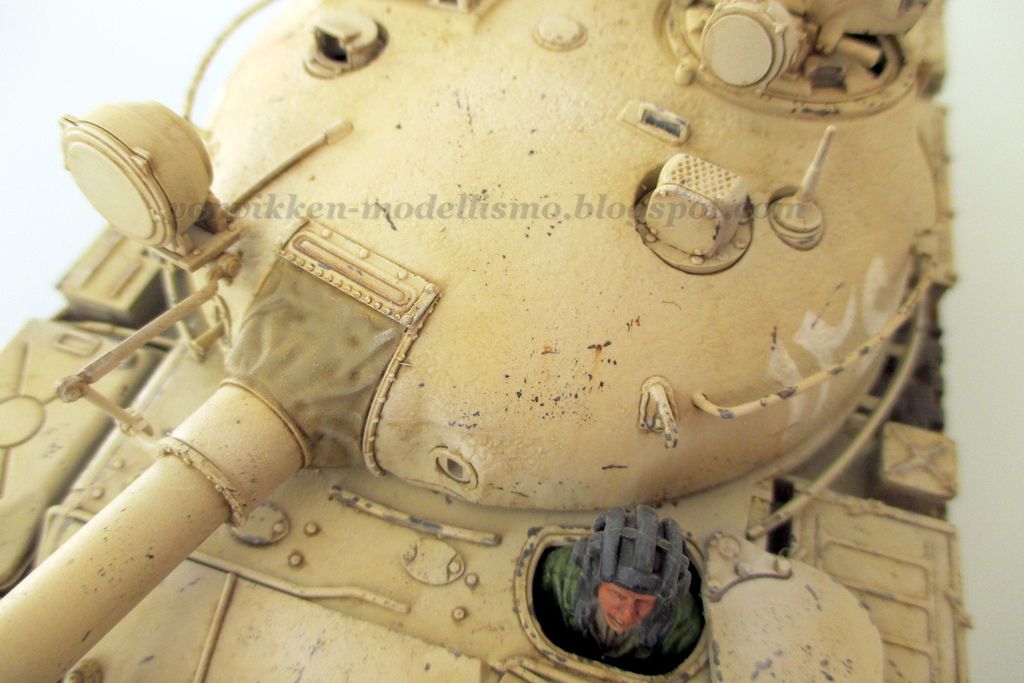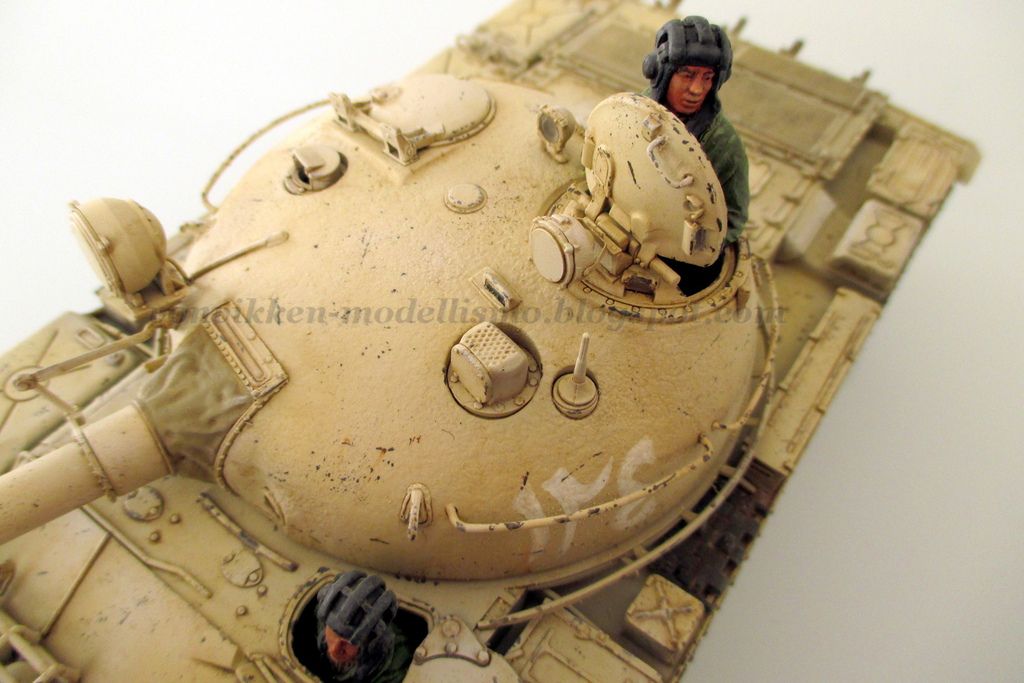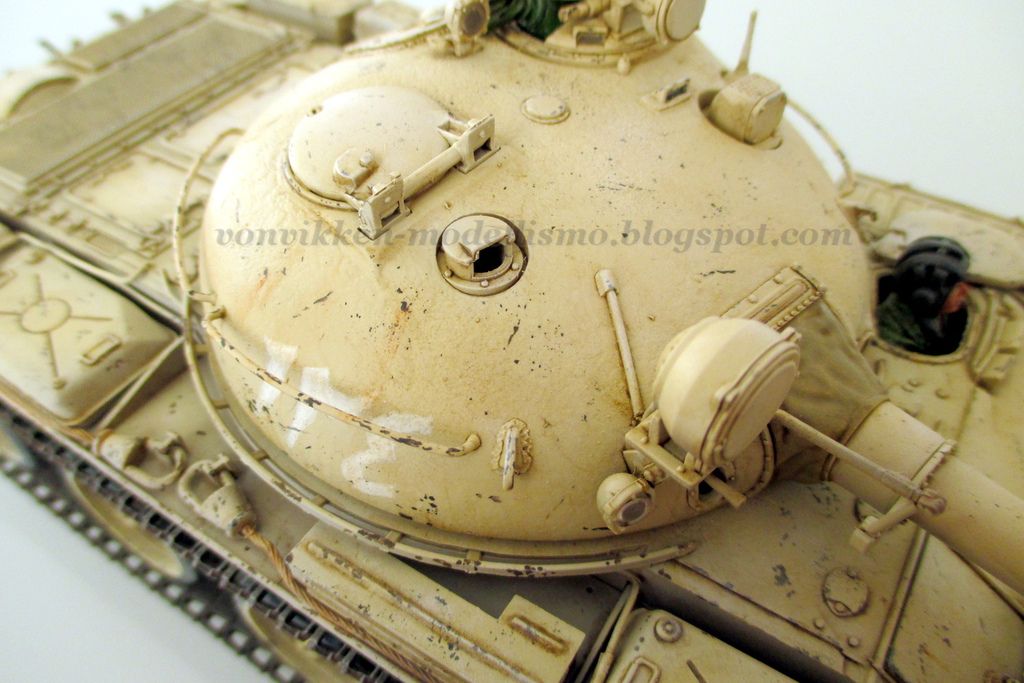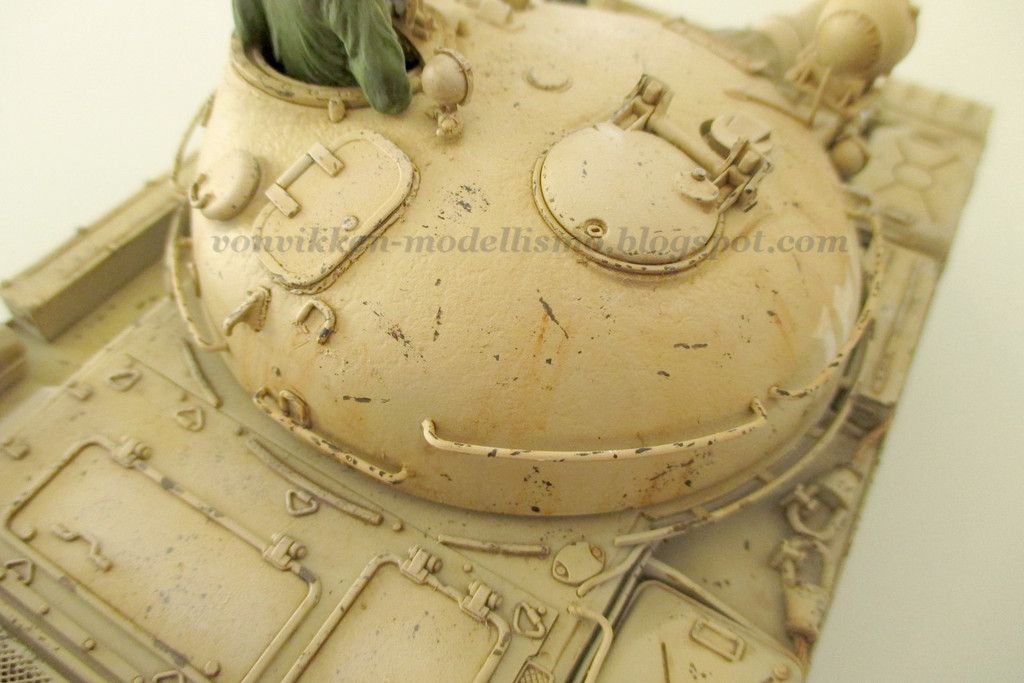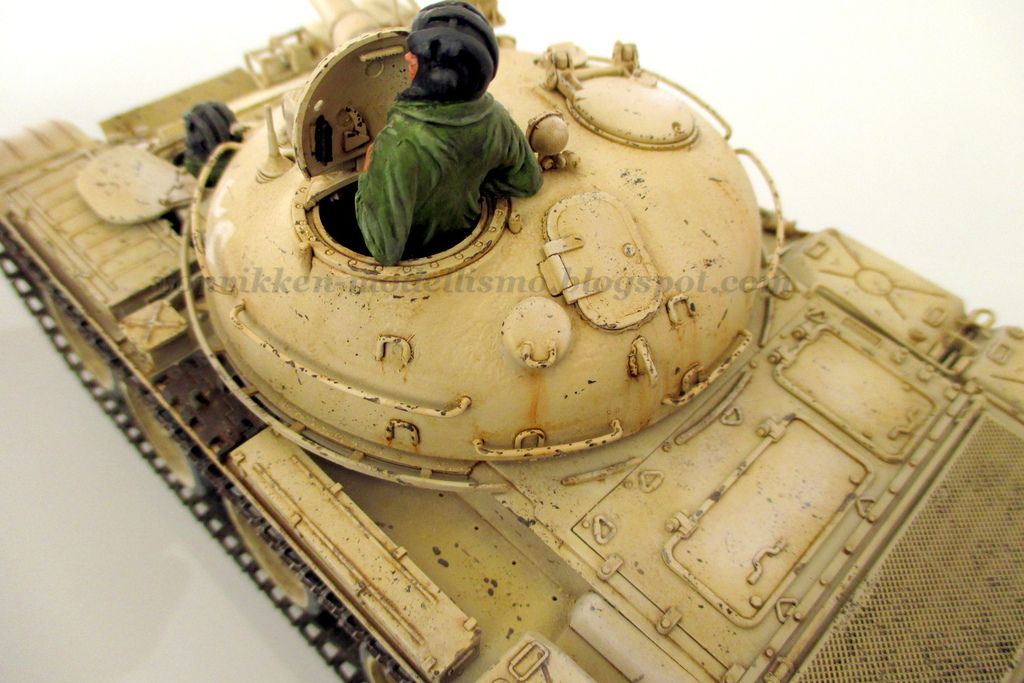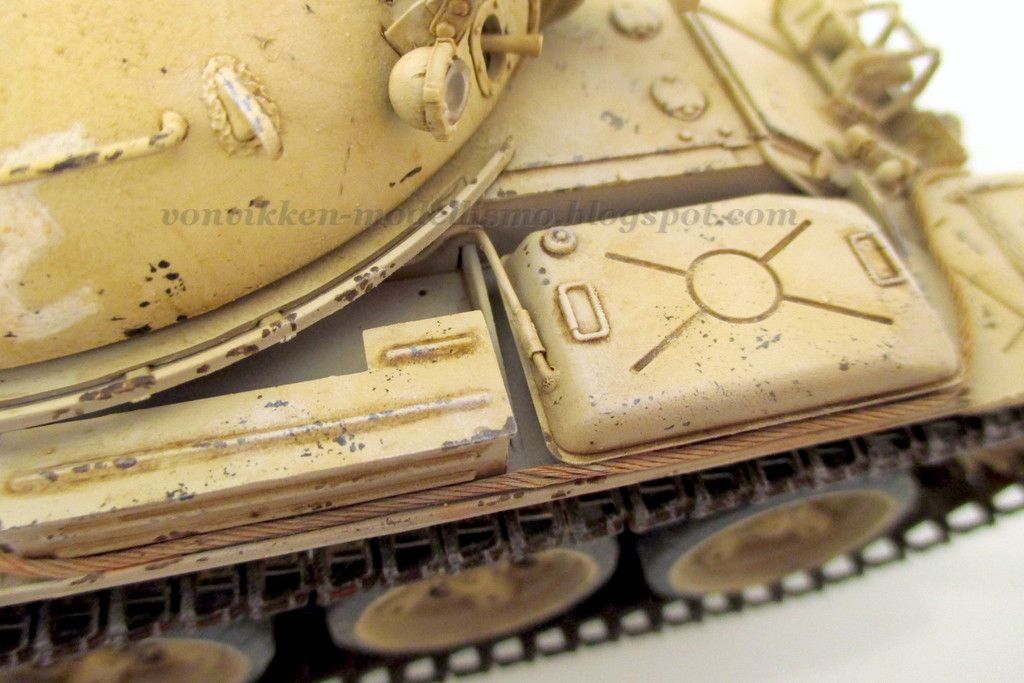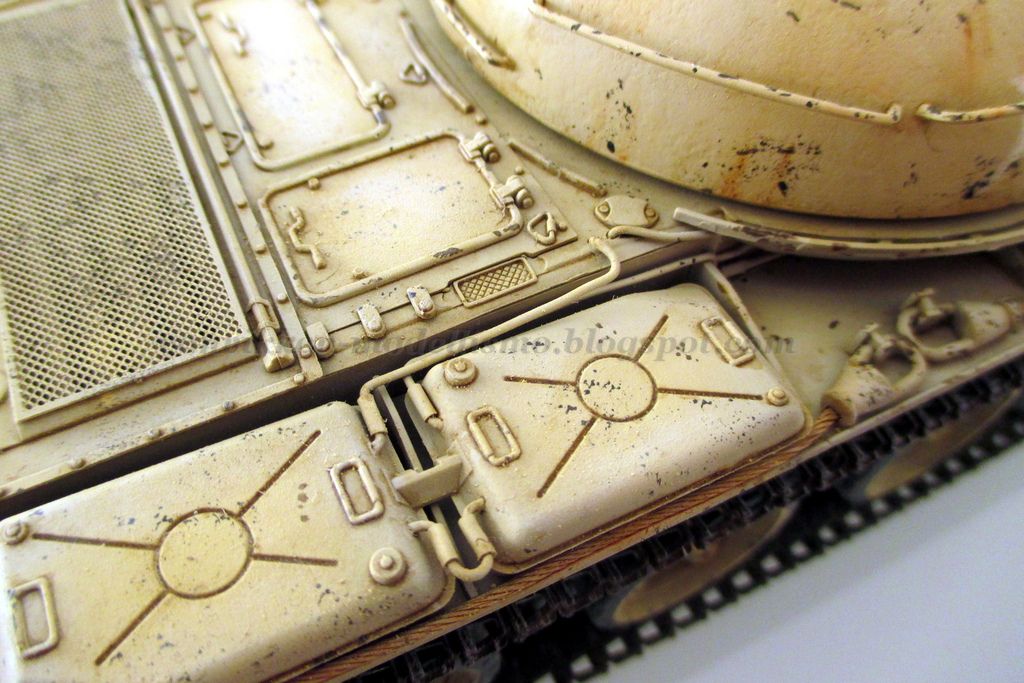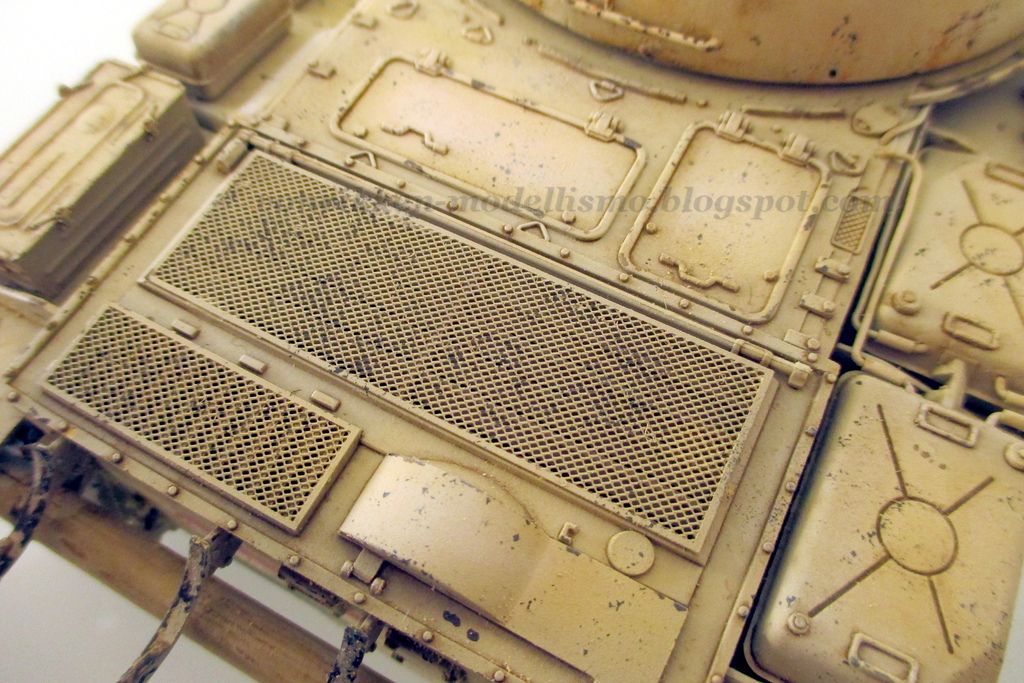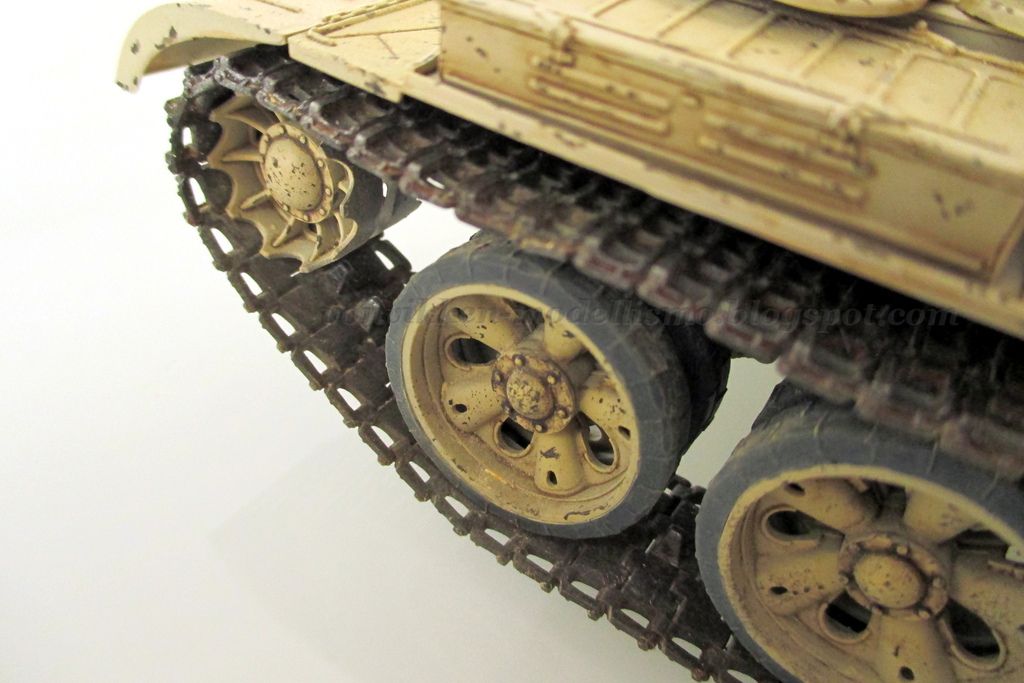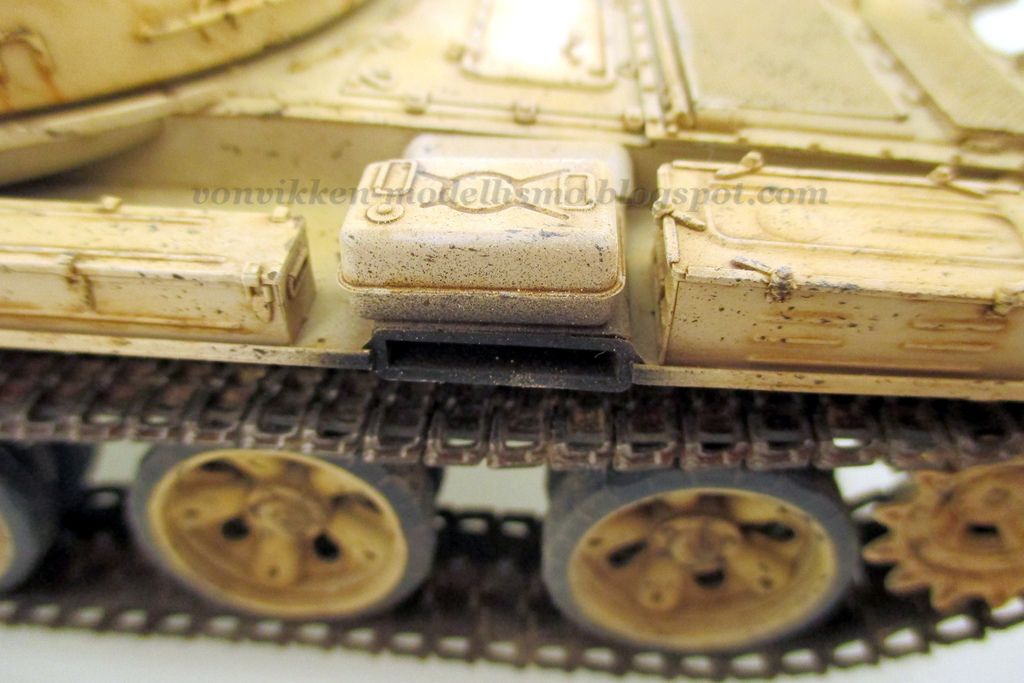 Anche i figurini sono stati dipinti ad acrilico, a pennello. Il colore dei giubbotti riproduce le uniformi in tessuto verde oliva che, da alcune foto viste in rete, erano indossate all'epoca dai carristi iracheni.
The miniatures have also been painted in acrylic, with a paintbrush. The colour of the jacket reproduces the olive green that, according to some photos I saw on the Web, were worn by Iraqi tank crews of the time.