Con questo modello per la prima volta mi sono cimentato nella costruzione degli interni di un carro armato.
With this model I attempted for the first time the construction of the interiors of a tank.
L'M3 Grant è un carro brutto e sgraziato, e malgrado ciò (o forse proprio per questo!) mi ha sempre interessato costruirlo. Ho trovato questo modello della Academy (nº 13212) sullo scaffale di un negozio. Avendo già apprezzato questa marca in un mio precedente modello ho deciso di comprarlo.
The M3 Grant is an ugly and graceless tank, but nonetheless (or maybe thanks to it!) I always wanted to build one. I found this Academy model (no. 13212) on the shelf of a shop. Having already appreciated this brand with one of my previous models I decided to buy it.
Dentro la scatola si trovano otto stampate in polistirene color sabbia, la parte inferiore dello scafo nello stesso materiale, un paio di cingoli in vinile, un set di decals (piuttosto spartano, in verità) ed il foglio istruzioni. Ho deciso di montare tutto da scatola ad eccezione dei cingoli, sostituiti con quelli in metallo Friulmodel ATL-47.
Inside the box there are eight sand-colored styrene sprues, the lower hull in the same material, a pair of vinyl tracks, a decal set (quite meager, indeed) and the instruction sheet. I decided to build this model out of the box, except for the tracks, replaced with the Friulmodel ATL-47 metal ones.
Montaggio (assembling)
Gli interni sono abbastanza dettagliati, e comprendono la camera di combattimento (in particolare si osservano la scatola di trasmissione, la postazione del guidatore, completa di pedali e leve di comando, e le riserve di munizioni), il cestello della torretta ed i cannoni.
The interiors are quite well detailed: they include the fighting compartment (in detail, you can see the gearbox, the driver's station, with pedals and steering levers, and the ammunition reserves), the turret basket and the cannons.
Per il montaggio ho incontrato alcune difficoltà, in quanto la stampata corrispondente era piegata ed ho avuto problemi a far combaciare correttamente i pezzi, soprattutto la paratia posteriore. Malgrado ciò, comunque, l'effetto è stato soddisfacente, come si può vedere nella foto seguente (dove ho già mascherato alcune parti per la verniciatura).
During the assembling I found some difficulties, because the corresponding sprue was bent and I hardly managed to correctly fit the pieces together, especially the rear bulkhead. Nonetheless the final effect has been quite satisfying, as you can see in the following photo (where I already masked some parts for the painting).
Verniciatura (painting)
Gli interni di un carro armato sono di regola dipinti in bianco, poiché ciò permette una migliore illuminazione. Ho usato per questo del colore acrilico Tamiya XF-2 Flat White, spruzzato ad aerografo. Nelle successive fasi di invecchiamento ho creato delle scrostature in marrone scuro con un pennello sottile e con una spugnetta nelle zone di maggior usura, seguite da un lavaggio generale ad olio in bruno van Dyck e da un dry-brush bianco, sempre ad olio, sulle zone più illuminate e sugli spigoli.
The interiors of a tank are usually painted in white, because it allows a better illumination. For this one, I used an acrylic Tamiya XF-2 Flat White paint, sprayed with an airbrush. In the following phases I made some scratches in dark brown with a fine paintbrush and a sponge in the most worn zones. After that I applied an oil wash with van Dyck brown, followed by a dry-brush with white oil paint on edges and bright zones.
Ho inoltre dipinto i dettagli, usando un mix di acrilici Olive Drab (Vallejo 70.889) e Buff (Vallejo 70.976) per i sedili, smalto Humbrol 63 Matt Sand per la radio ed acrilico Vallejo Flat Red (70.957) per gli estintori, i quali peraltro non si vedranno a modello finito.
Moreover, I painted the details, using a mix of Olive Drab (Vallejo 70.889) and Buff (Vallejo 70.976) acrylics for the seats, Humbrol 63 Matt Sand enamel for the radio and Vallejo Flat Red (70.957) acrylic for the fire extinguishers; anyway the latters will be no more visible once the model will be finished.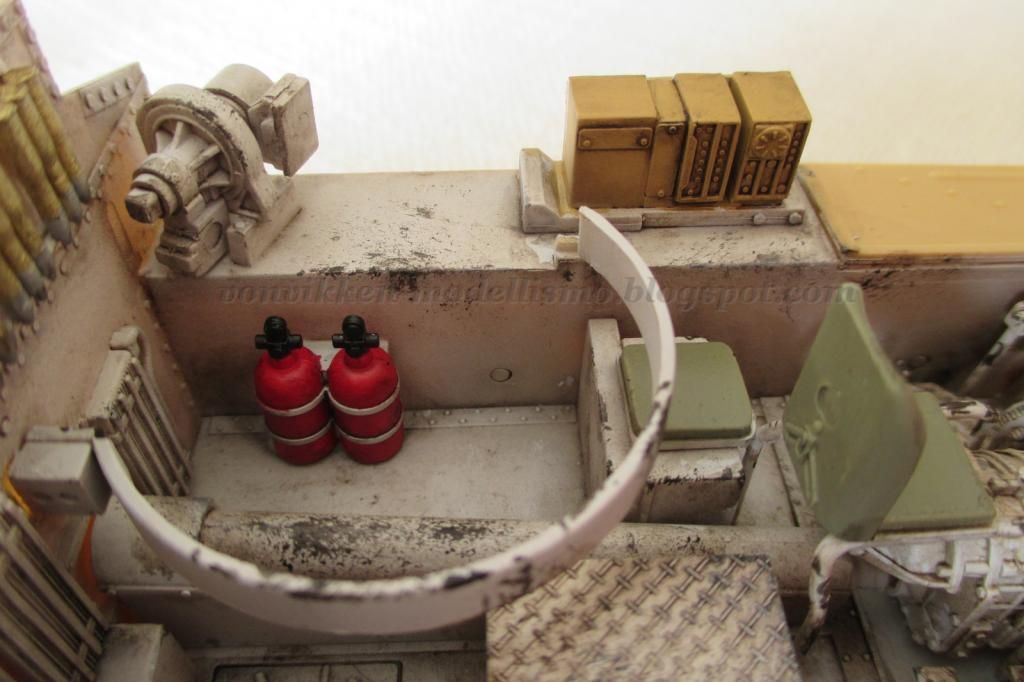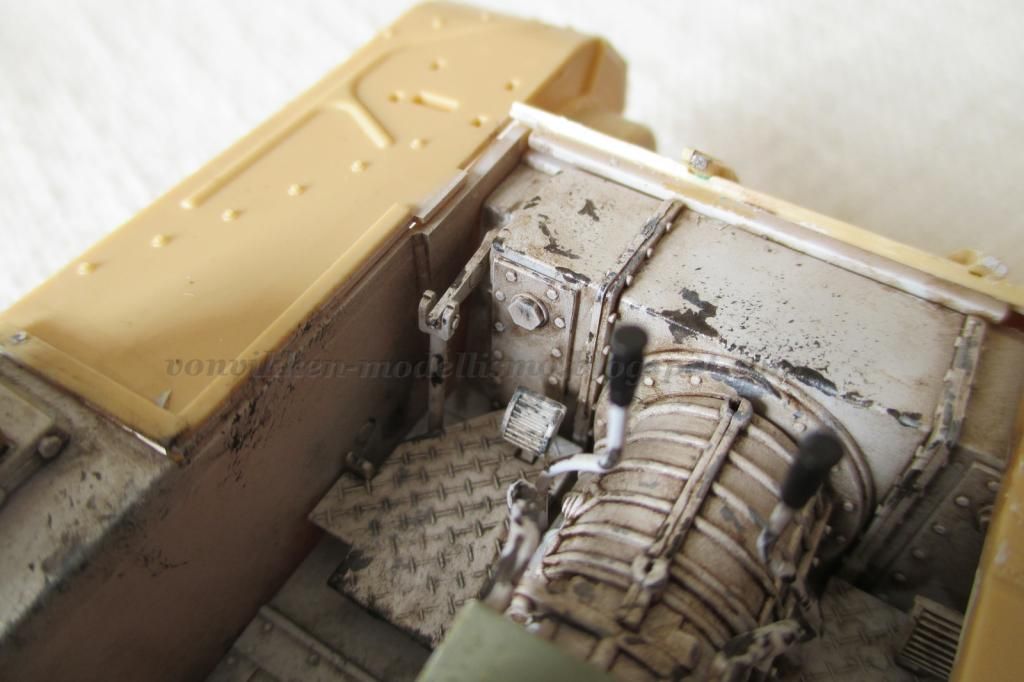 La stessa procedura è stata seguita per il cestello della torretta e per il cannone da 75 mm.
The same procedure has been followed for the turret basket and for the 75 mm cannon.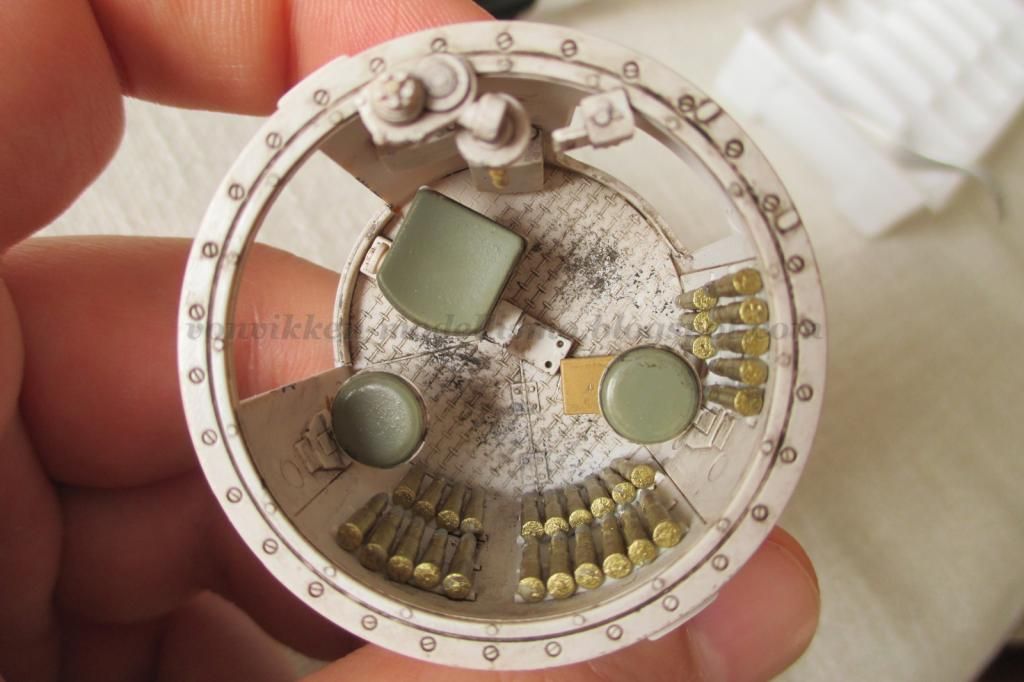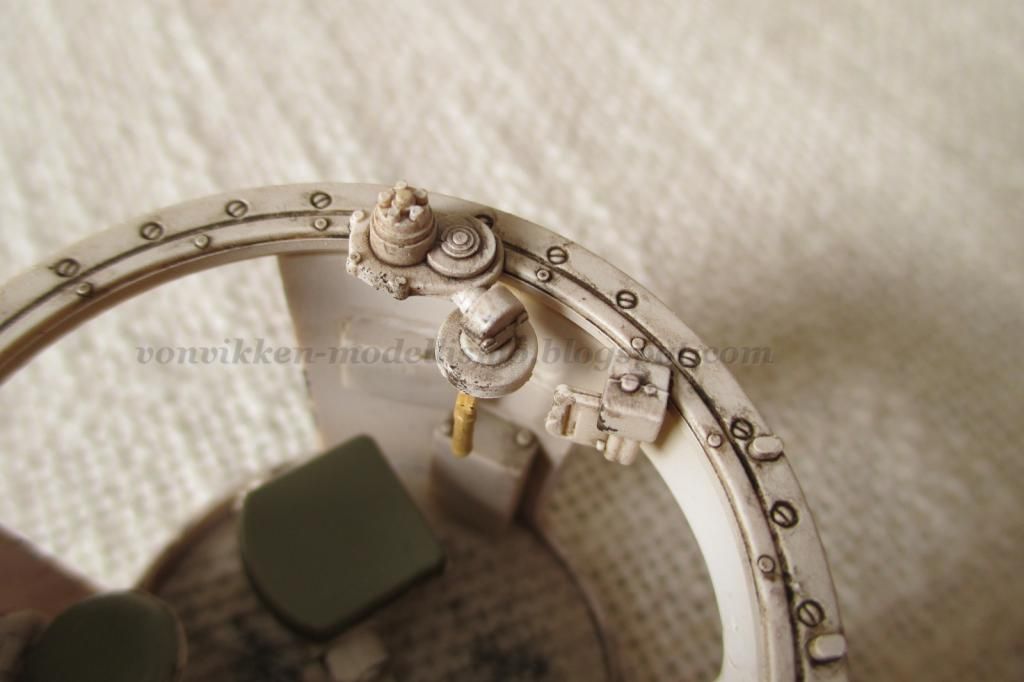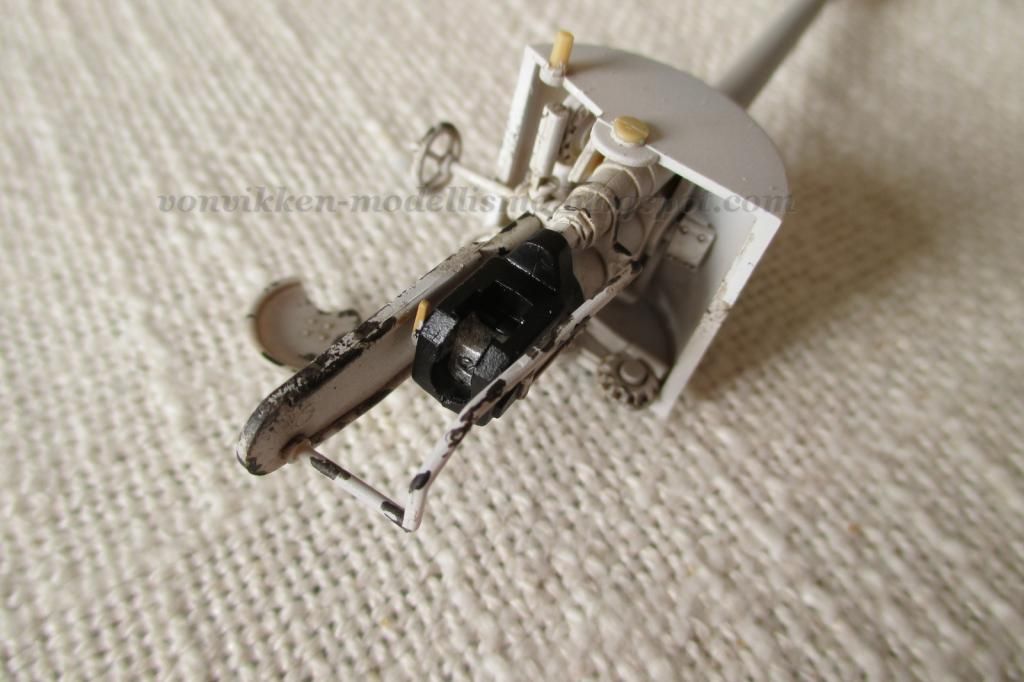 Le munizioni sono state dipinte con smalti metallizzati Model Master. Ho usato il bronzo (Brass) per i bossoli dei proiettili e l'acciaio (Steel) per le ogive dei 37 mm e i caricatori a tamburo dei mitra Thompson in dotazione all'equipaggio. Ho trovato più comodo dipingere i proiettili ancora sul telaio ed incollarli alla fine.
The ammunition have been painted with Model Master metallized enamels. I used Brass for the cartridge cases and Steel for the 37 mm round tips and for the drum magazines of the Thompson submachine guns used by the crew. I found more convenient painting the rounds still on the sprue and gluing them afterwards.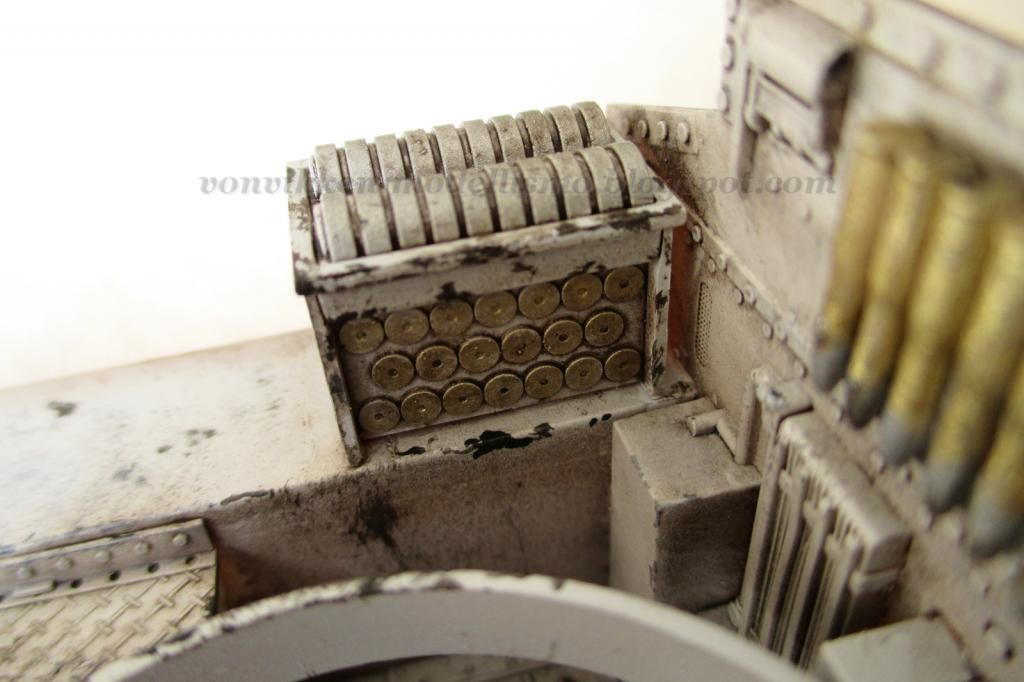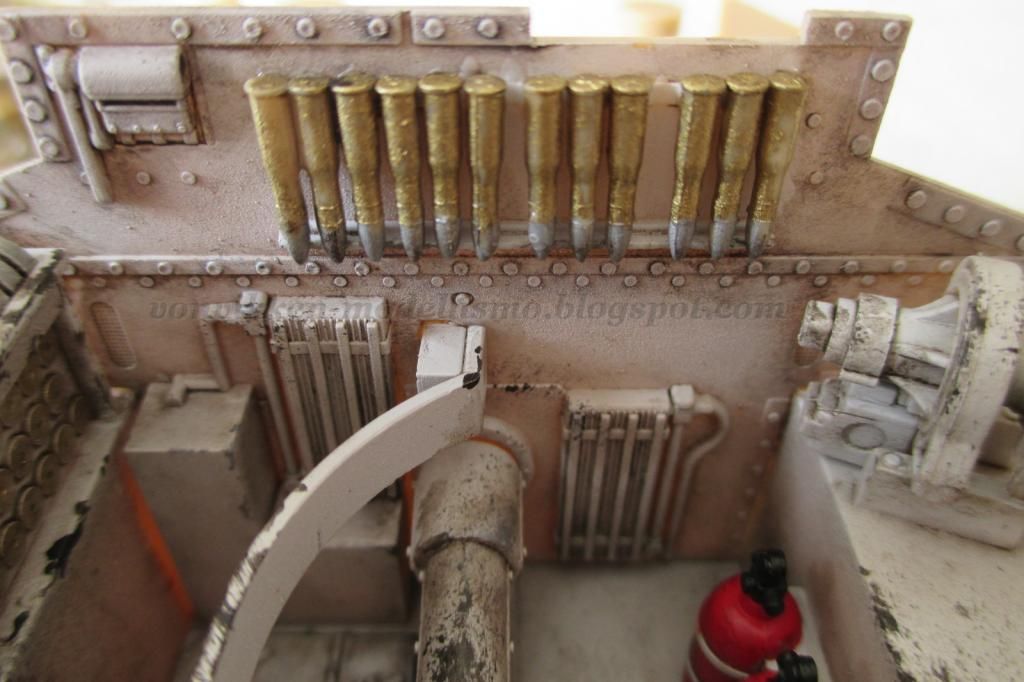 Ecco gli interni completi!
Here's the whole interiors!