L'invecchiamento di questo modello è stato utile per conferire un maggiore realismo all'intero lavoro.
The weathering of this model has been useful to give more realism to the entire work.
Il lavoro di invecchiamento su questo modello è stato simile a quello di altri lavori precedentemente visti. Ho iniziato con dei filtri ad olio "puntinati" che hanno amalgamato tra loro i vari colori della mimetica.
The weathering job on this model has been similar to that performed on other works already seen before. I started with "dotted" oil color filters, that blended together the various colors of the camo.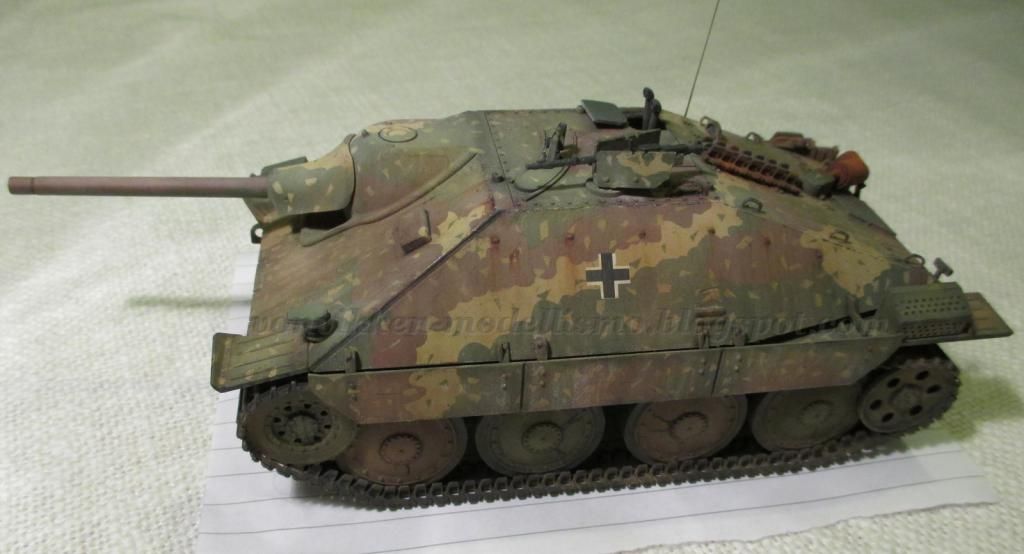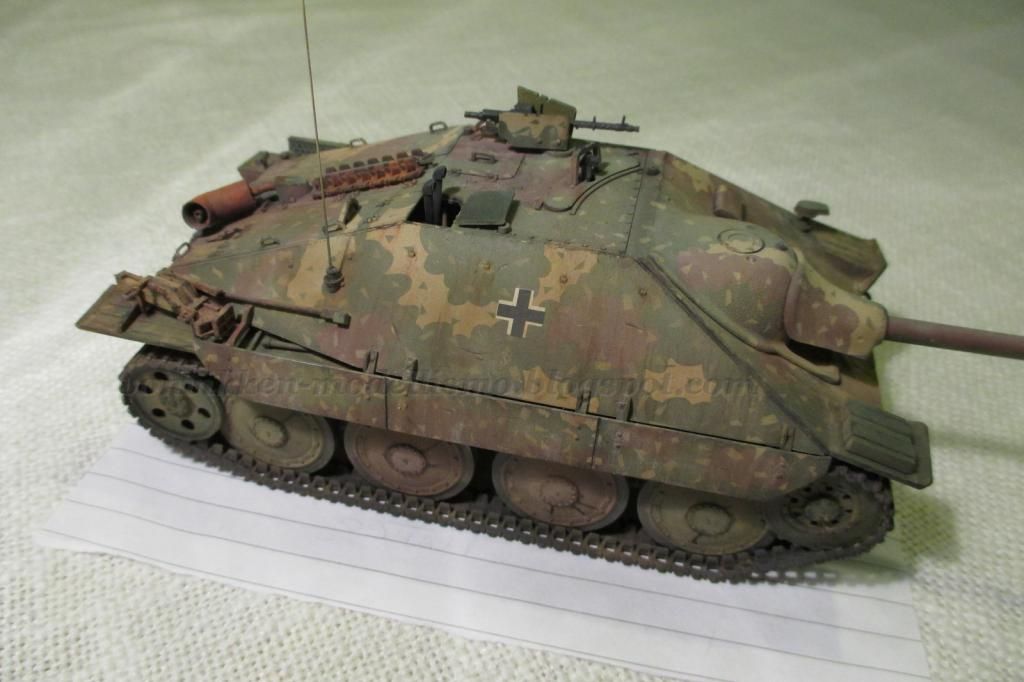 Le parti arrugginite sono state invecchiate usando pigmenti Mig (Ochre Rust, Standard Rust e Light Rust). La marmitta appare più "piatta" di quanto non sia in realtà.
The rusted parts have been weathered using Mig pigments (Ochre Rust, Standard Rust and Light Rust). The exhaust looks more "flat" than it really is.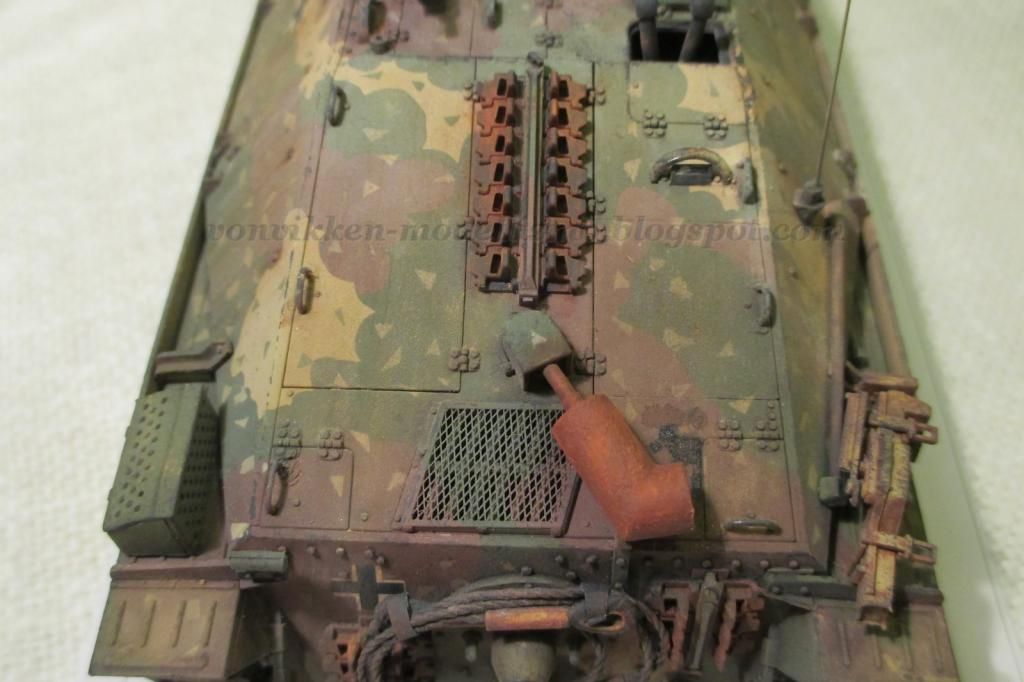 Le parti consumate sono state rese tamponandole con una spugnetta intrisa con un miscuglio di nero e marrone.
The worn parts have been painted dabbing them with a small sponge colored with a mix of brown and black paint.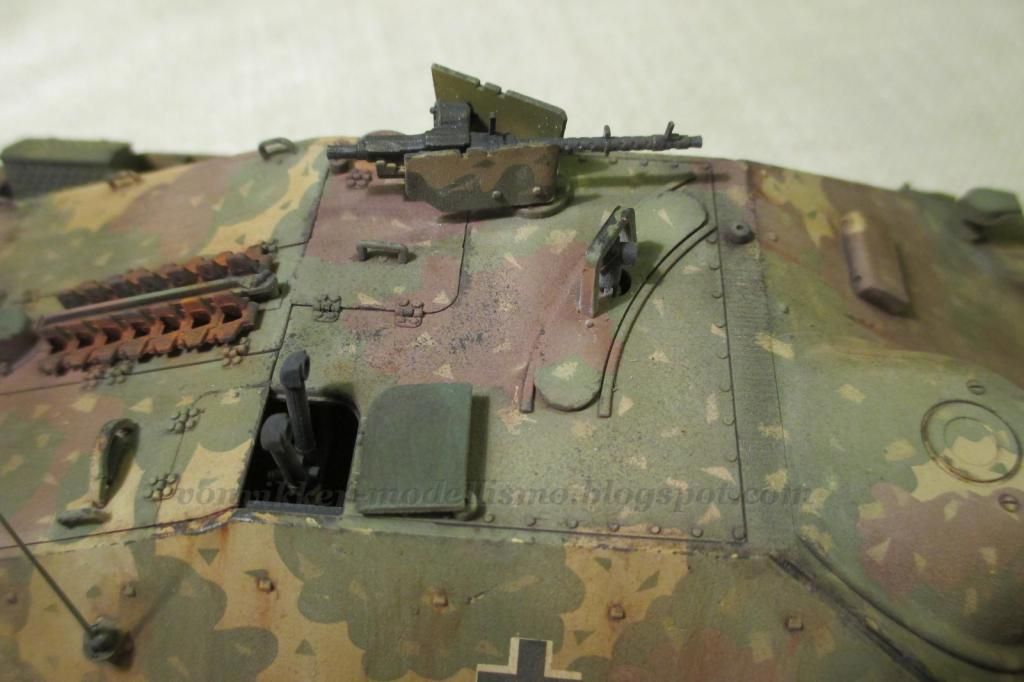 Il cavo da traino è in filo di cotone bagnato in acqua e colla vinilica per renderlo rigido. Dopo la colorazione è stato trattato con colore ad olio (terra di Siena bruciata) e pigmenti.
The tow cable is a cotton thread dipped in water and vinylic glue to make it stiff. After being painted, it has been weathered with oil color (burnt Siena) and pigments.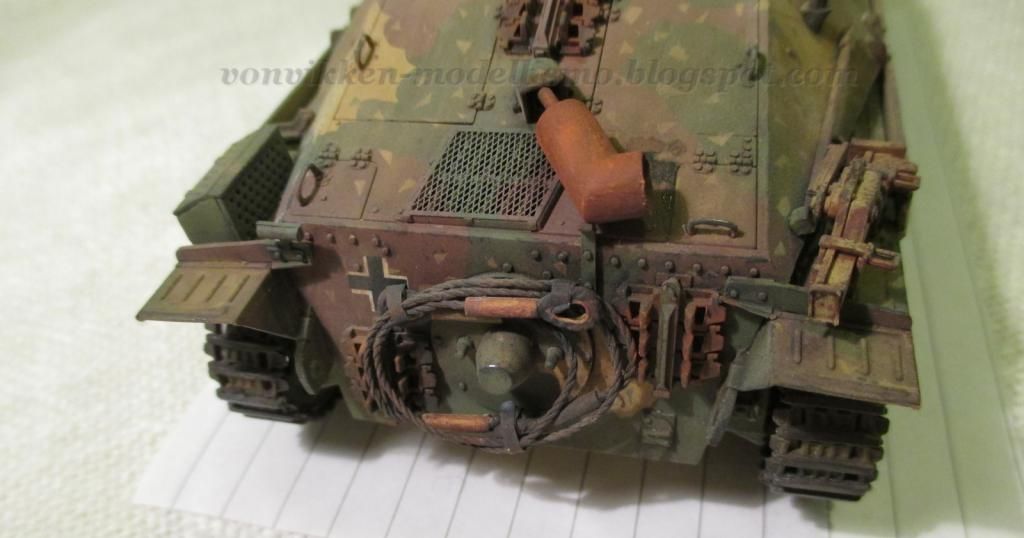 Le macchie di olio sono in colore acrilico, nero e trasparente lucido.
The oil stains are in acrylic paint, a mix of black and clear gloss.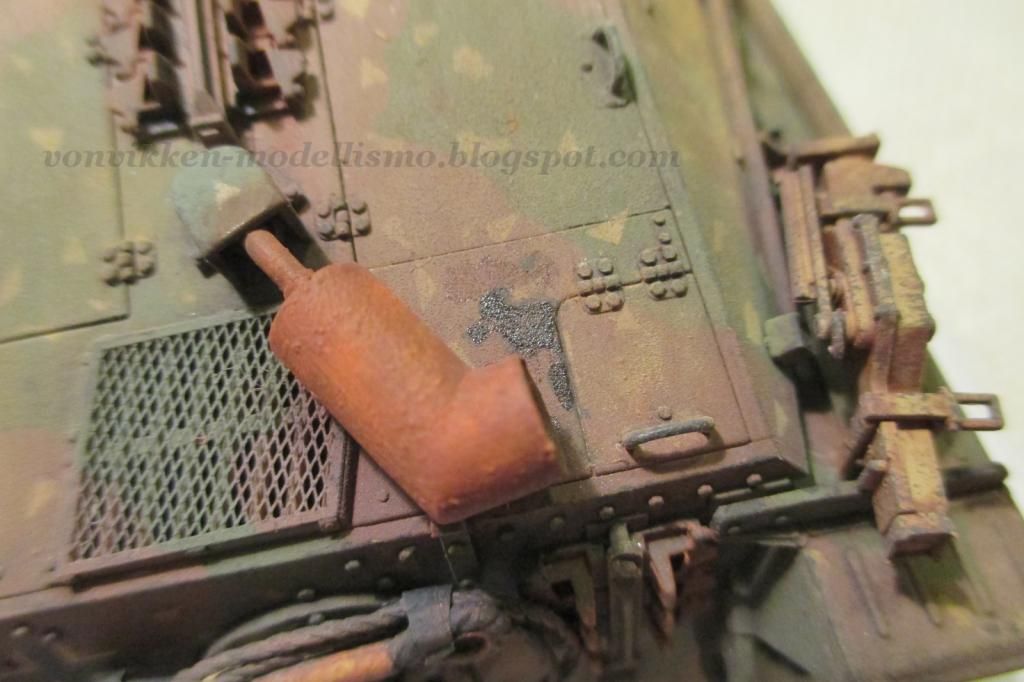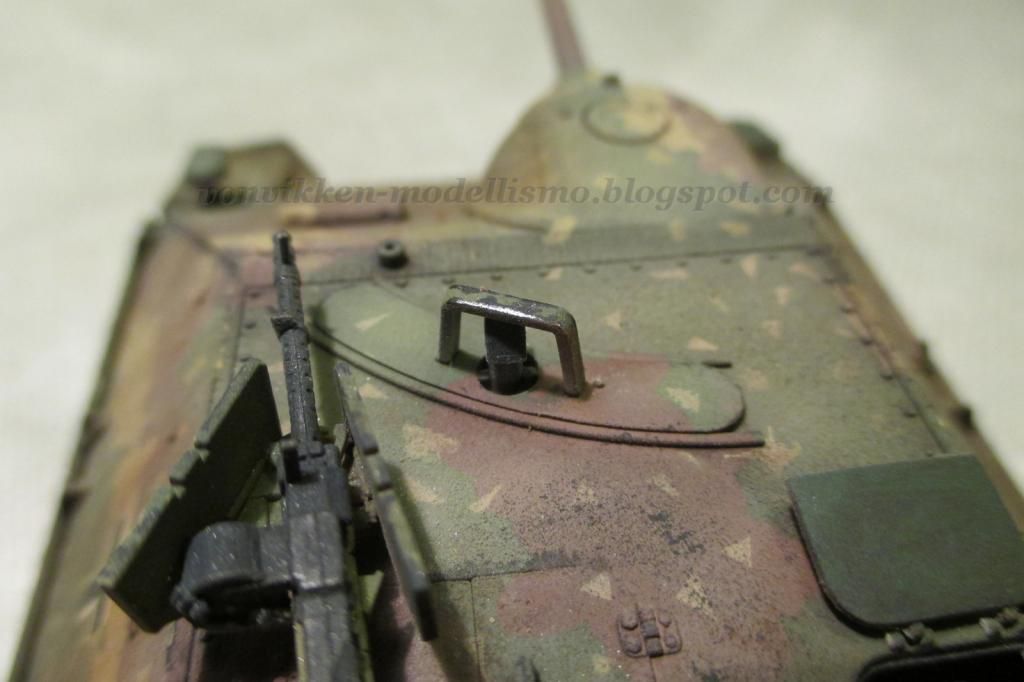 Le colature di ruggine sono in terra di Siena bruciata ad olio; i bordi scrostati sono stati ripassati con una matita morbida per simulare il metallo nudo.
The rust stains are painted with Burnt Siena oil color; the chipped borders have been rubbed with a soft pencil to look like bare metal.
La parte superiore dei pannelli è stata strofinata a pennello secco con color ad olio giallo Napoli, per schiarire la tonalità.
The upper parts of the panels have been dry-brushed with Naples Yellow oil color, thus making the color hue lighter.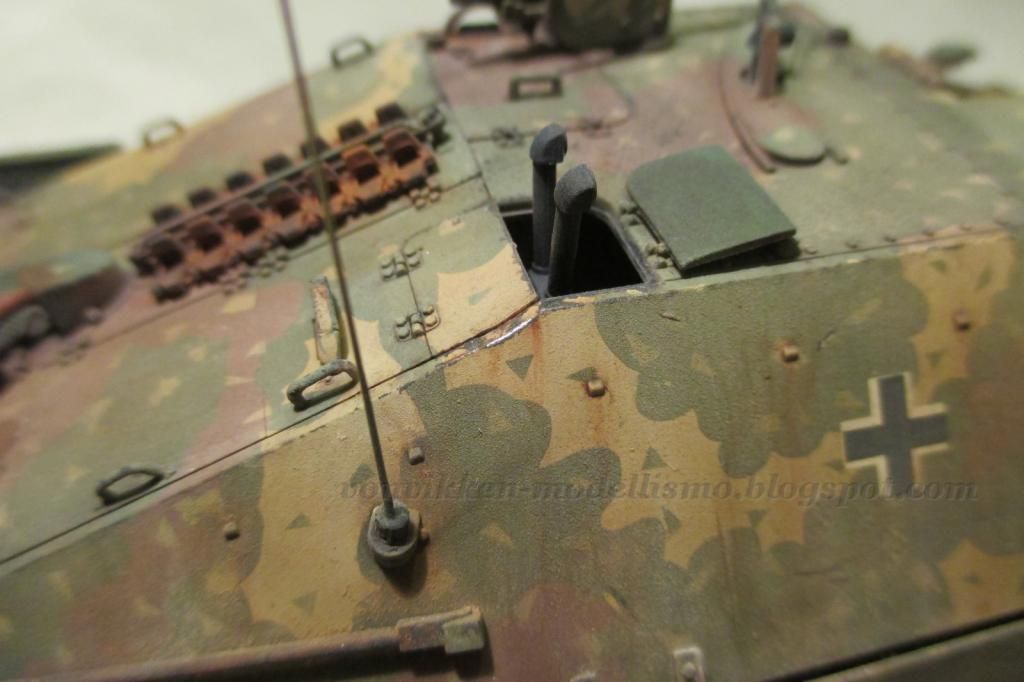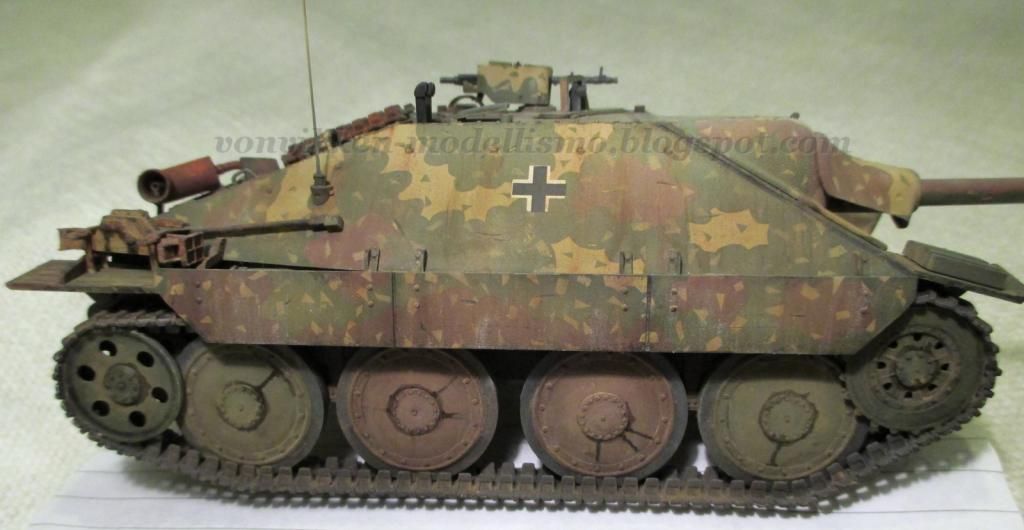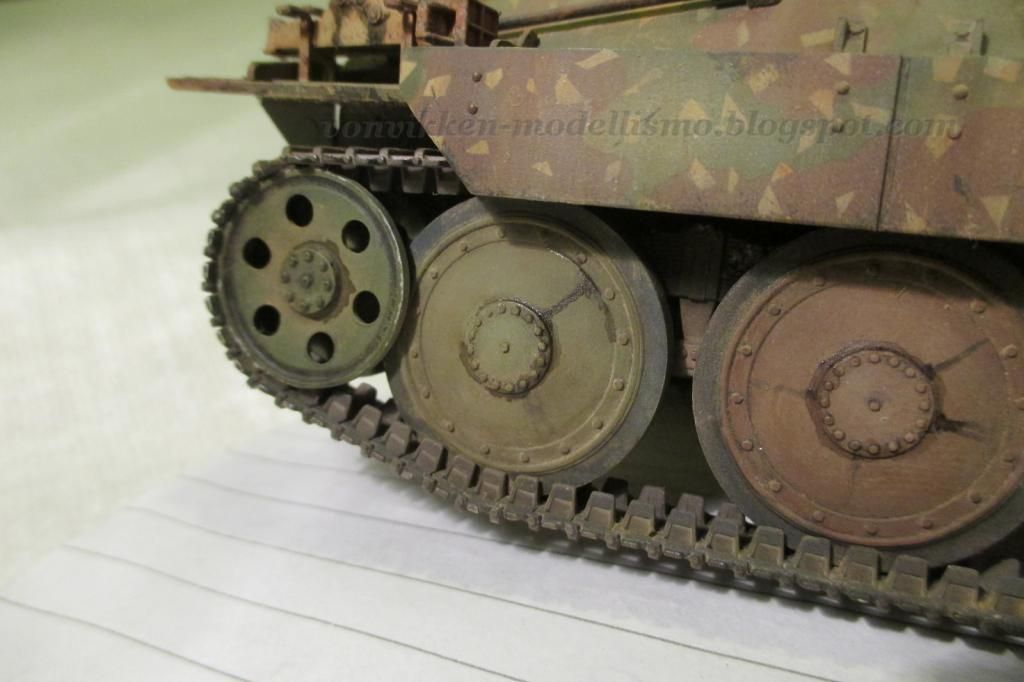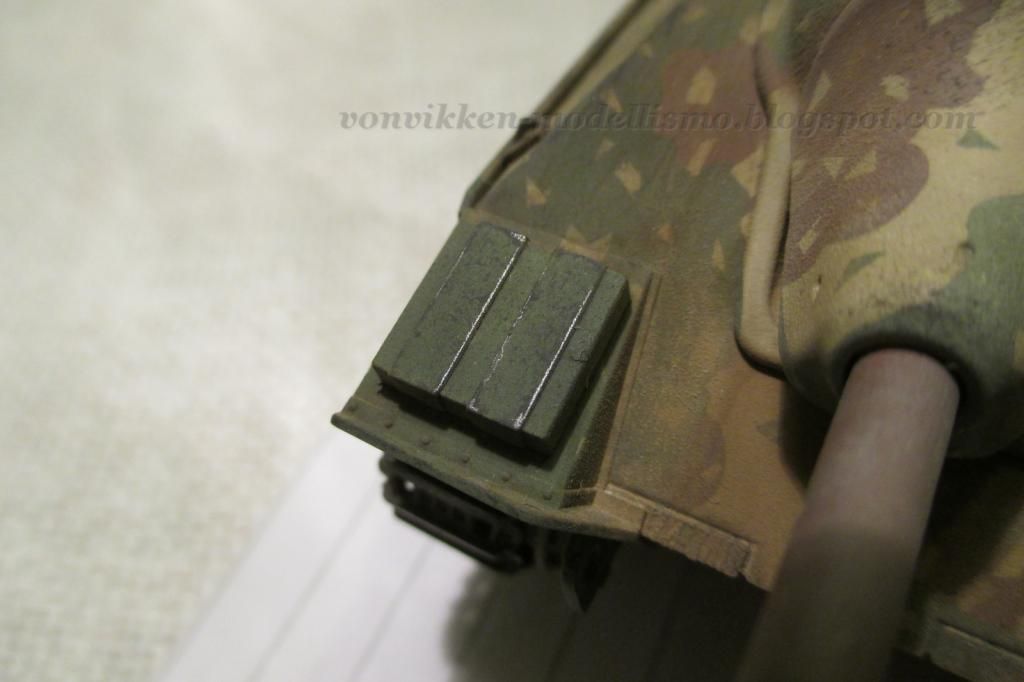 I cingoli, infine, sono stati dipinti in marrone scuro, spolverati con pigmenti (Europe Dust e Russian Earth) e i suoi battistrada strofinati con una matita morbida per simulare l'usura del metallo.
Finally, the tracks have been painted in dark brown and dusted with pigments (Europe Dust and Russian Earth); their treads have been rubbed with a soft pencil to simulate the worn metal.