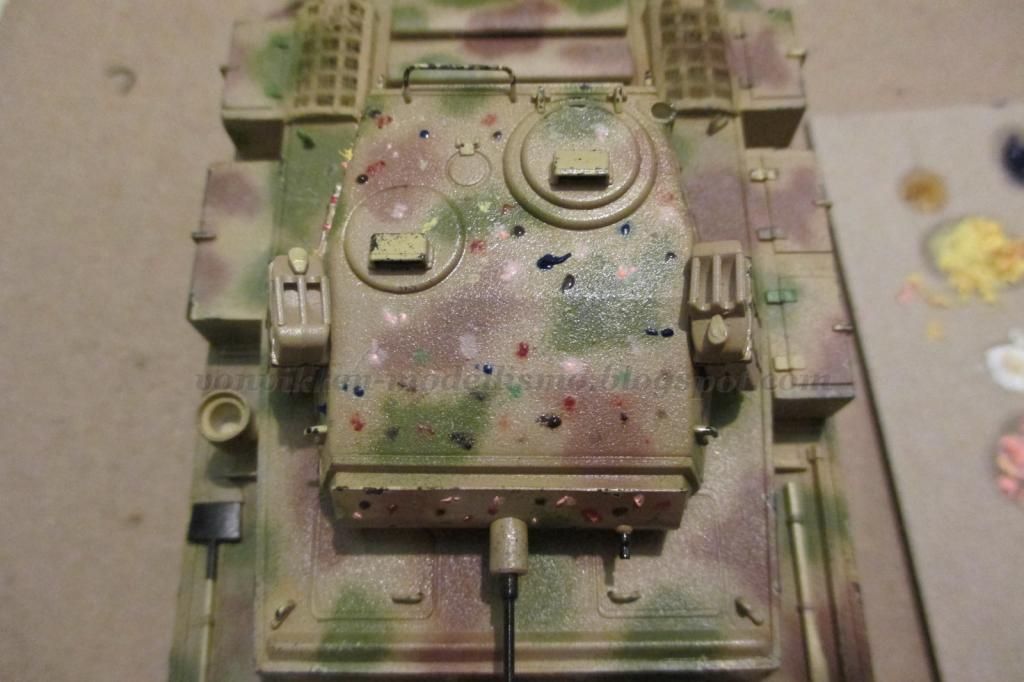 Dopo l'applicazione di filtri e lavaggi questo modello ha cambiato volto, passando da una livrea con macchie di colore troppo contrastate ad una più uniforme, mentre tutti i dettagli prima "piatti" sono stati evidenziati.
After I applied the filters and the washes, this model changed look, passing from a camo with too much bright color patches to a more uniform one, whereas the details, once "flat", are now highlighted.
Filtri (filters)
Per i filtri ho utilizzato la seguente tecnica: dopo aver rivestito il modello con del trasparente satinato, ho preso dei colori ad olio (giallo Napoli, giallo Napoli rossastro, ocra gialla, bianco di titanio, blu oltremare, verde vescica, terra di Siena bruciata, terra d'ombra naturale e bruno van Dyck) e ne ho messa per ciascuno una piccola quantità su un cartoncino, in modo che perdessero parte del legante oleoso e dessero così una finitura meno lucida.
For the filters I used the following technique: after having applied a coat of satin clear varnish, I took some oil colors (Naples yellow, Naples yellow reddish, yellow ochre, titan white, ultramarine, bladder green, burnt Sienna, raw umber, van Dyck brown) and I put a small quantity of each one on a piece of cardboard, in order to absorb part of its oily medium, thus resulting in a less glossy finish.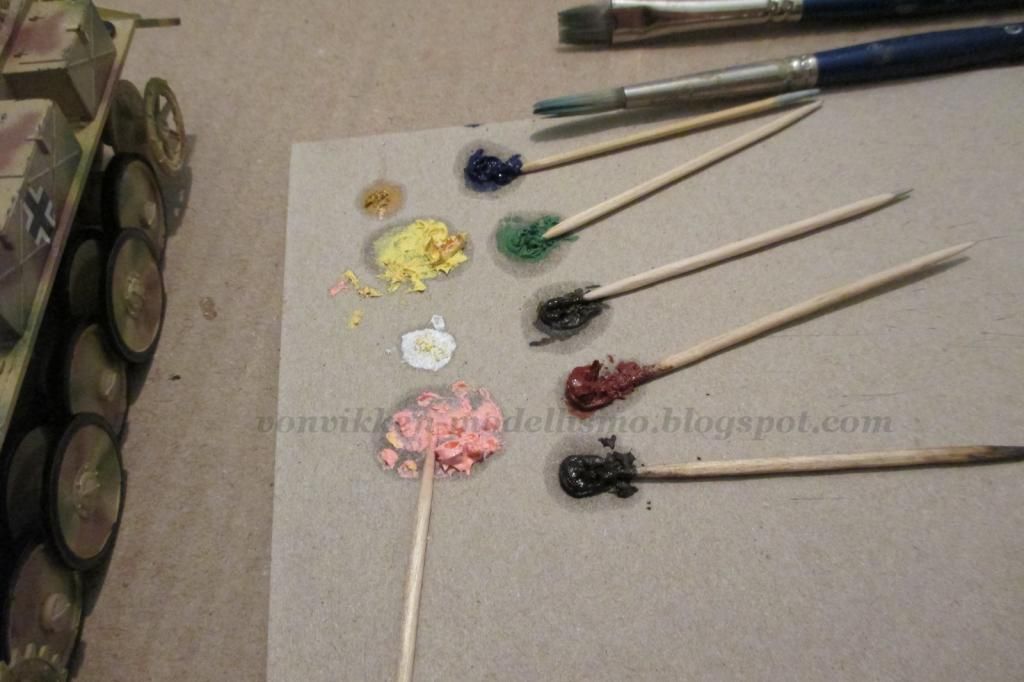 Dopo ho inumidito, senza bagnare, la superficie del modello con del white spirit e ho applicato piccoli puntini dei vari colori, aspettando poi una decina di minuti. Ho usato soprattutto colori chiari nelle zone più "luminose" del modello, e viceversa colori più scuri in quelle "in ombra".
After that I wetted, without dampening it, the surface of the model with white spirit, then I applied small dots of the several colors and I waited about ten minutes. I mainly used light colors in the "brightened" parts of the model, and vice versa dark colors in the "shadowed" ones.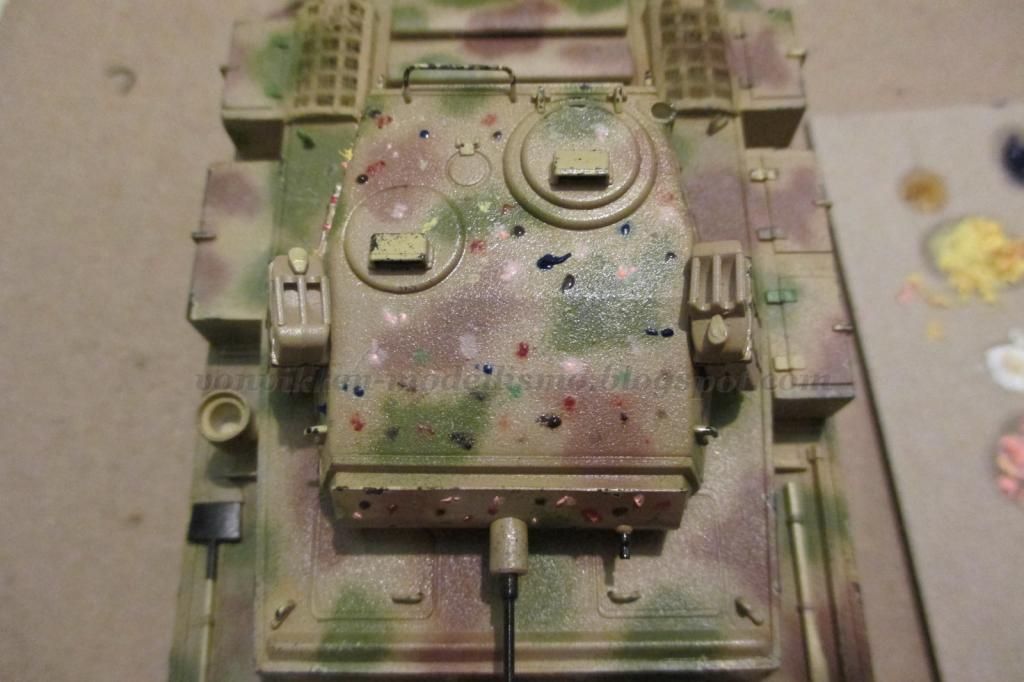 Infine con un pennello piatto inumidito di white spirit ho sfumato i puntini, usando un movimento circolare sulle superfici orizzontali ed uno dall'alto verso il basso su quelle verticali. Il risultato è una quasi impercettibile ma valida variazione dei colori. Tali filtri inoltre tendono ad uniformare le macchie della mimetica con il colore di fondo, amalgamando così le tinte.
Finally, I blended the dots with a flat paintbrush wet with white spirit, using a circular movement on the horizontal surfaces and a downward one on the vertical panels. The result is an almost imperceptible but valid variation of the colors. Moreover those filters result in uniforming the camo patches with the base color, thus blending their hues.
Lavaggi (washes)
L'uso dei lavaggi, soprattutto su una base di colore chiaro come questa, dà ottimi risultati nell'evidenziare i dettagli.
Using the washes, especially on such a light color base, gives very good results in highlighting the details.
Ho innanzitutto spruzzato uno strato di trasparente lucido (non prima, però, di aver lasciato asciugare i filtri ad olio per un paio di giorni) e poi ho aspettato 24 ore. Dopo ho diluito al 60% il colore ad olio con white spirit per poi applicarlo, toccando con la punta di un pennello imbevuto di colore, nelle fessure ed intorno ai bulloni, nei bordi concavi e in tutte le parti in rilievo.
First I sprayed a coat of clear gloss (not before having left the oil filters to dry for a couple of days), then I waited 24 hours. After that I thinned at 60% the oil paint with white spirit, then I applied it, touching with a damp paintbrush, into the slits, around the bolts, into the concave edges and around all the protruding parts.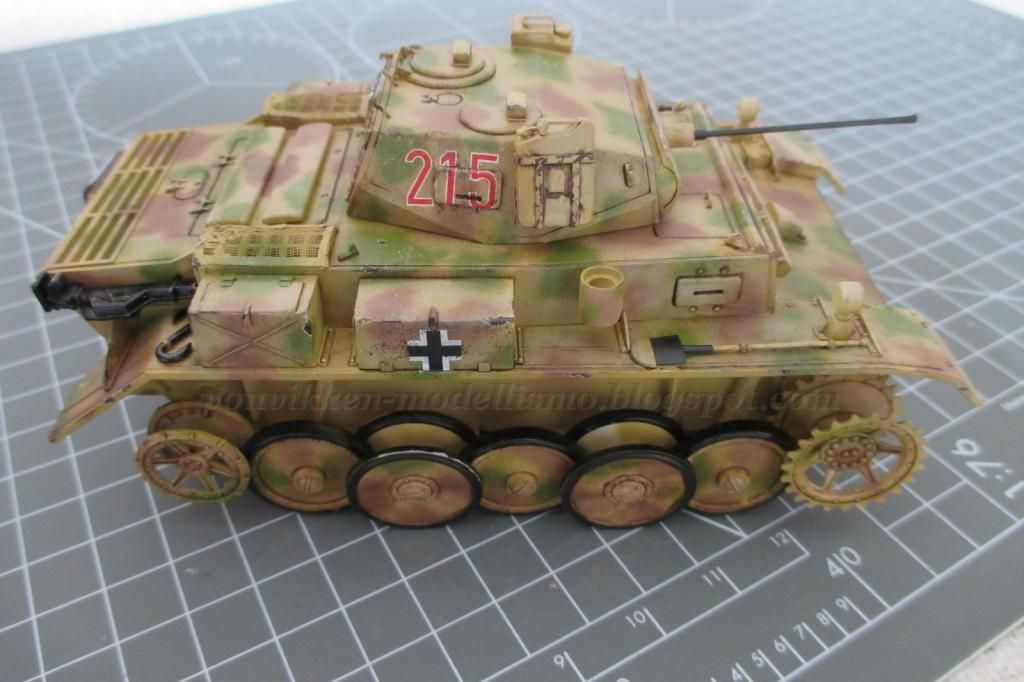 Ho usato in generale il bruno van Dyck, tranne che nelle fessure più profonde e intorno ai portelloni, dove ho utilizzato il nero di Marte.
The overall color for the washes is van Dyck brown, except for the deeper slits and around the hatches, where I used Mars black.