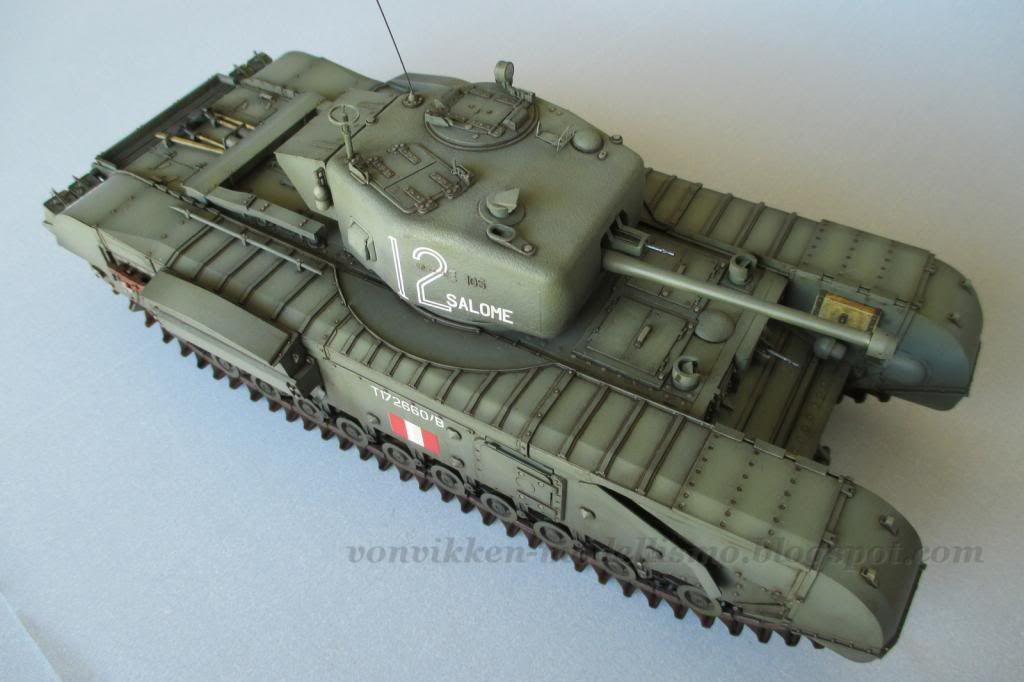 Questo è il settimo modello che ho completato, costruito dal novembre 2013 al maggio 2014. Rappresenta un carro da fanteria britannico Churchill Mk. IV, usato durante la Seconda Guerra Mondiale e nella Guerra di Corea.
This is the seventh kit I've completed so far, built from Novembre 2013 to May 2014. It depicts a British infantry tank Churchill Mk. IV, used during World War II and in the Korean War.
Alla fine ho scelto di rappresentare, più per mancanza di tempo che per scelte artistiche, questo carro "nuovo" di zecca, quindi con poco sporco, senza graffi e con pochissima ruggine.
At the end I decided to keep this tank "brand new", mainly for the lack of spare time rather that for artistic reasons, thus it's almost clean, with no scratches and virtually with no rust.
Rispetto al post precedente, ho spruzzato uno strato di trasparente opaco, ho dipinto alcuni particolari, ho effettuato un dry-brush color metallo sui cingoli ed ho appena sporcato il treno di rotolamento con dei pigmenti.
With respect to my last post, I sprayed a coat of matt varnish, I painted a few details, I dry-brushed the treads with a metal color and I lightly dusted the running gear with very few pigment.