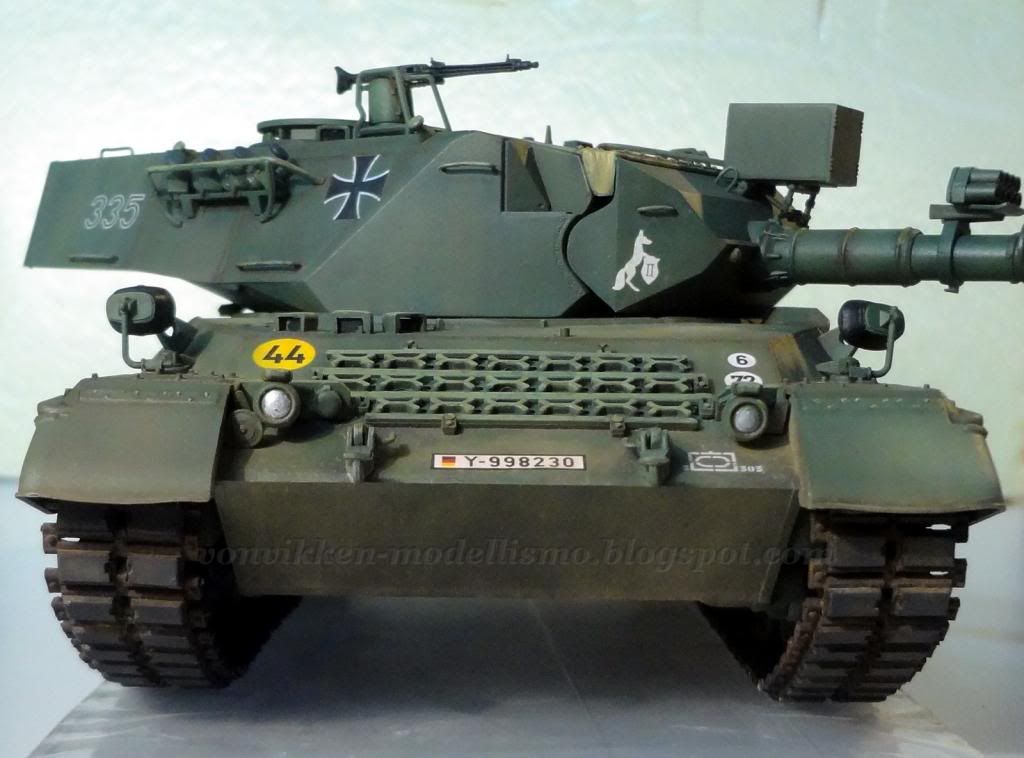 In cerca di un "moderno" mi sono imbattuto in questo kit del 1974, riedito dalla Italeri (con il marchio dell'epoca, Italaerei) con la serie in edizione limitata "Vintage Collection".
Looking for a "modern one" I came across this kit, reissued by Italeri (using the brand of that period, Italaerei) in a limited-edition "Vintage Collection" series.
Il kit si presenta in tre stampate in polistirene verde scuro, più una coppia di cingoli in vinile, un foglio decals con le insegne delle forze armate tedesche, una reticella in plastica che simula la copertura del vano motore ed ovviamente il foglio istruzioni, chiare e corredate da foto del mezzo reale. Pur essendo vecchio di 40 anni, non li dimostra: il dettaglio è fine e in alcuni punti sono persino riprodotte le saldature. La qualità complessiva è più che buona.
The kit is made of three dark-green polystyrene sprues, plus a pair of vinyl tracks, a decal sheet containing the German Army insignia, a plastic mesh simulating the engine bay cover and, of course, the instruction sheet, easy to follow and provided with photos of the real tank. Despite being a 40-years-old kit, it doesn't show its age: the details are crisp and in some points there are even the weldings. The overall quality is more than good.
Mi scuso per la cattiva qualità di alcune foto, ma per adesso non ho sempre a disposizione la macchina fotografica e devo ripiegare sul cellulare.
I apologize for the bad quality of some photos, but at the moment I cannot always use the camera and I have to fall back to the cellular phone.
Montaggio (assembling)
Ho costruito tutto da scatola, fatta eccezione per i cingoli, per i quali ho optato per gli ottimi ATL-141 in metallo prodotti da Friulmodel, e le maniglie in filo di ottone.
I built the kit out-of-the-box, except for the tracks, for which I chose the excellent metal ATL-141 by Friulmodel, and for the handles, made with brass wire.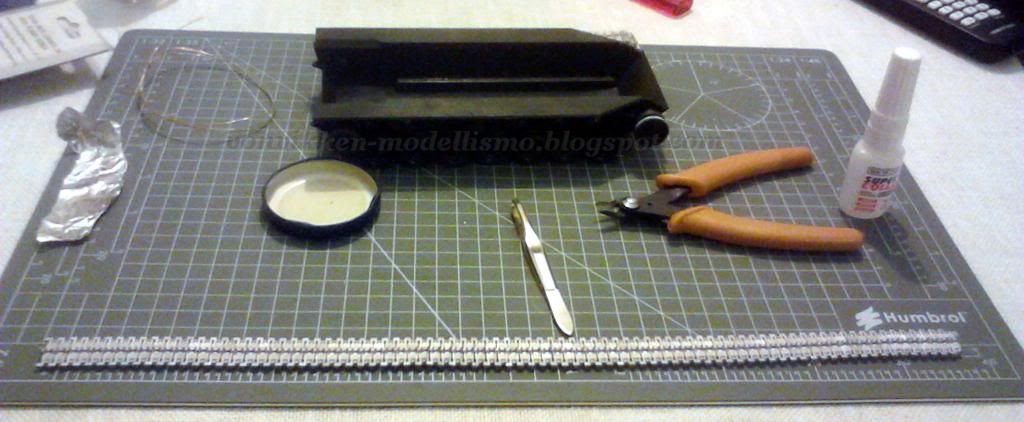 Il montaggio è stato semplice, gli incastri combaciano bene tranne in alcuni punti, dove ho dovuto riempire con un po' di stucco.
The assembling has been simple, the joints fit well except in a few points, where I had to fill with some putty.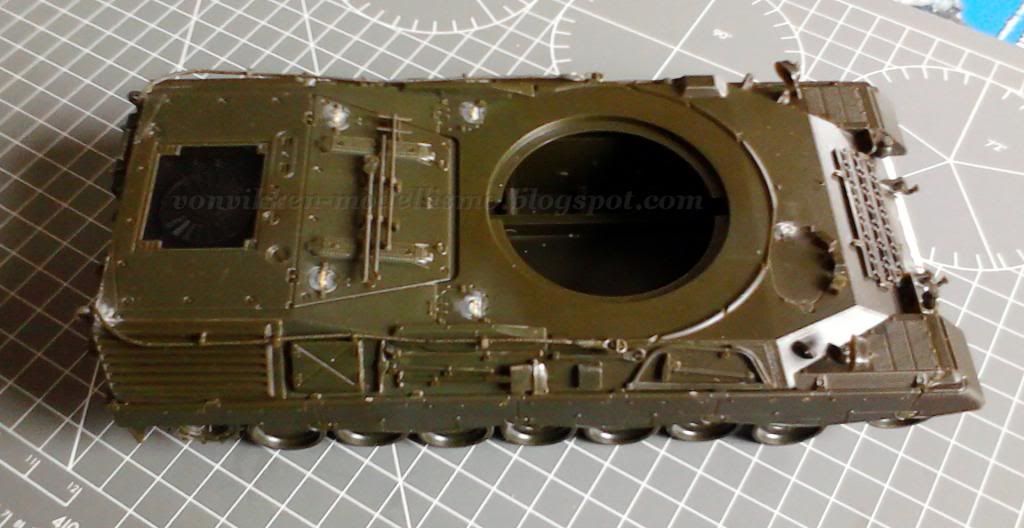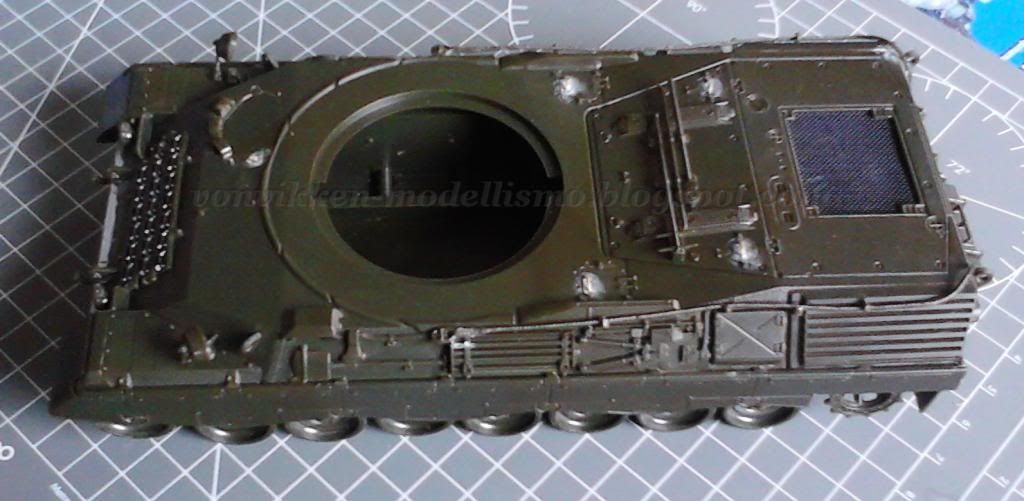 Verniciatura e decals (painting and decals)
La verniciatura generale è stata eseguita ad aerografo, mentre i dettagli sono stati rifiniti a pennello. Dopo una prima mano di primer, ho spruzzato con il colore nero le zone in ombra, soprattutto nella parte inferiore di scafo e torretta.
The overall painting has been performed with the airbrush, whereas the details have been painted with a brush. After a first coat of primer, I sprayed with black color all the recesses, especially in the lower part of the hull and of the turret.
Successivamente ho dato il colore di base, Lifecolor UA303 (FS 34094 Green), diluito con acqua distillata al 50% e schiarito man mano, al centro dei pannelli, con percentuali sempre più alte di Lifecolor UA223 (Olive Drab Faded Type 1). Ho cercato di modulare le schiariture in modo da dare l'impressione che il mezzo fosse illuminato grossomodo dalla direzione anteriore sinistra.
After that I applied the base color, Lifecolor UA303 (FS 34094 Green), thinned 50%-50% with distilled water and eventually faded in the center of the panels with higher and higher ratios of Lifecolor UA223 (Olive Drab Faded Type 1). I tried to modulate the fading in order to give the impression of the sunlight coming roughly from the front left direction.
È stata la prima volta che ho usato gli acrilici Lifecolor e ne sono stato positivamente impressionato: sono più trasparenti dei Vallejo che uso di solito, e ciò significa che occorrono più mani per avere una copertura ottimale, ma anche che si può giocare meglio sulle sfumature. L'unico svantaggio è il tempo di asciugatura superficiale, più lento di quello (quasi istantaneo) dei Vallejo, ma pur sempre dell'ordine di uno o due minuti. Ciò significa che bisogna aspettare più tempo per ripassare il colore nello stesso punto.
This was the first time I used Lifecolor acrylic paints, and I was positively impressed: they are more transparent than the Vallejo I usually use, and that means that more coats are needed to obtain an optimal covering, but also that you have more control with the shading. The only drawback is the surface drying time, longer of that (almost instant) of Vallejo colors but still no more than 1-2 minutes. That means that you have to wait more between spraying two differents coats on the same spot.
I dettagli sono stati colorati a pennello con i seguenti colori, tutti acrilici Vallejo Model Color:
telone sul mantello del cannone: due parti di 70914 Green Ochre e una di 70976 Buff;
parti in legno: due parti della miscela precedente e una di 70985 Hull Red;
parti in metallo nudo (attrezzi, mitragliatrice, cingoli): dipinte con una base nera 70950 Black, in attesa dei passi successivi;
parti in gomma (tappi dei lanciafumogeni, pattini dei cingoli, coni degli specchietti): 50% nero e 50% 70965 Prussian Blue;
luci posteriori: rosse in 70957 Flat Red, arancioni con 2 parti di 70953 Flat Yellow ed una di Flat Red;
risalto parti in rilievo: 70967 Olive Green.
The details have been coloured with a fine paintbrush, using the following Vallejo Model Color acrylic paints:
tarpaulin covering the gun mantlet: two parts of 70914 Green Ochre and one of 70976 Buff;
wooden parts: two parts of the previous mix plus one of 70985 Hull Red;
bare metal parts (tools, machine gun, tracks): a base of 70950 Black, waiting for the next steps;
rubber parts (smoke discharger plugs, track threads, mirror cones): 50% black and 50% 70965 Prussian Blue;
tail lights: red ones with 70957 Flat Red, orange ones with 2 parts of 70953 Flat Yellow plus one of Flat Red;
highlighting of protruding parts: 70967 Olive Green.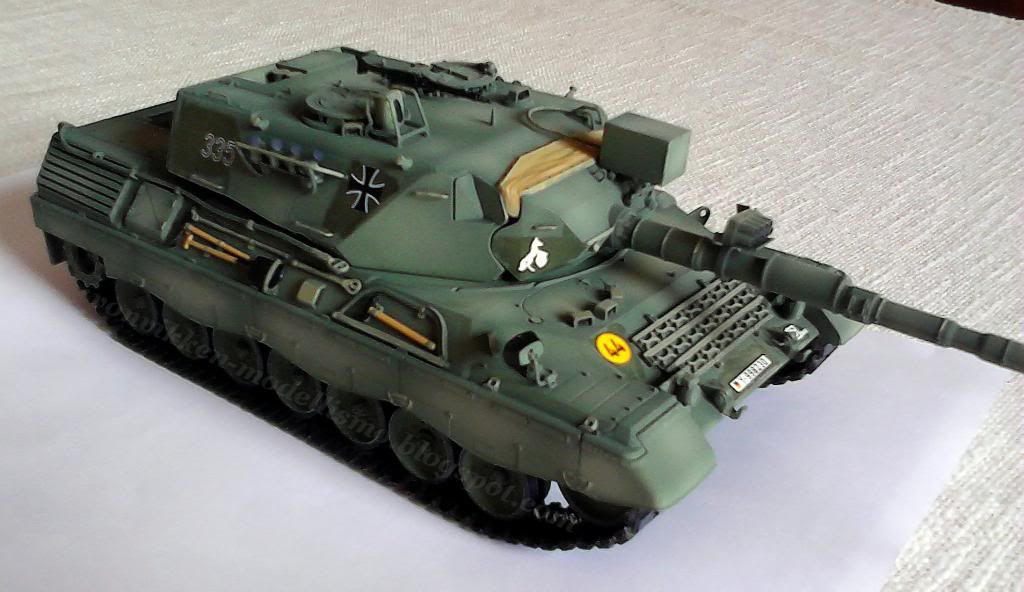 Prima di applicare le decal, infine, ho coperto le parti interessate con una mano di trasparente lucido, per evitare l'effetto di "silvering".
Before applying the decals, I painted the related parts with a coat of clear varnish, in order to avoid the "silvering" effect.