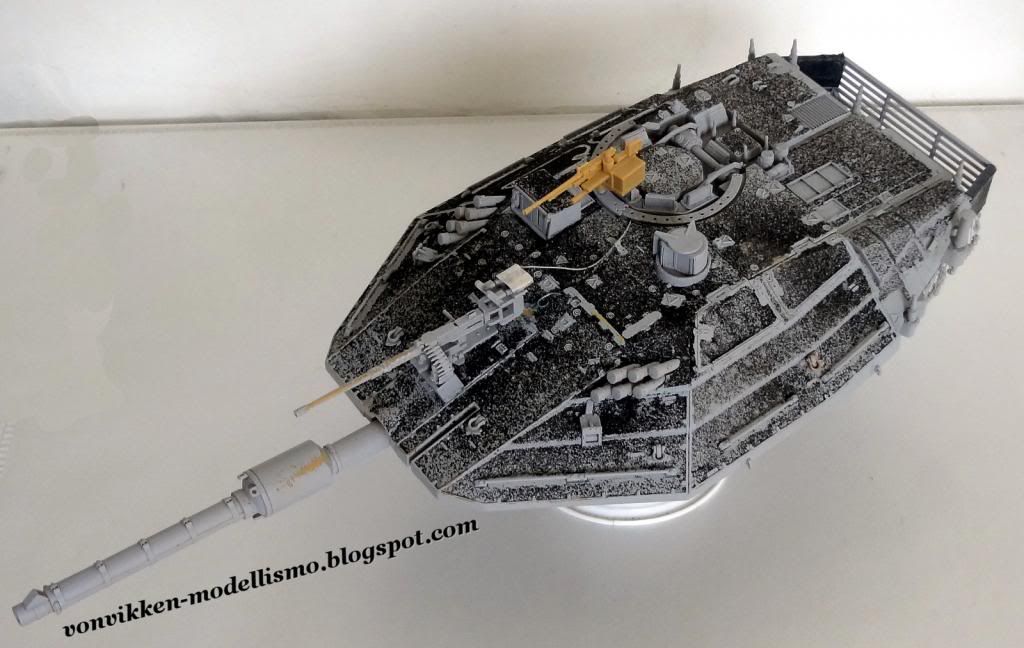 La resa dell'antiscivolo è stata finora la parte di questo lavoro che ha preso più tempo. Ho usato la tecnica descritta in questo post.
The rendering of the antislip coating has been so far the most time-consuming part of this work. I used the technique described in this post.
Innanzitutto ho effettuato una primerizzazione preventiva, necessaria per aumentare la "bagnabilità" della superficie:
First I applied preemptively a coat of primer on the surface, in order to enhance its "wetting":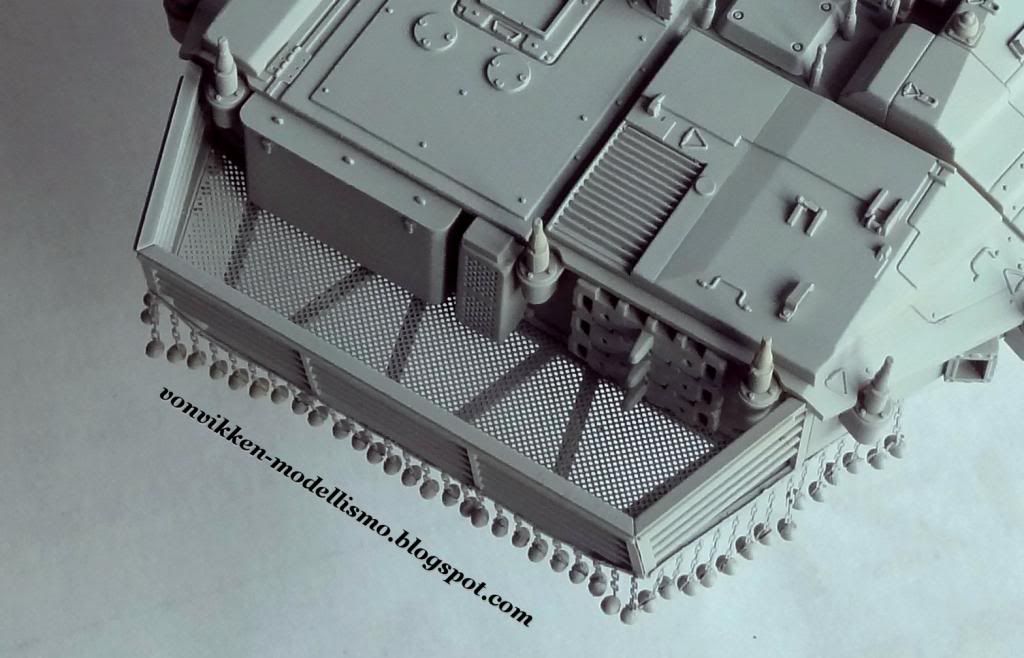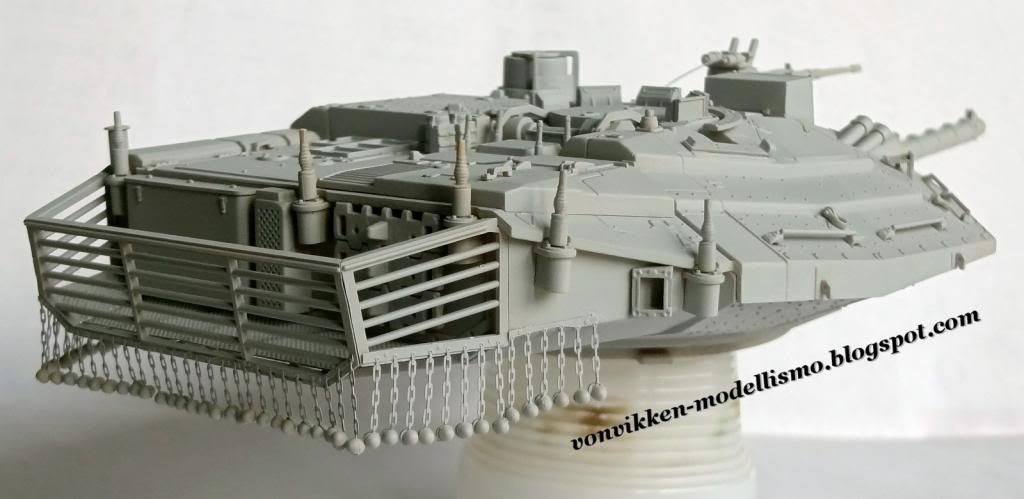 Dopo ho protetto le zone che sarebbero dovute rimanere libere con un liquido mascherante (in questo caso il Masking Sol Neo della Gunze). Ho scoperto che è inutile (oltreché troppo laborioso) mascherare i bulloni, basterà ripulirli dopo con uno stuzzicadenti.
Then I protected the zones with no antislip using a liquid mask (in this case, Masking Sol Neo by Gunze). I found useless (besides too much laborious) masking the bolts, just clean them later with a toothpick.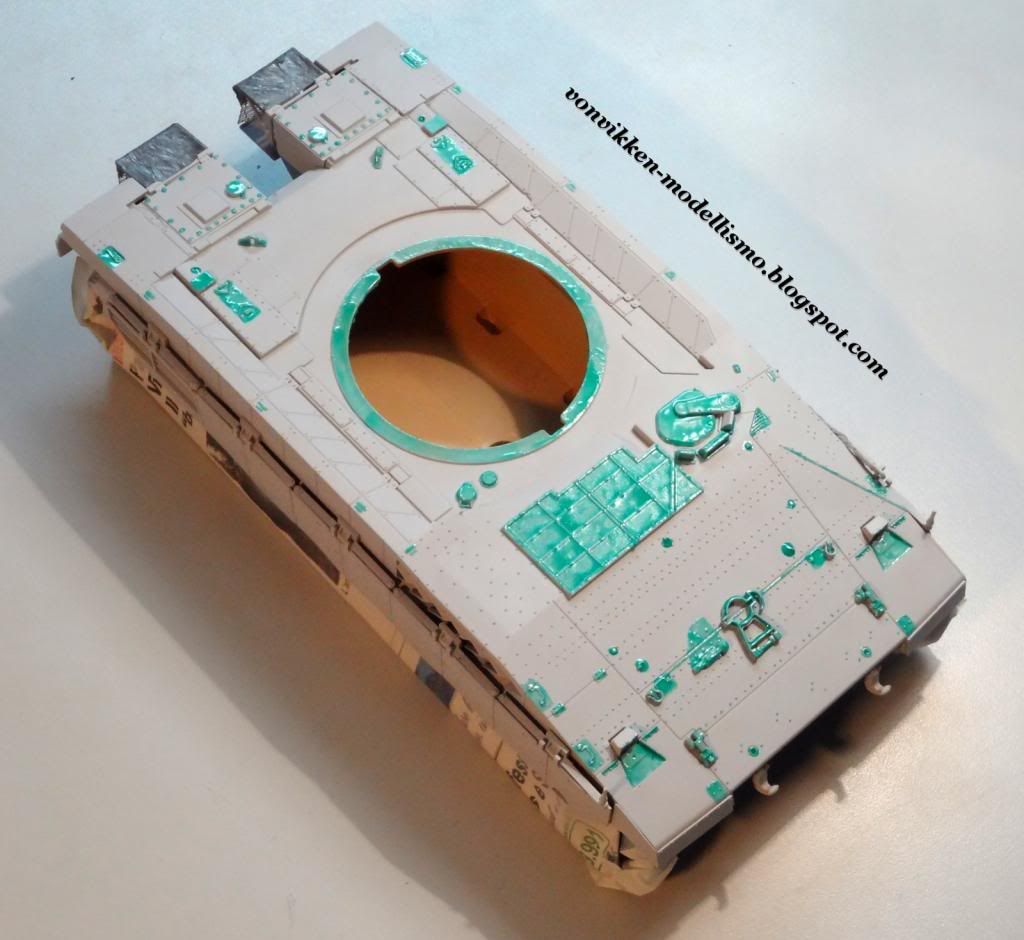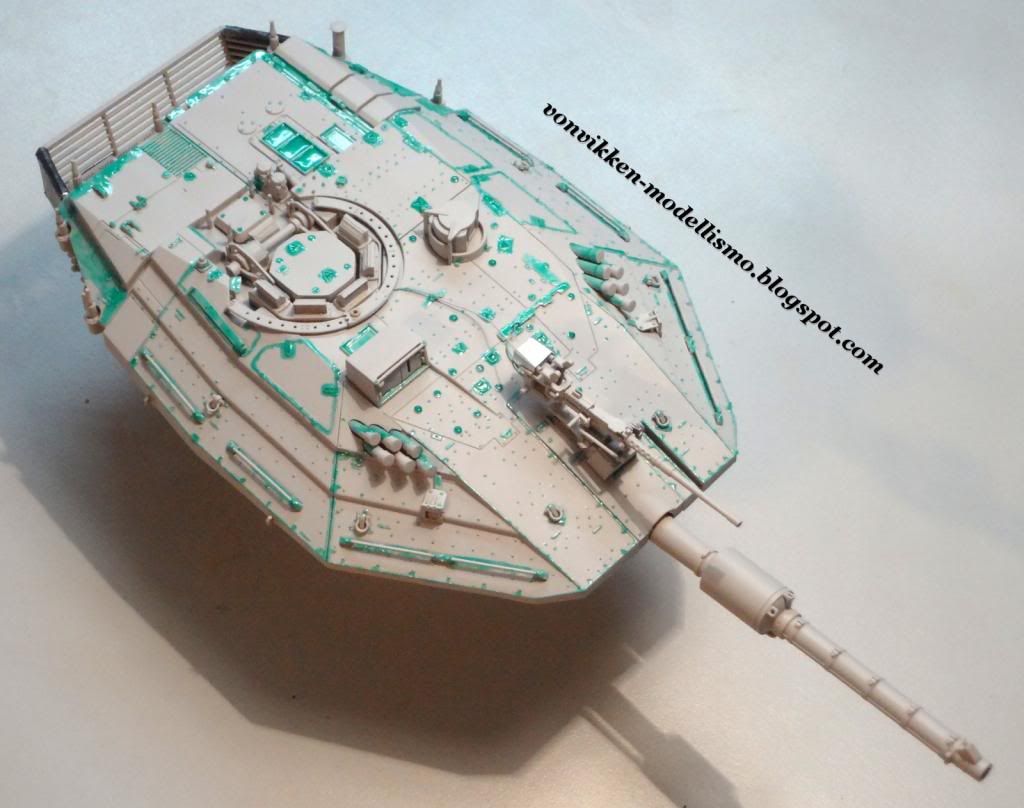 Nel frattempo ho aggiunto alcuni particolari, come dei teli in lamina di piombo e la copertura del solenoidi per la mitragliatrice da 12,7 mm, in foglio di alluminio.
Meanwhile I added some details, like tarpaulins made with lead foils and the cover for the .50 cal. machine gun solenoids, made with aluminium ones.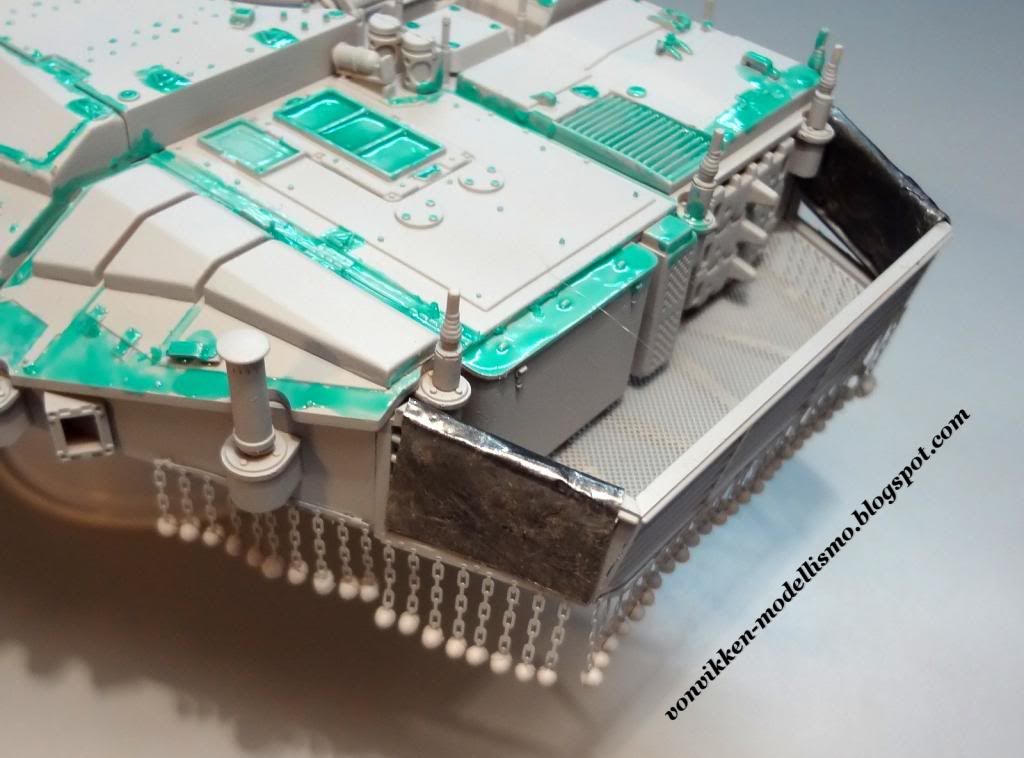 Ho quindi passato con un pennello della colla vinilica diluita con acqua (lo strato di primer ha permesso una copertura uniforme), poi ho fatto depositare, tramite un colino, la cenere lavica sminuzzata. Dopodiché ho rimosso le mascherature, poi con la punta di uno stuzzicadenti ho pulito dalla polvere le estremità dei bulloni.
I applied, with a paintbrush, some vinylic glue diluted with water (the primer coat allowed an uniform wetting), then I dropped, with a small sieve, some grinded volcanic ash. After that, I removed the masks and, with the tip of a toothpick, I cleaned the top of the bolts from the powder.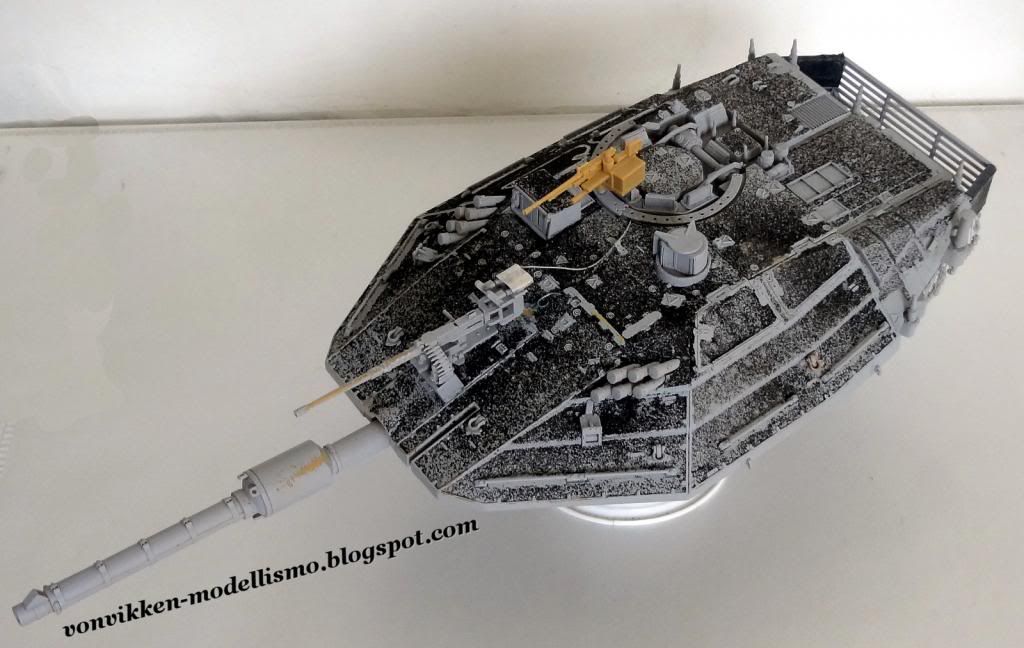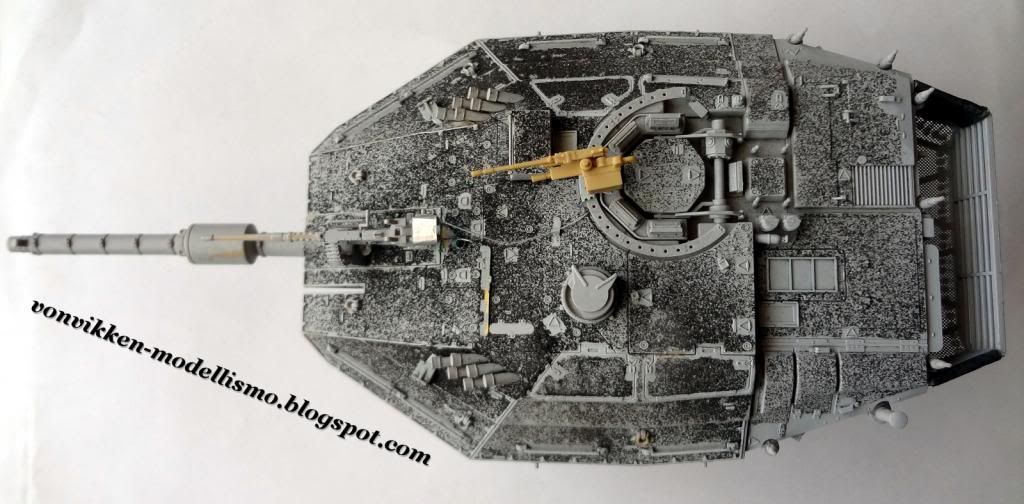 Infine, ho dato un'altra mano di primer per fissare il tutto.
Finally, I applied another coat of primer, in order to fix everything.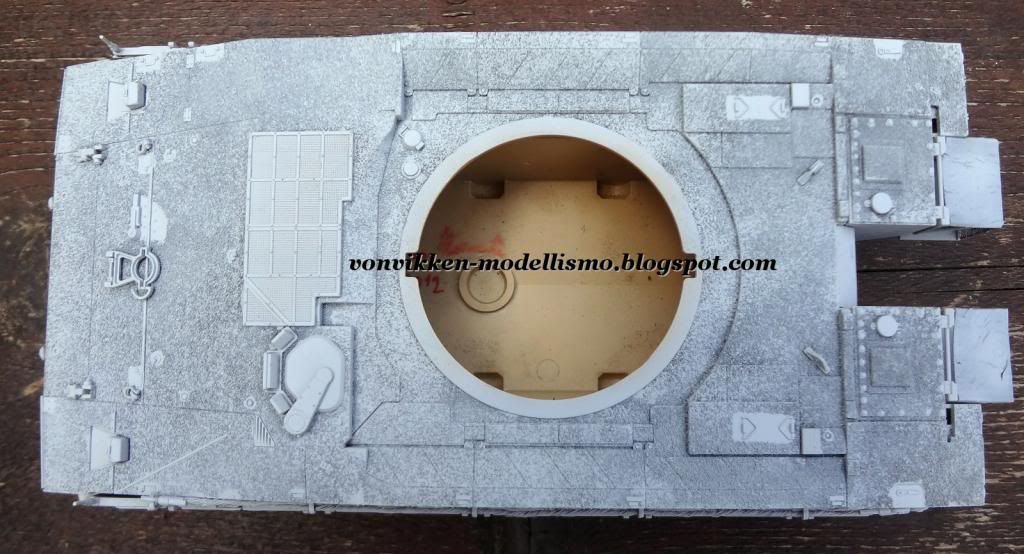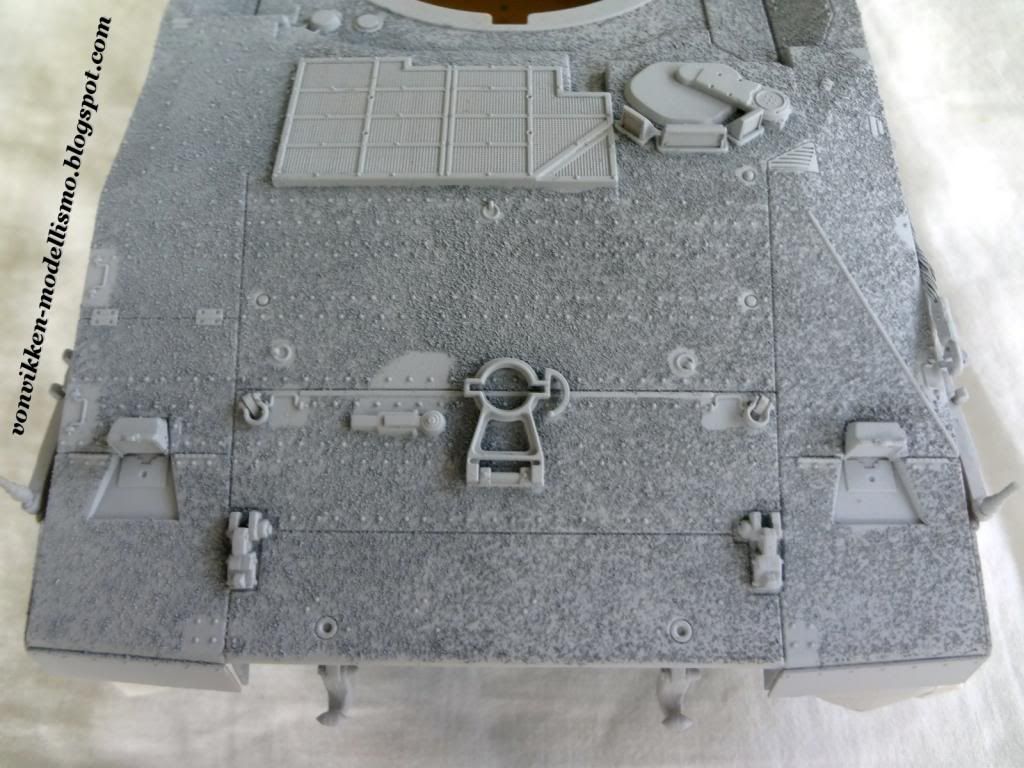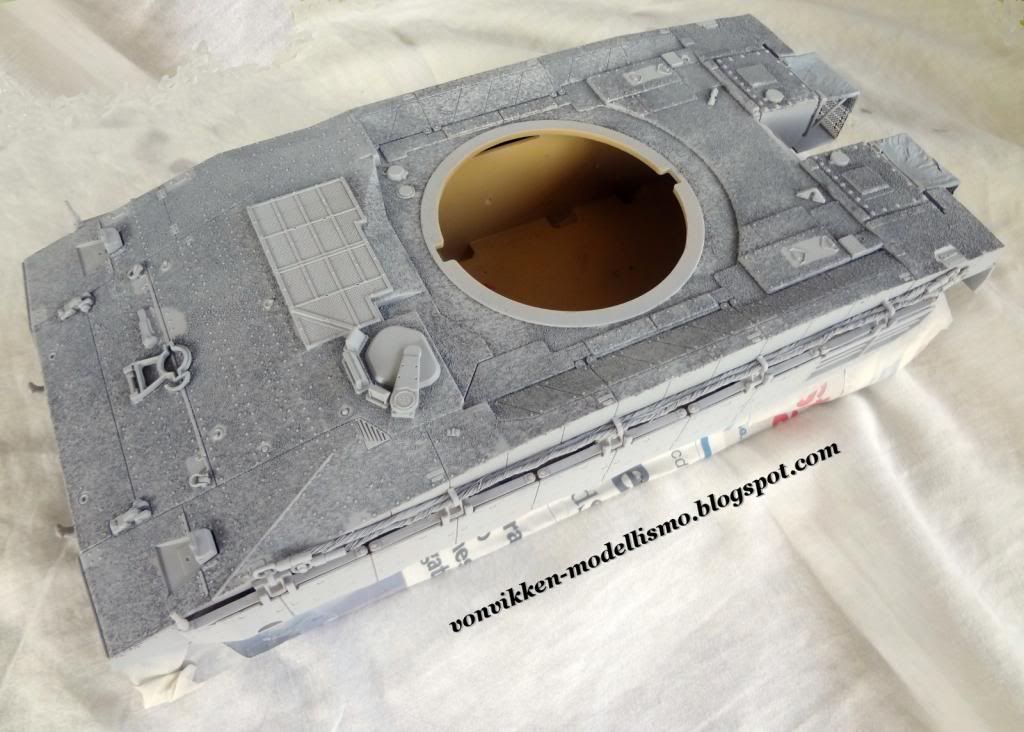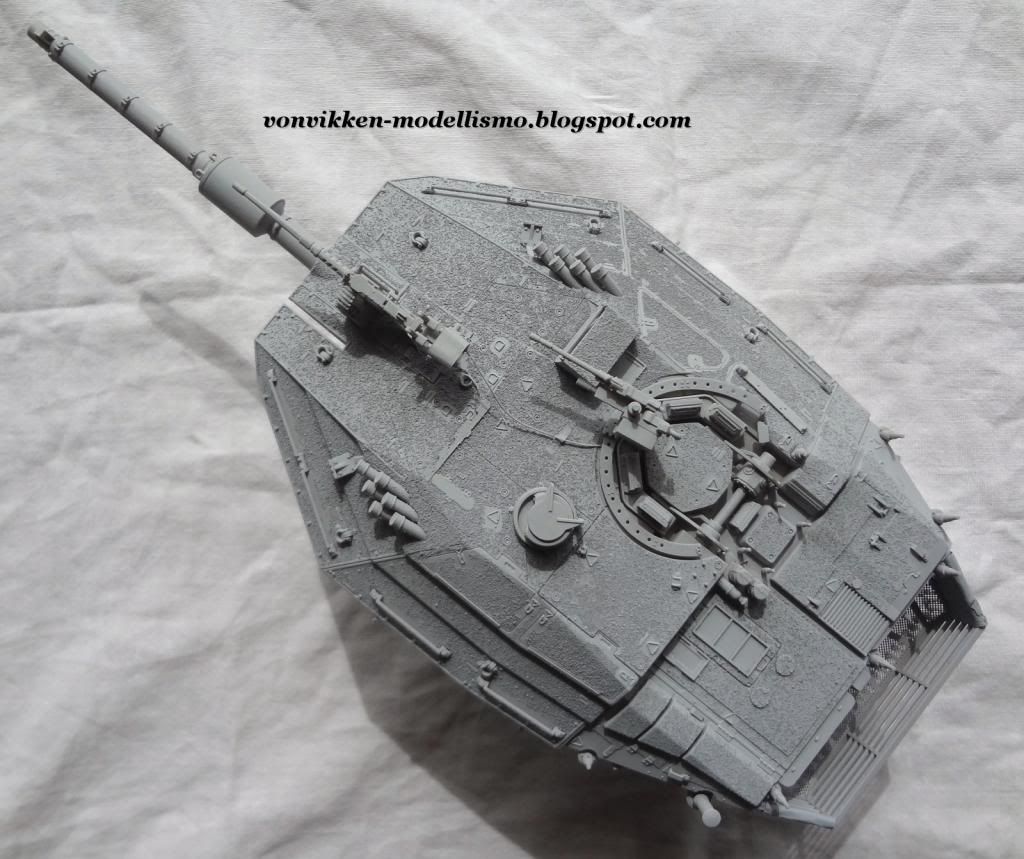 Questa è la visione finale del carro montato e primerizzato. Il treno di rotolamento rimarrà mascherato fino all'applicazione della verniciatura di base.
This is an overview of the tank, assembled and with the primer applied. The running gear will remain masked until the base painting will be applied.