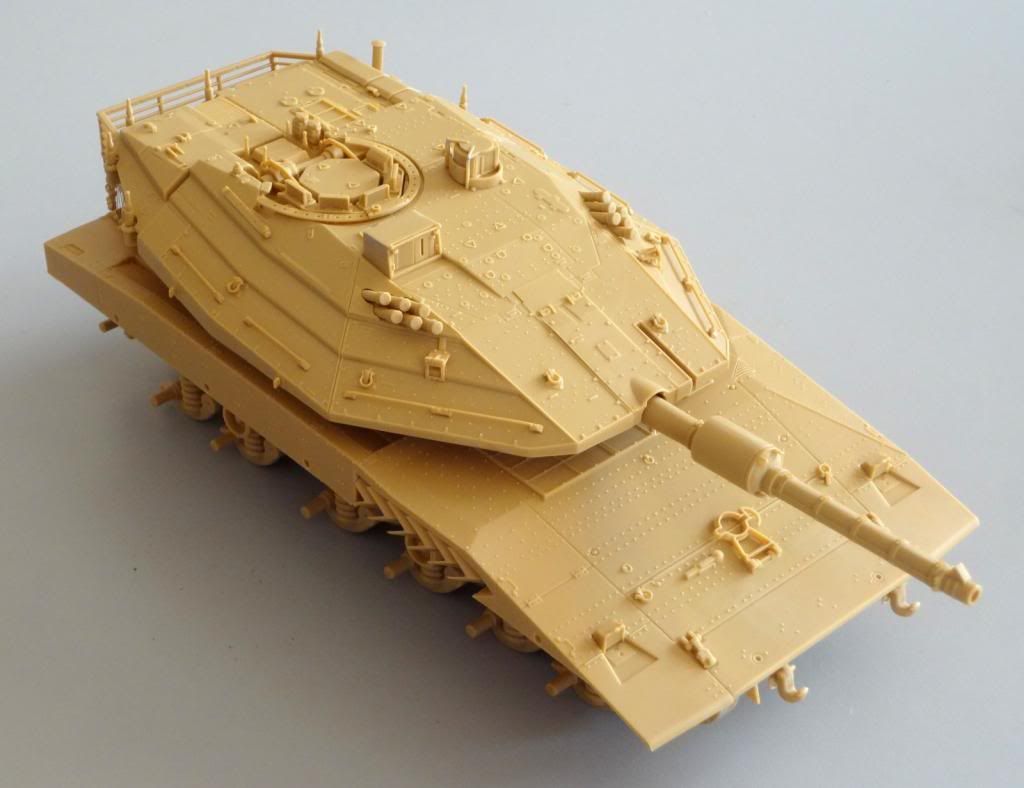 Ho acquistato tempo fa questo kit della Academy di un carro che, sia per alcune peculiarità che per l'aspetto "fantascientifico" mi ha sempre interessato.
A few time ago I bought this model by Academy, depicting a tank that has always fascinated me, both for some of its features and for its "sci-fi" look.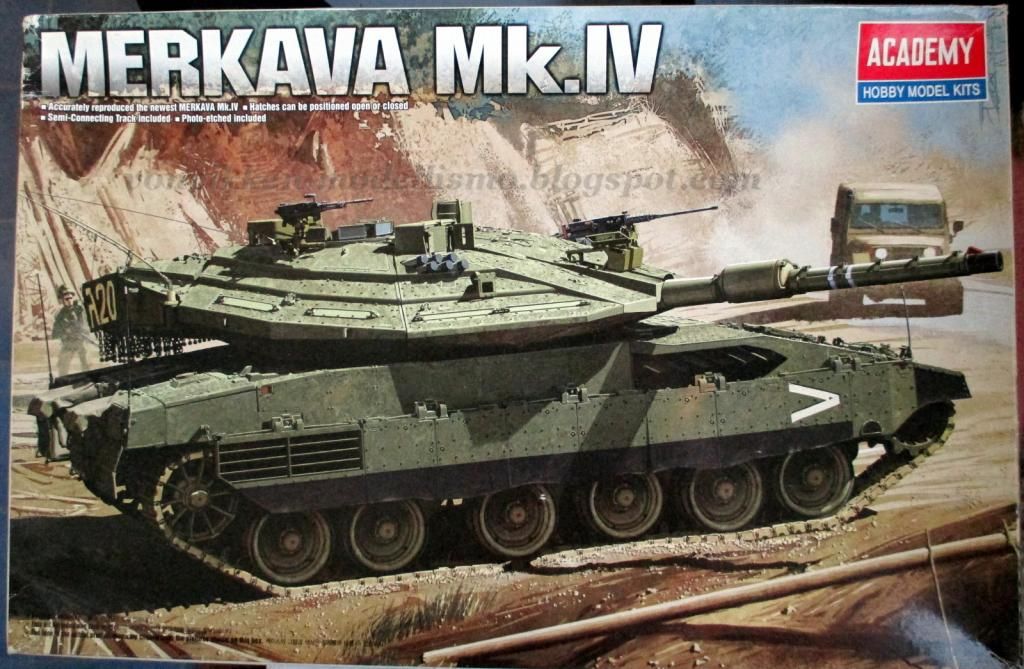 Il kit consta di 5 telai con i pezzi più le due metà dello scafo già separate, il tutto in polistirene color sabbia. Inoltre sono presenti una lastrina di fotoincisioni, alcuni anelli in polivinile morbido, una cordicella di nylon ed un foglio di decal. Il modello sembra essere predisposto per la motorizzazione, come dimostrano alcuni fori nello scafo inferiore e la presenza degli anelli in polivinile (inseriti dentro le ruote ne permettono una facile rotazione).
The kit comes out with 5 sprues for the pieces plus, separately, the two halves of the hull, all in sand-coloured polystyrene. There are also a fret of photo-etchings, some soft polyvinyl caps, a nylon string and a decal sheet. The model seems to be motorizable, as can be guessed by some holes in the hull and by the presence of the polyvinyl caps (inserted into the wheels, they allow them to rotate easily).
Il montaggio è abbastanza agevole, la plastica si lavora bene e le fessure da stuccare sono relativamente poche. Anche se non è strettamente necessario, si potrebbero voler chiudere i fori di motorizzazione sul fondo dello scafo:
The assembly is quite easy, the plastic is well workable and there are relatively few joints to fill. Although it's not mandatory, one might want to fill the motorization holes on the bottom of the hull:
Le fotoincisioni permettono di aumentare il livello di dettaglio di alcuni particolari, in alternativa a pezzi in plastica o a decals:
Photo-etched parts, used instead plastic ones or decals, allow to improve the detail level of some components: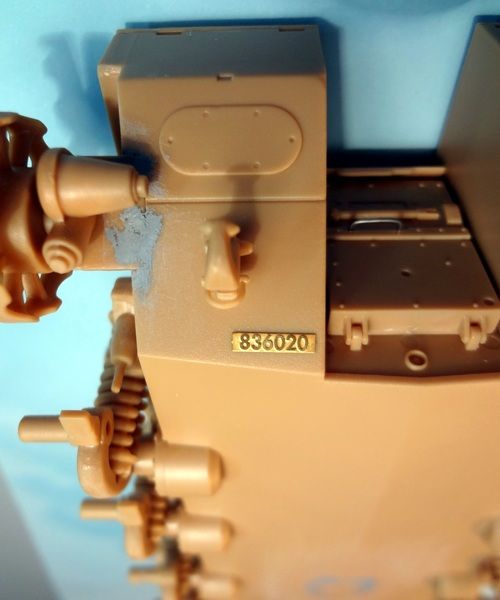 mentre sono indispensabili per lo schermo "palle e catene" sul retro della torretta. In questo caso il kit fornisce delle semisfere da tagliare e incollare, con cianoacrilato, su ambo i lati delle parti fotoincise.
while they are necessary for the "balls & chains" screen in the turret rear. In this case, the kit provides several semispheres that need to be cut and glued, with cyanoacrylate, to the photo-etched parts.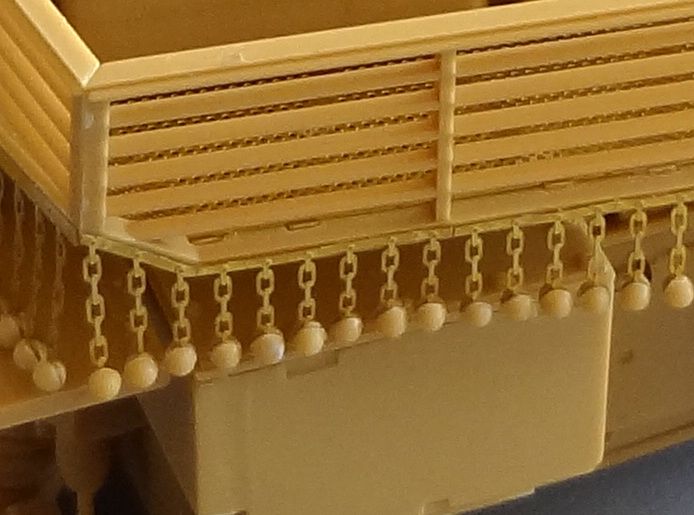 La maggior parte delle superfici presentano una texture che simula la copertura antiscivolo. Benché dimensionalmente corretta, potrebbe risultare meno visibile dopo le fasi di verniciatura.
Most of the surfaces are textured with a pattern simulating the anti-slip coating. Although dimensionally correct, it might become less visible after the painting steps.
I cingoli sono del tipo "run & length", ovvero con maglie singole nelle parti curve e sezioni intere in quelle diritte. Il montaggio non è stato difficile, e si può osservare in un video tutorial che ho pubblicato in un post precedente.
The tracks are of the "run & length" type, that is with single links for the curved parts and continuous sections for the straight ones. Its assembling hasn't been difficult, and can be seen in a video tutorial I posted earlier.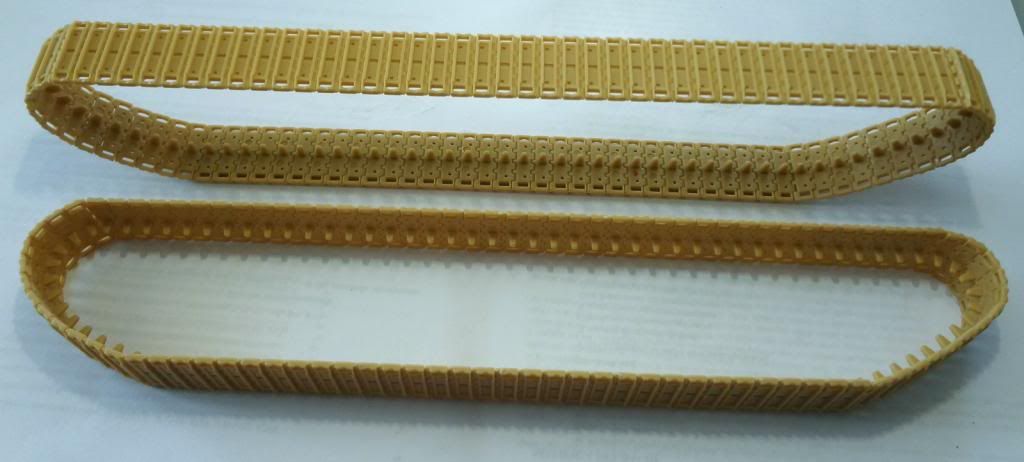 In realtà ho trovato alcuni difetti:
i cingoli presentano due segni di estrattore per maglia;
le "catene" in fotoincisione sono troppo lunghe e, una volta montata la torretta, strofinano con lo scafo (ho dovuto incollarle leggermente più in alto);
l'incavo per l'incastro del cannone è inspiegabilmente ruotato di 90° a destra...
Actually I found some flaws:
each track link has two ejection marks;
the PE "chains" are too long, once the turret is mounted they scrape on the hull (I had to glue them slightly higher);
I found the notch for the cannon mount unexplainably rotated by 90° to the right...
Ecco la torretta e lo scafo montati:
Here are the turret and the hull already mounted: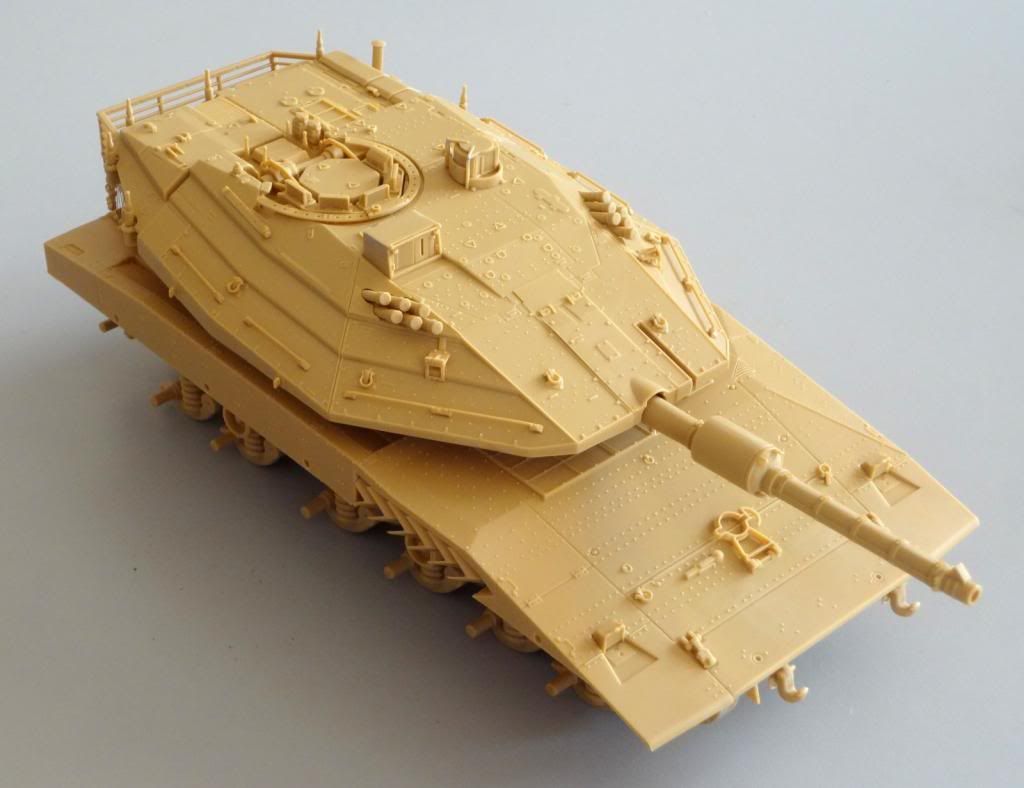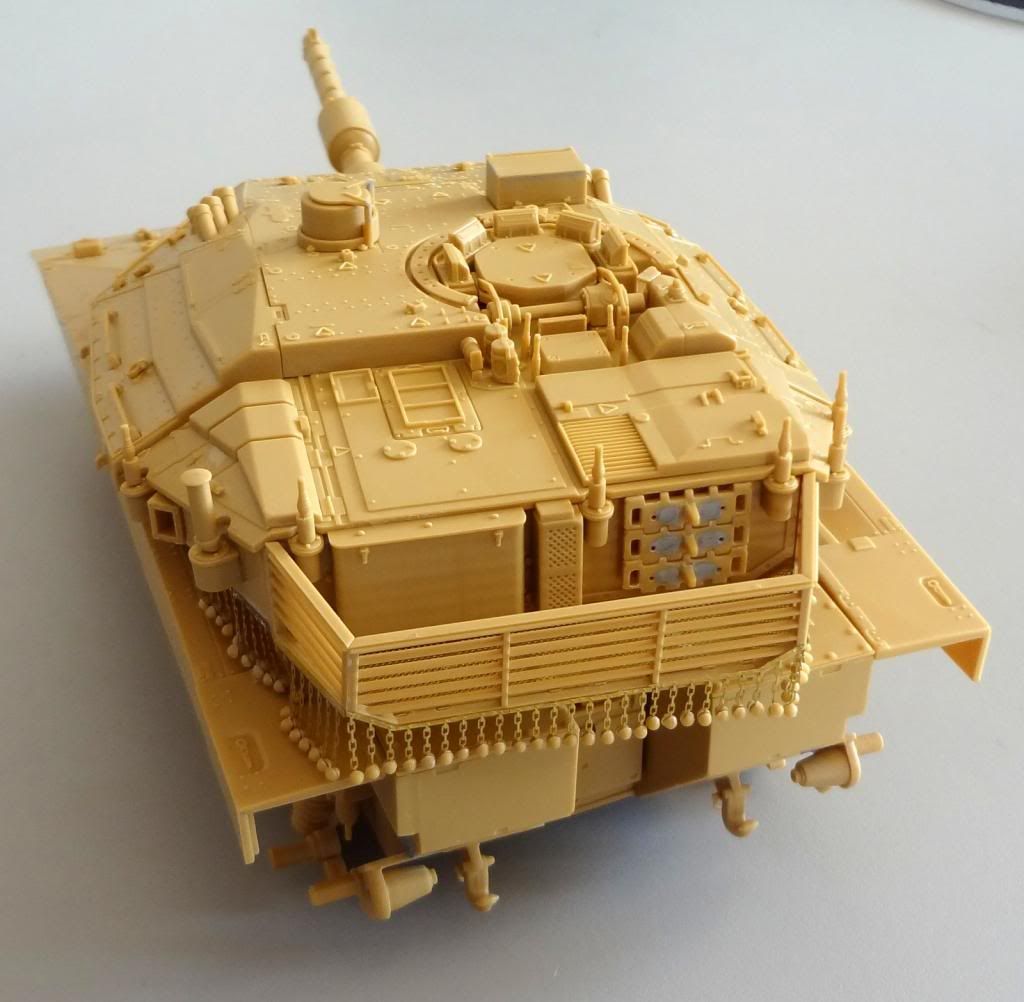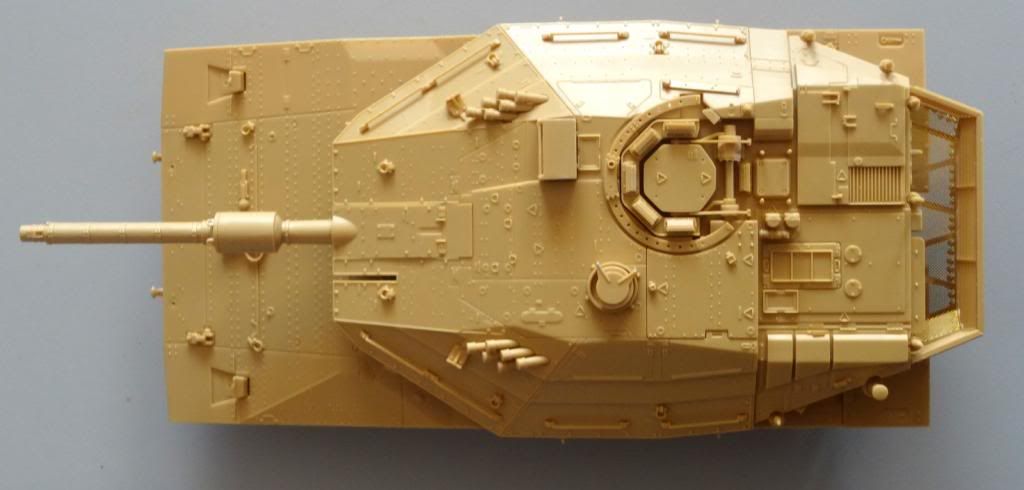 Come ulteriore dettaglio, ho aggiunto due cavi di comando in filo di rame per la mitragliatrice di supporto da 12,7 mm, più una protezione (ricavata da un pezzo di telaio di fotoincisione) che ho visto in alcune foto in Rete:
As a further detailing, I added two control cables, made with copper wire, for the .50 cal support machine gun, plus a protection I saw in some photos on the Web, made with a piece of PE frame: